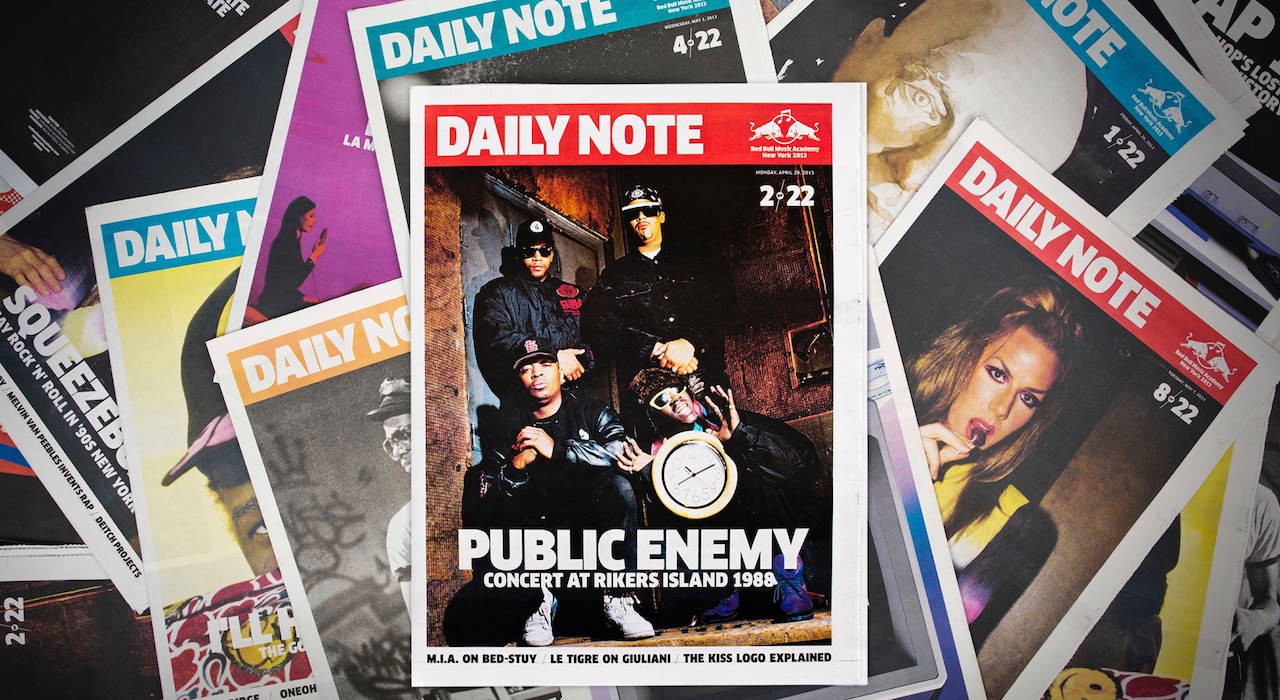 Since 2010, RBMA's newspaper the Daily Note has celebrated top quality music journalism in print. Produced initially for RBMA editions in London (2010) and New York (2013), the Daily Note newspapers utilized a dedicated team of those cities' finest writers, editors, designers and artists. Bringing in-depth music articles, quirky illustrations and provocative photo essays to the people, Daily Note issues were distributed free at subway stations as well as at record stores and cultural centers.
Limited-run print editions of the Note have subsequently been produced in conjunction with Bass Camps and RBMA stages around the world, such as at Movement Electronic Music Festival in Detroit; a digital version was produced for the Red Bull Music Academy in Madrid in 2011.
During the 2013 edition of the Red Bull Music Academy, 22 issues of the Daily Note were produced and distributed at locations around the city, including outside selected New York City subway stops. With Piotr Orlov as editor-in-chief, Justin Thomas Kay as creative director and 11 other full-time staff, including copy chief Jane Lerner and contributing editors Vivian Host, Shawn Reynaldo and Sam Hockley-Smith, each of the newspapers was filled to the brim with feature articles, photo essays and other bits and pieces from the city's best cultural scribes, photographers and illustrators. Sue Apfelbaum and Laura Forde expounded on iconic music logos, from Fania Records to Anthrax and MTV; Andy Beta wrote about the highs and lows of NYC dance culture in the 2000s.
Music fans could also read the best bits via our online magazine Red Bull Music Academy Daily. Michaelangelo Matos offered up an in-depth history of house music in New York, while Simon Reynolds described the enormous creative output of Brian Eno's years in the city. Elsewhere in the paper, Ronen Givony spoke to Steve Reich, a composer who is as synonymous with New York as Gershwin, Coltrane and John Cage.

Download issues here: 01 / 02 / 03 / 04 / 05 / 06 / 07 / 08 / 09 / 10 / 11 / 12 / 13 / 14 / 15 / 16 / 17 / 18 / 19 / 20 / 21 / 22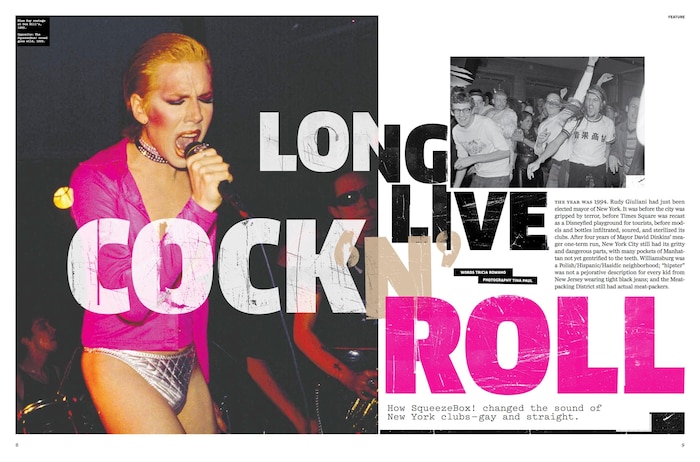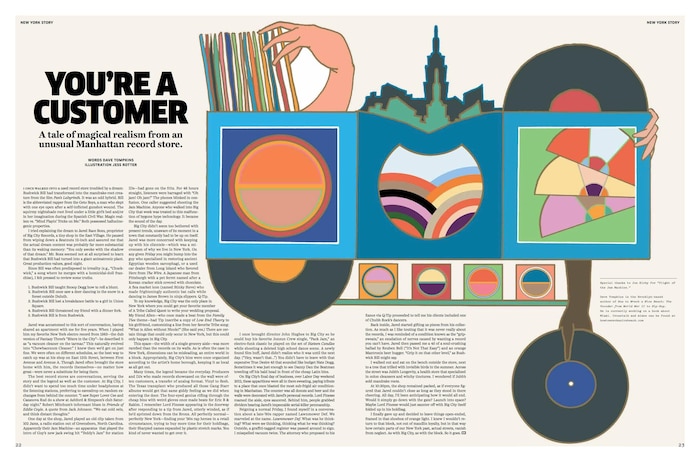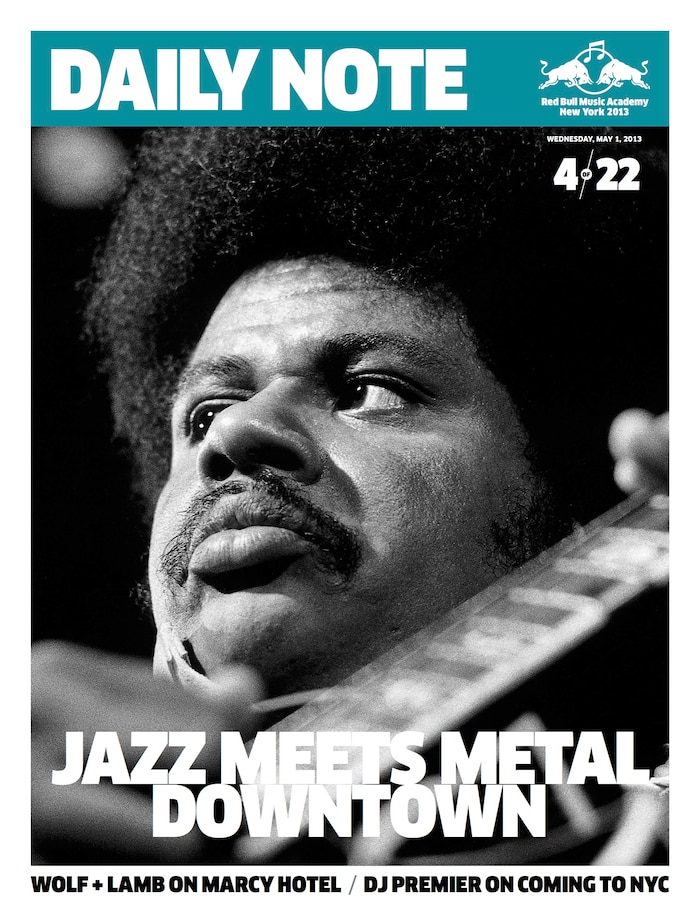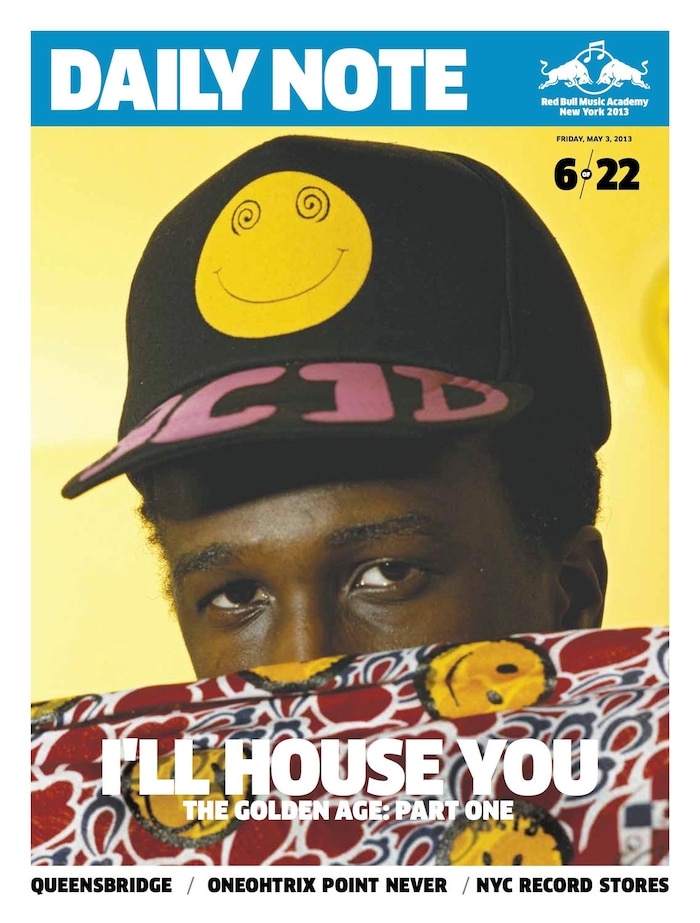 Right about now you might be thinking, "Hey, the trusty afternoon tabloid I pick up on my way home has… kind of entirely changed its editorial bent?!?" Where's the news, the politics, the heated civic debates, and the crime blotter? What about the details of our honorable mayor's latest plan to stock fewer cigarettes in bodegas?

No, the complimentary newsprint dirtying up your fingertips is not your familiar news title. This is the Daily Note, the official newspaper of Red Bull Music Academy. Before you abandon it on a subway seat, give it a glance. If you possess any appreciation for the enormously influential musical history and culture of this city – there's a good chance there's something in here you'll want to peruse.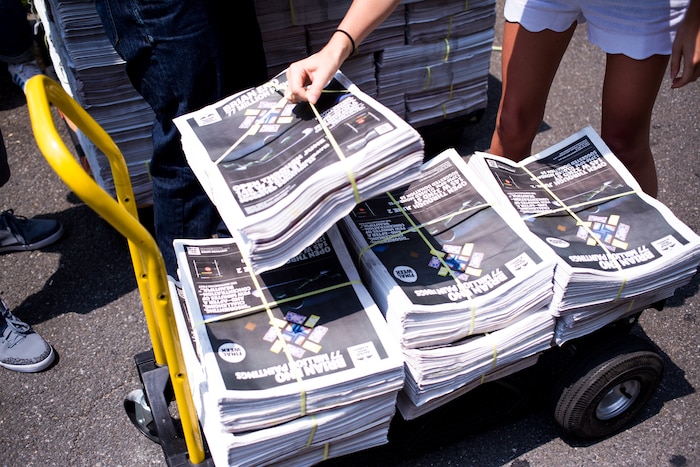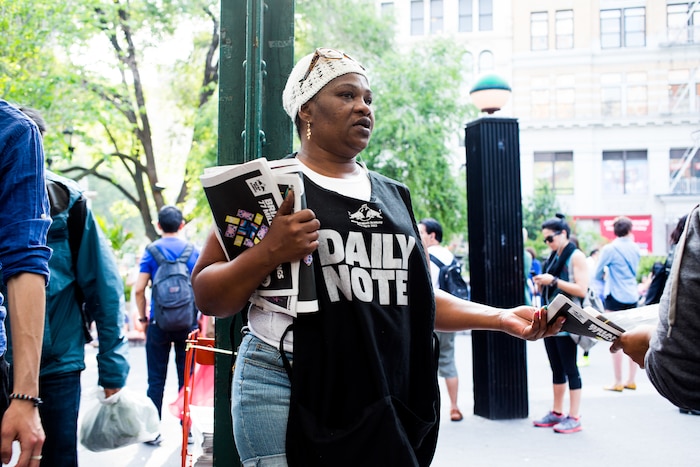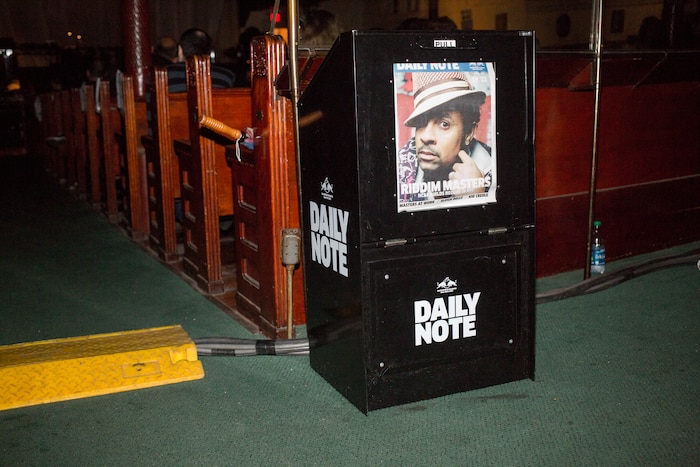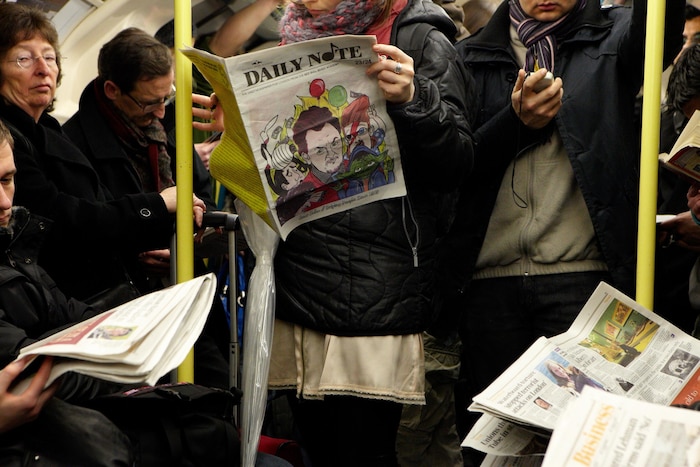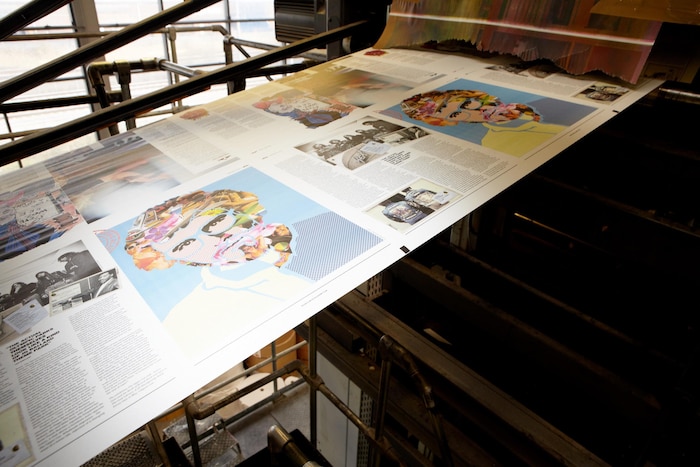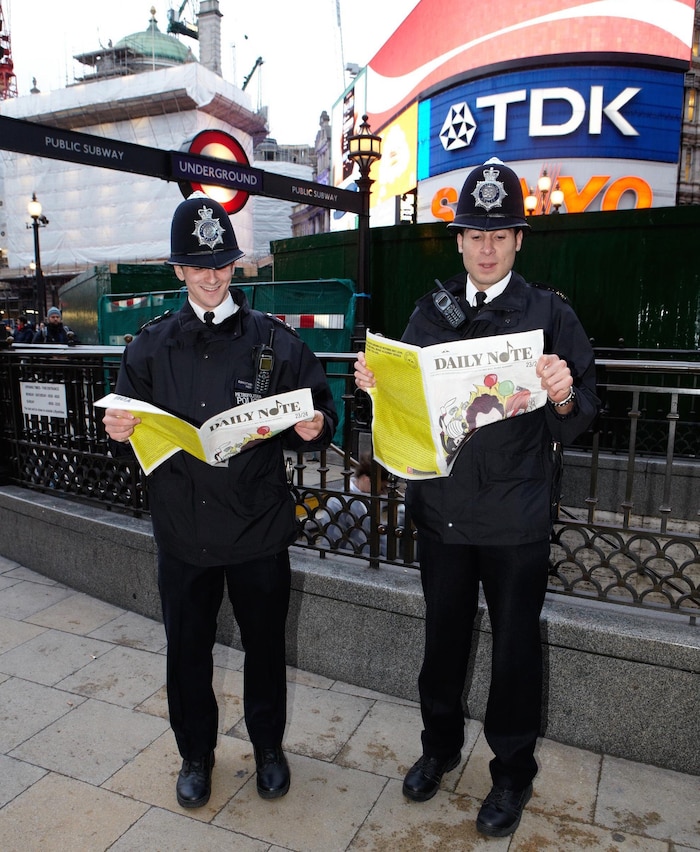 At the Red Bull Music Academy in London in 2010, for the first time we set about trying to keep track of proceedings with our Daily Note newspaper, and realised the hardest part was choosing what to leave out.
Editor Robin Turner and art director Helen Niland marshalled a team of the capital's finest writers and artists, creating 24 issues throughout the Academy. Alongside profiles of the Academy's lecturers and students, genres like grime, dubstep and library music were pored over by experts in those fields. Richard Norris wrote about the psychedelic underground of '60s London, and Trevor Jackson created kosmische cover art. In Robin Turner's words, "Collected together, it was like a brilliant conversation in a pub between knowledgeable friends – chaotic, feverish, excitable, funny, random and informative. Each issue tells its own part of the story yet adds to a whole."
In quantities of 80,000 per issue, the Daily Note was distributed as a free evening paper at 18 tube stations in London such as King's Cross, Camden Town and Kensal Green, as well as at music venues and cafés throughout the city. A weekend edition (circulation: 100,000) was distributed nationwide in cities including Manchester, Glasgow and Edinburgh.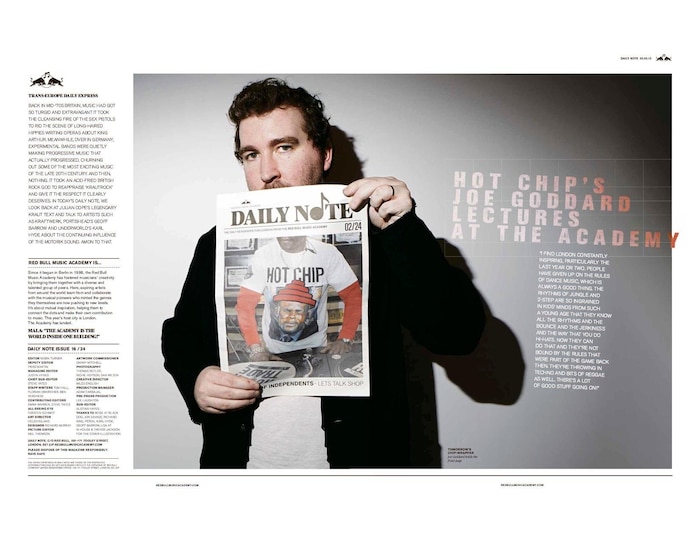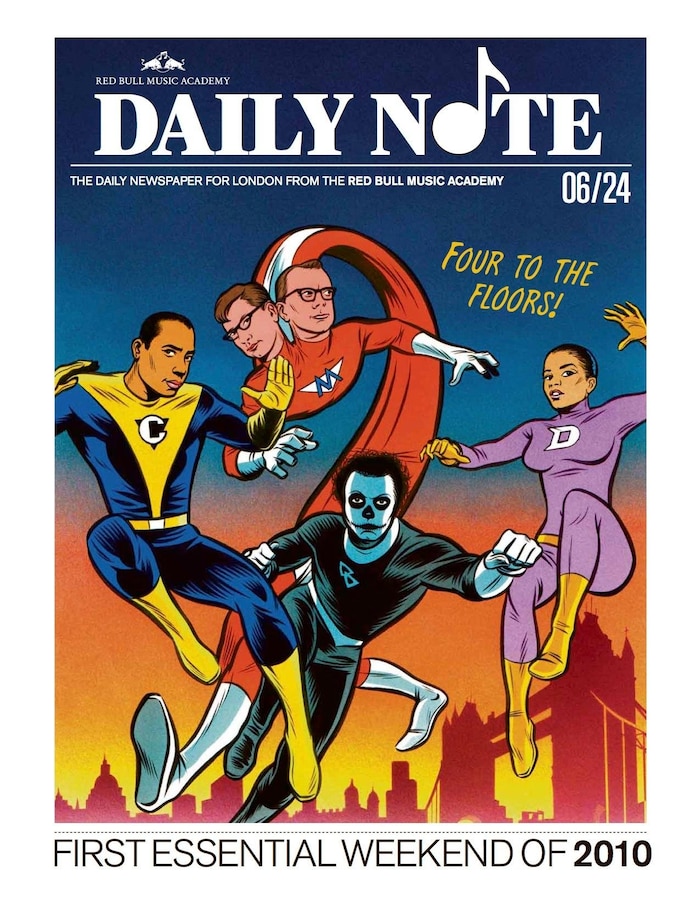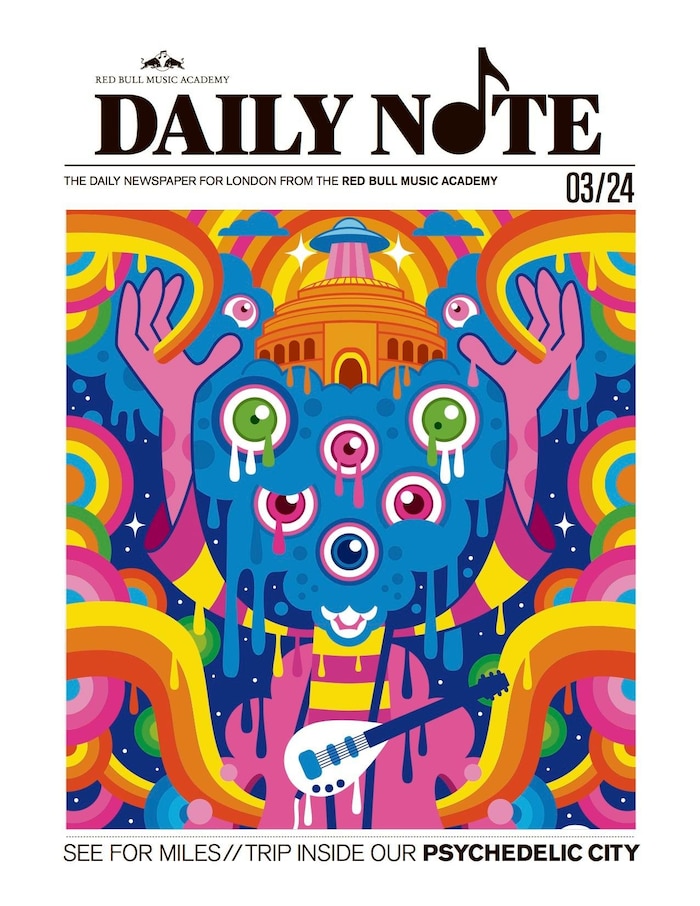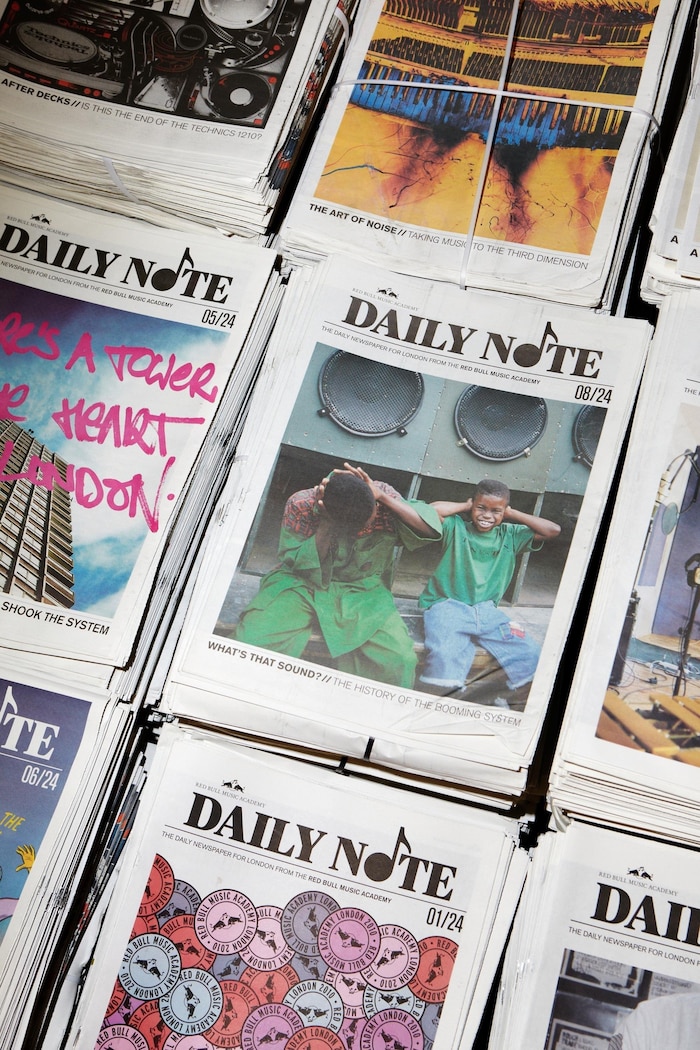 Eleven limited-run print editions of the Daily Note have been produced for events around the world such as Movement Electronic Music Festival in Detroit, Levitation Festival in Texas, RBMA Festival in Paris and Weekenders, Red Bull Radio pop-ups and Bass Camps in Johannesburg, Sydney and Atlanta.