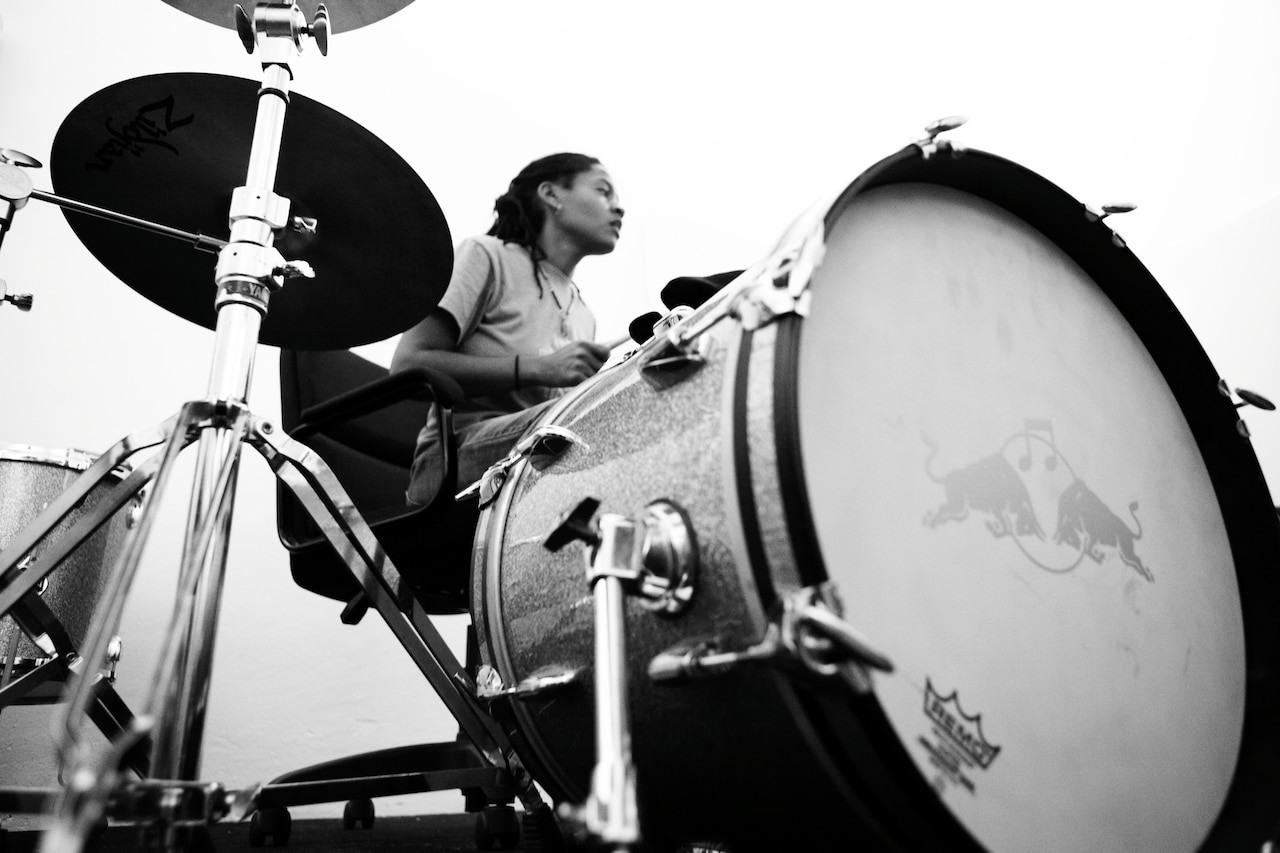 In 2008, Red Bull Music Academy celebrated its 10th anniversary in Barcelona. From September 21st to October 24th, our home was a former fabric factory called Fabra i Coats, a maze of cavernous spaces that were converted by up-and-coming local architect Frank Dominguez and his team into a musical playground. Our partnership with the city's cultural department ensured that the building would continue to run as a cultural center after RBMA left town (as it still does today).
Joining us as lecturers were many renowned artists who've shaped the way we think about music in the modern age. Chuck D, Goldie, Bun B (UGK), Mala, Moritz von Oswald, Move D, Melvin Van Peebles and Tom Oberheim were among those who talked about the experiences that altered their musical perspectives.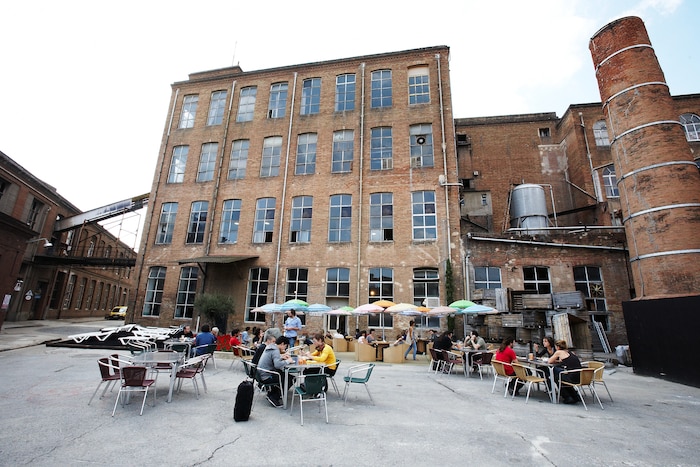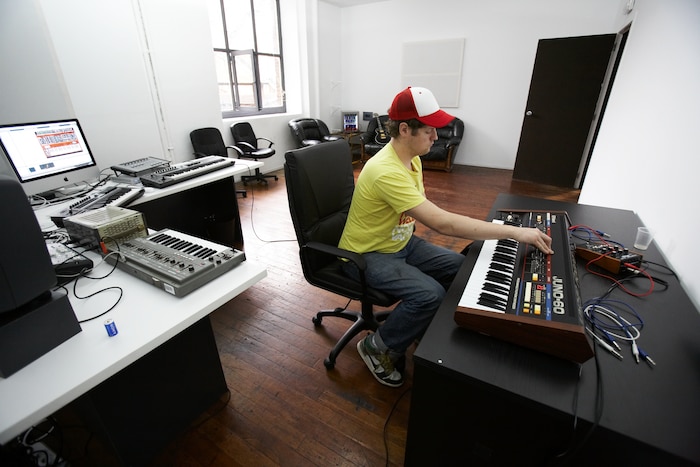 By night, RBMA presented a packed program of club events as well as a series of concerts in some of the city's historic public spaces. Wolfgang Voigt, performing his GAS project, transformed the Sala Hipóstila at Parc Güell into a writhing forest of shifting, atomized sound. Another highlight was an open-air live show by Sly & Robbie and Moritz von Oswald feat. Tikiman, bouncing rhythm and bass around the walls of the medieval Plaça del Rei in the Barri Gòtic.
The Academy's ties to Barcelona run deep, thanks to our longstanding partnership with Sónar festival. This edition of RBMA saw us joining forces with some of the city's boutique festivals, such as OFFF, Uff! and BAM, further exploring the creative pulses of this singular seaside metropolis.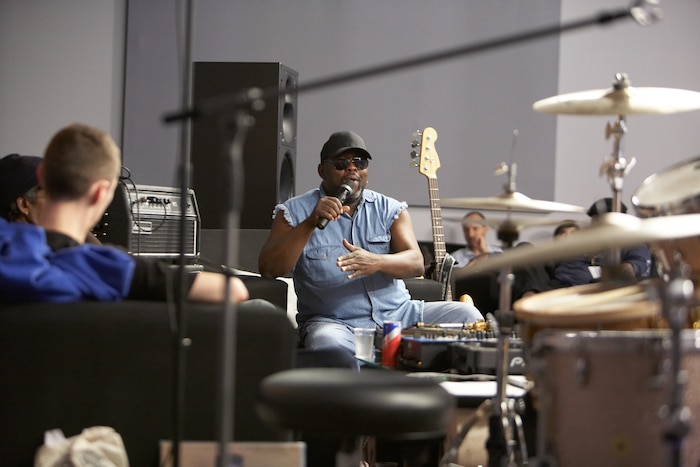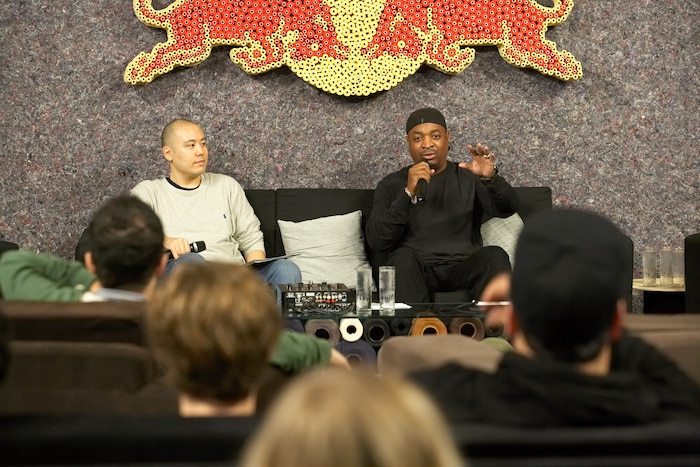 An impressive roll call of music-makers joined the Academy in Barcelona as lecturers. Their ranks included New York producer and studio engineer Mario Caldato Jr., best known for his work with the Beastie Boys, and Chuck D, renowned frontman for perhaps the most influential hip-hop group ever, Public Enemy. Drum & bass icon Goldie held court on the graffiti-like science of making music, and the evolution of his genre from raves in dusty warehouses to full symphony orchestras. Other lecturers included multi-genre maverick James Pants and mastering legend John Dent, who has been awarded for his work on seminal albums from Bob Marley, Grace Jones, Motörhead and the Stranglers to Warp's Harmonic 313.
Sly & Robbie weren't the only RBMA lecturers to jump in on a session in the Barcelona studios. Dennis Coffey contributed to many of the tracks being concocted around the building – with the dexterity and skill befitting a gentleman who lent his touch to countless Motown records.
View a complete list of Barcelona lectures here.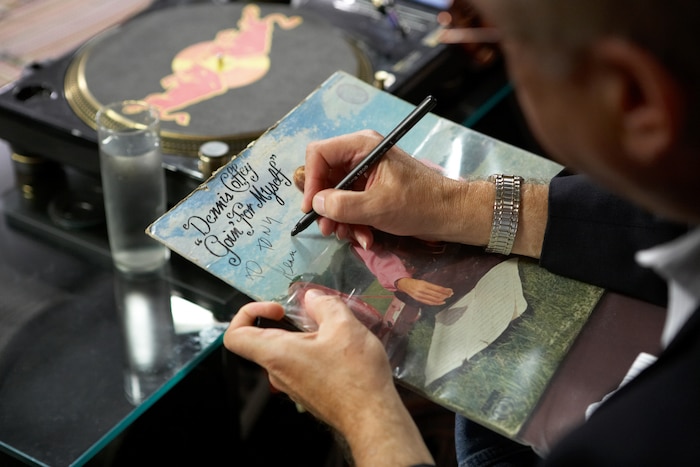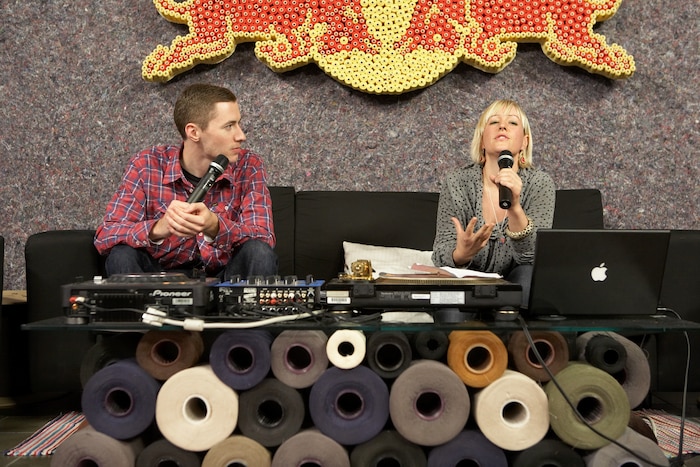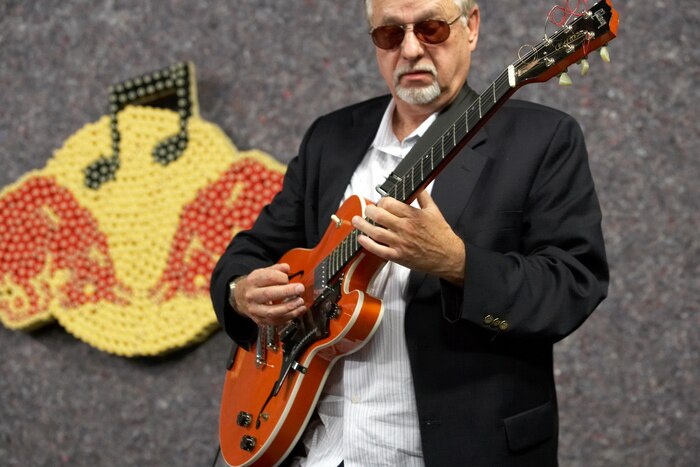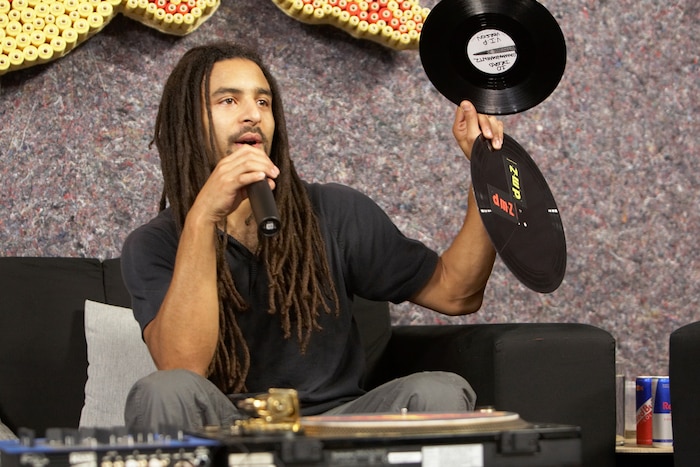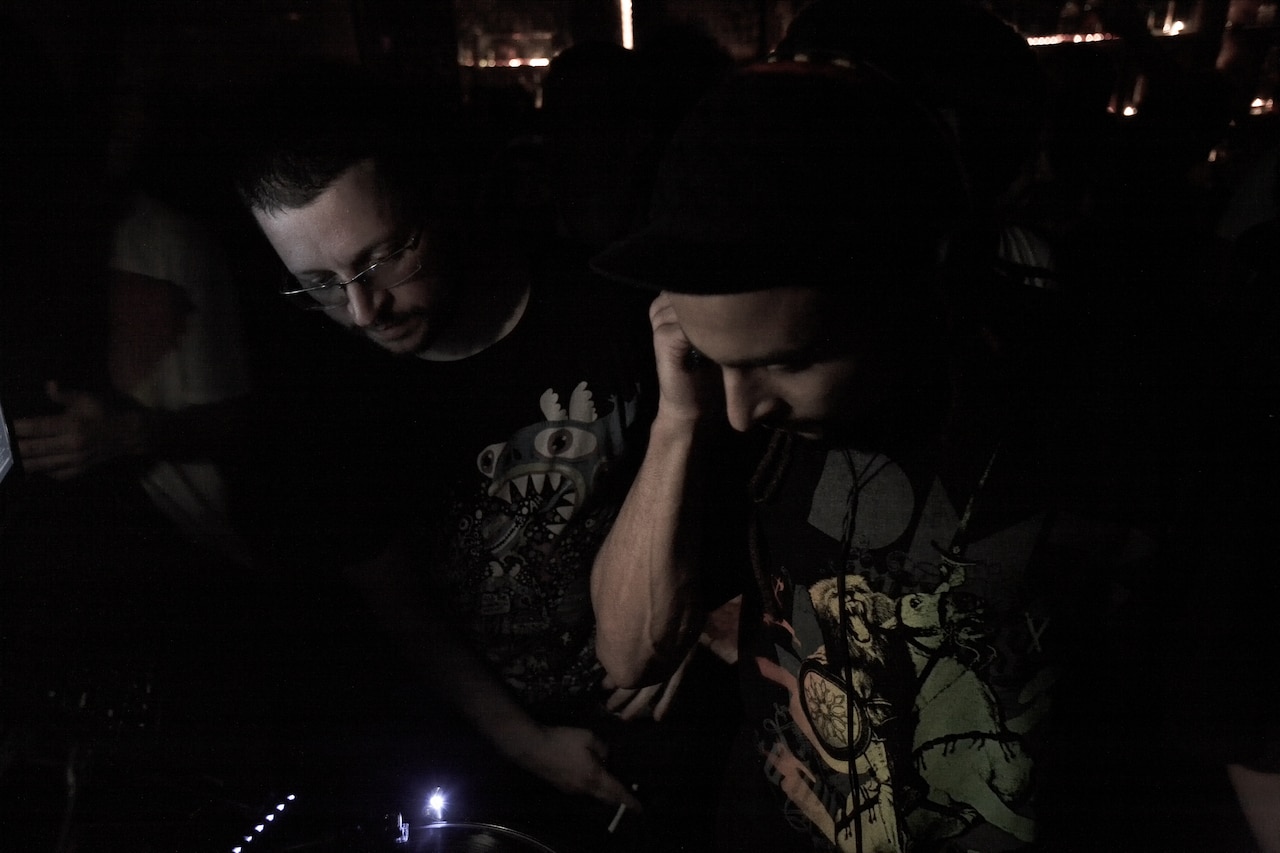 As it was RBMA's 10th anniversary, we had plenty to celebrate, and the public portion of our program provided ample opportunity to do so, comprising five weeks of club nights, concerts and workshops. Venues ranged from City Hall to music production hub microFusa, and our partnership with the city's cultural department led to a series of events in some of the city's most stunning public spaces.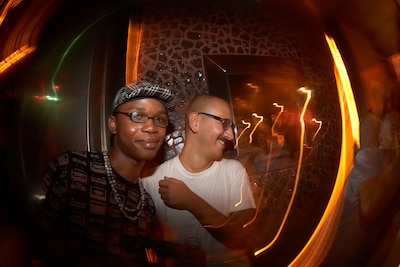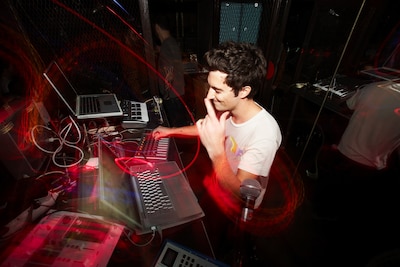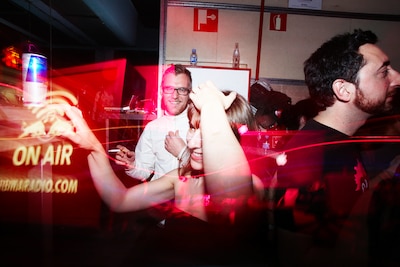 Notable shows included Belgian EBM pioneers Front 242's exclusive DJ set at Fellini, and nights at Razzmatazz headed up by Dutch electro-italo impresario i-F and Ann Arbor's techno and house chameleon Osborne. Participants such as Culoe De Song, Te'Amir Sweeney, Hüseyin Evirgen of Cassegrain, Violet, Jamie Woon and Ta-ku played shows across town, at havens of good music like Moog and Macarena, as well as in the cavernous festival venue Parc del Fòrum.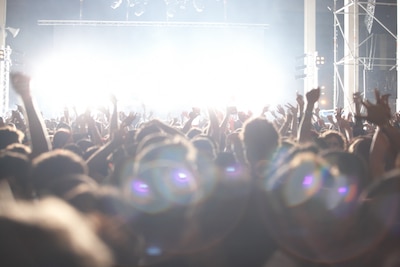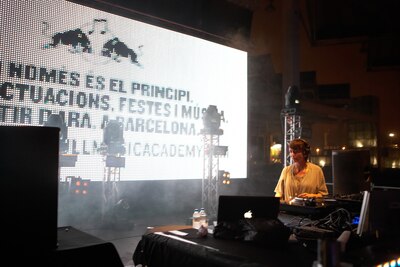 We presented a series of public lectures and workshops featuring speakers like mastering legend John Dent and Grammy-winning producer Om'Mas Keith of Sa-Ra, who has worked with Frank Ocean, Kanye West, Dr. Dre and Erykah Badu. Austrian analog maestro Patrick Pulsinger also held a beachside workshop on modular synthesis, in partnership with boutique digital outlet and music festival UFF!
Read on for more highlights from the events program of the 2008 Red Bull Music Academy.
Clash of Kings at Plaça del Rei
Jamaican duo Sly & Robbie, comprised of drummer Lowell 'Sly' Dunbar and bassist Robert Shakespeare, are estimated to have contributed as producers and rhythm section to around 200,000 songs. Among other things, they've lent their inimitable touch to tracks by Chaka Demus, Peter Tosh, Mick Jagger, Grace Jones and James Brown. The structures of the former Royal Palace and the Chapel of Santa Agatha made a surreal backdrop for this show under a full moon, as trombonist Ronald "Nambo" Robinson and vocalist Peter Gayle got the crowd cheering and swaying with improvised call-and-response melodies, and echoing basslines evaporated in the night air. Moritz von Oswald and Tikiman also contributed their deep future-dub to the evening's free program, which was held in the 16th century Plaça del Rei, and attended by 2,500 people.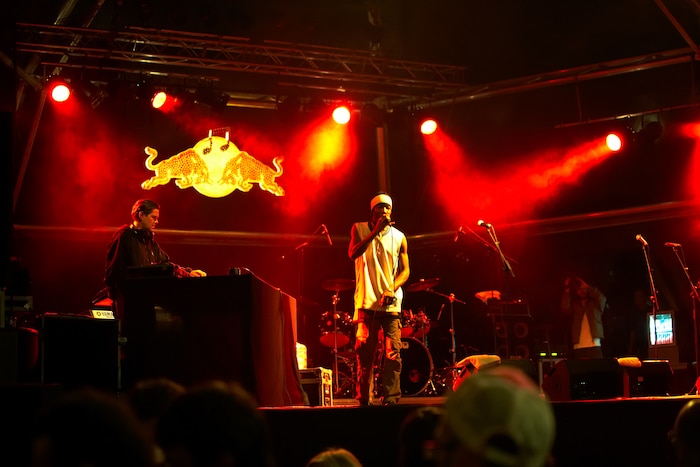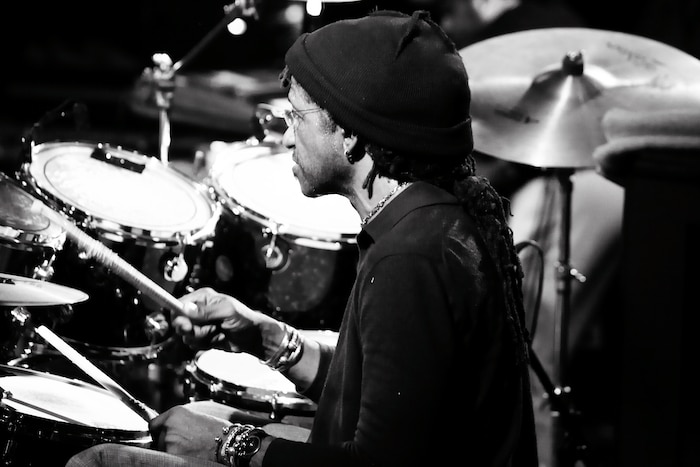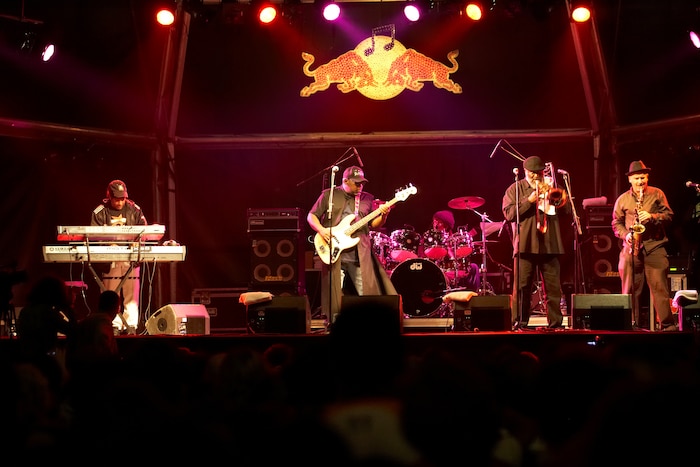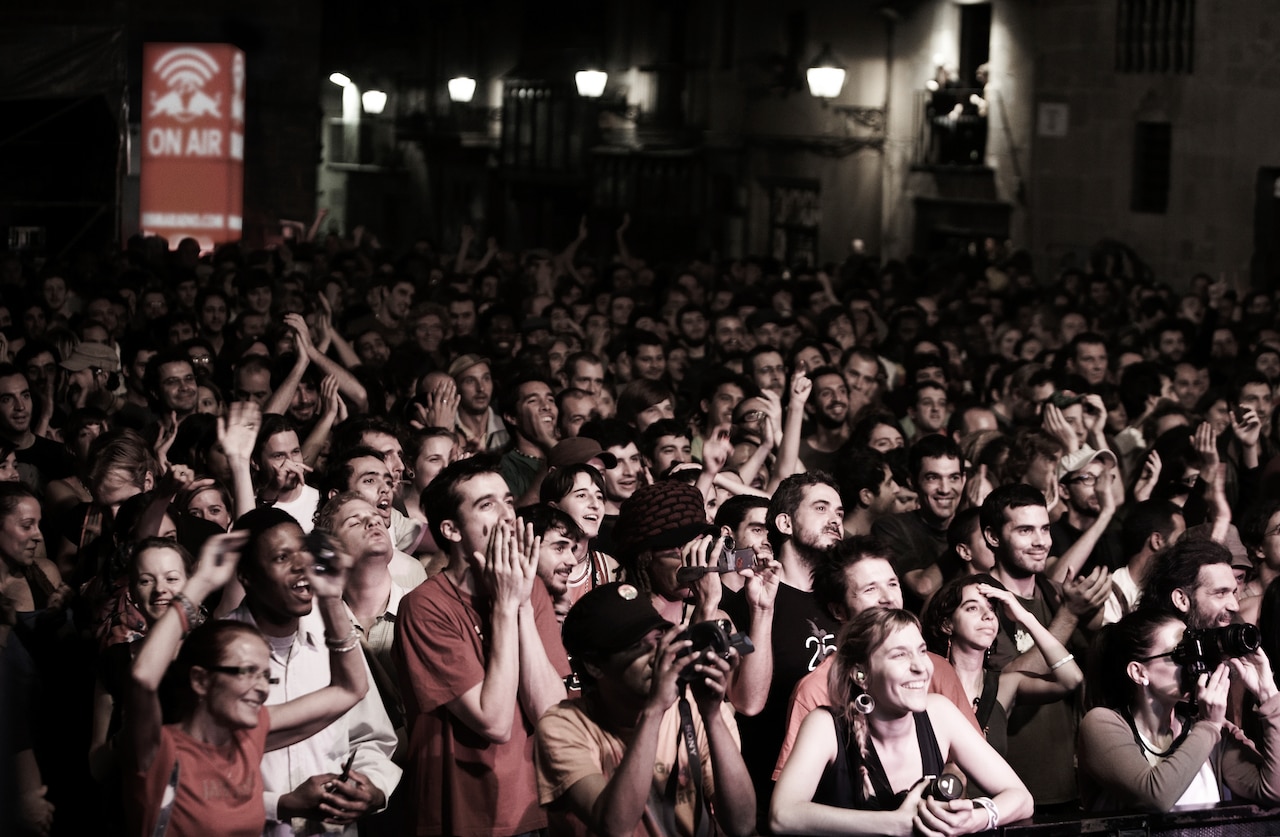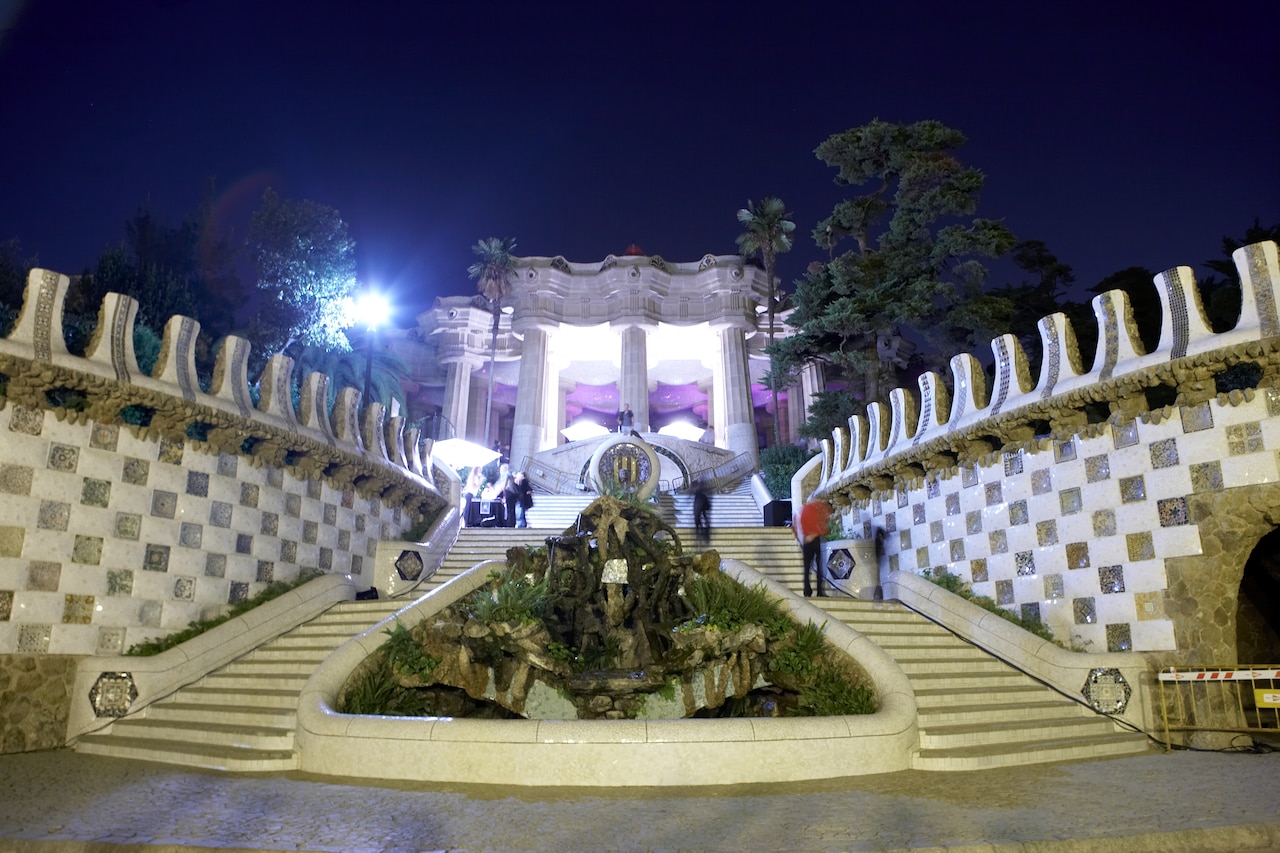 As part of the Academy's program in Barcelona, pioneering German producer and Kompakt co-founder Wolfgang Voigt performed his ambient music project GAS in the palatial surrounds of Sala Hipóstila in Parc Güell. Designed by Gaudi, Parc Güell is one of Barcelona's most famous architectonic sites, constructed between 1907 and 1909. For most Barcelona residents, this was the first time in living memory that a concert had been held in this spectacular location. As it is so infrequently used for performances, a copy of Gaudi's original design had to be used to plan the stage and seating set-up. Around 350 invite-only guests attended this audiovisual presentation by the Cologne techno and ambient impresario, which paid homage to the primeval microcosmos of the forest.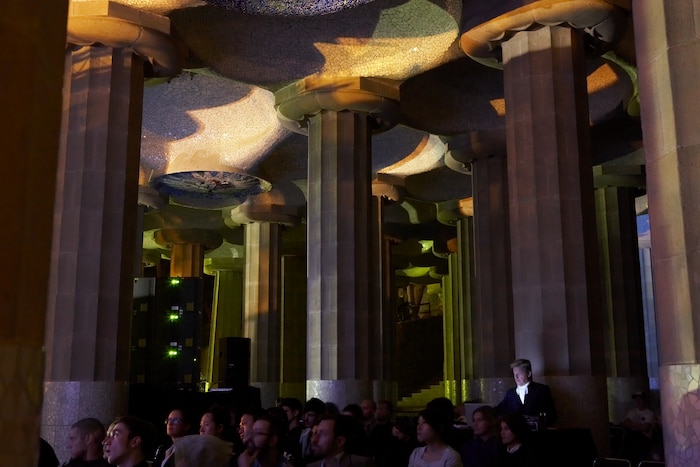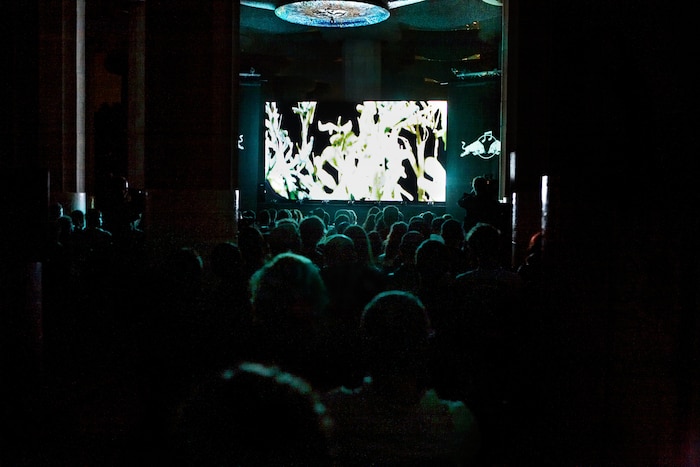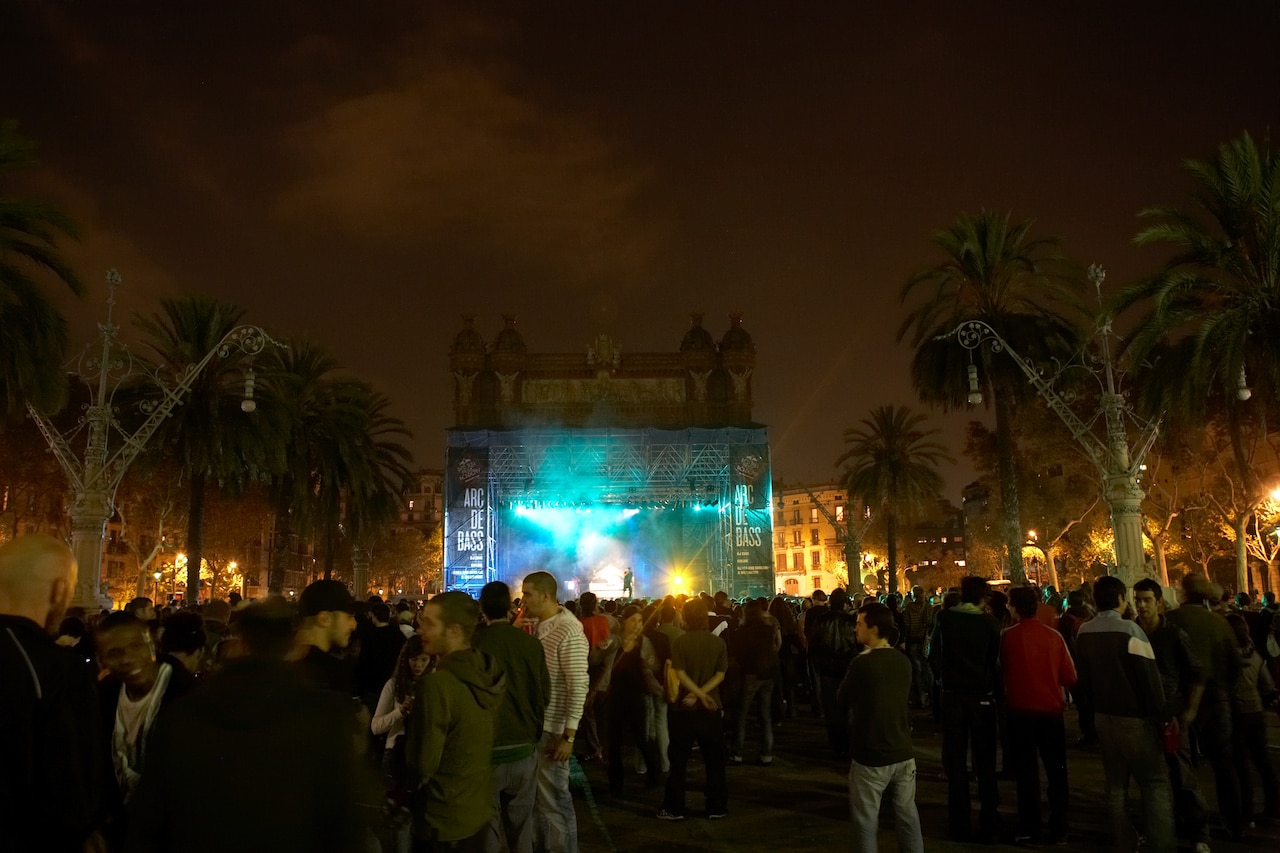 At Arc de Bass, the UK's Zinc, Goldie, Benga, Skream and MC Lowqui performed their groundbreaking drum & bass and dubstep on a giant stage in front of the Arc de Triomf. Like a scene from a distant planet, a crowd of 3,000 revellers gathered under the glow of the great Barcelona monument as Skream and Benga dropped the latest dubplates from London.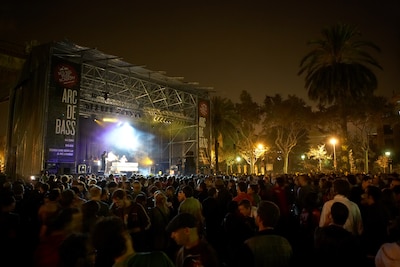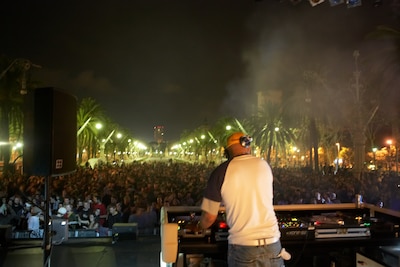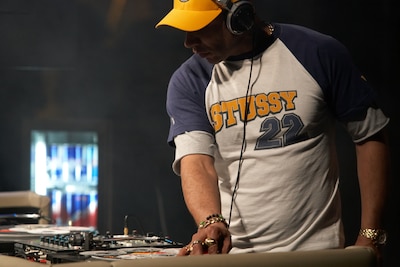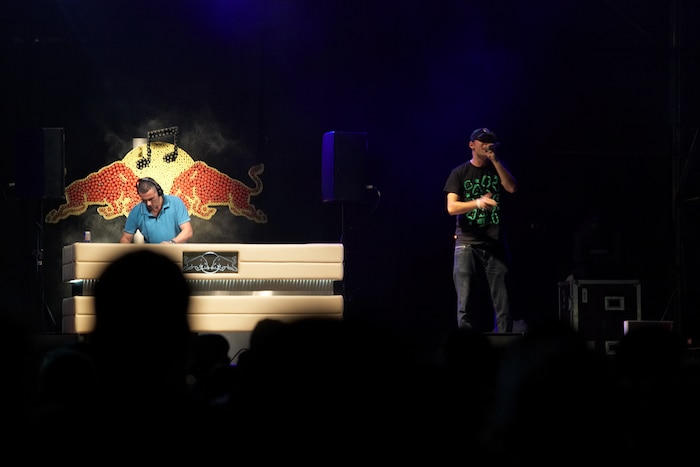 RBMA pres. Dubstep Special en ElectroBAM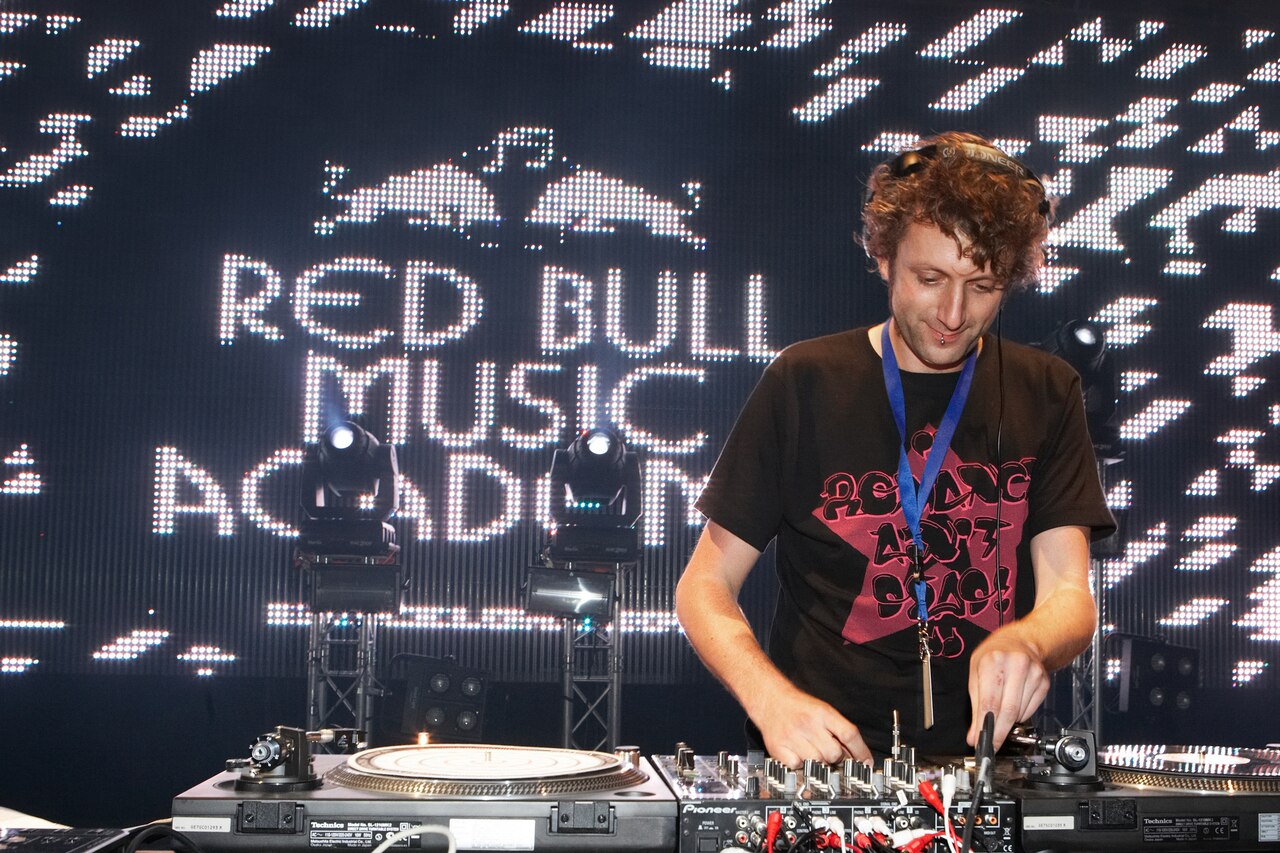 During the Academy, we teamed up with Barcelona's BAM festival for a number of events, including a Minus night at Parc del Fòrum and a sold out acoustic-meets-future-soul showcase featuring Jamie Woon and José James. But the dubstep party we held in partnership with BAM seemed to have a particular impact, as one of the city's first large-scale bass music events. UK participant Subeena (who now records as Alis) and Finnish participant Desto played dubstep alongside lecturer Appleblim, with Skepta dropping in on mic duties, for a crowd that was estimated in the tens of thousands.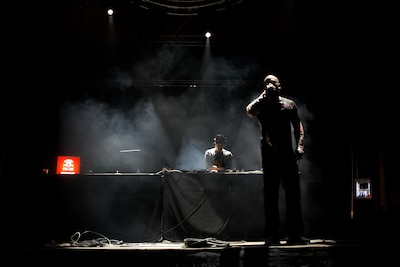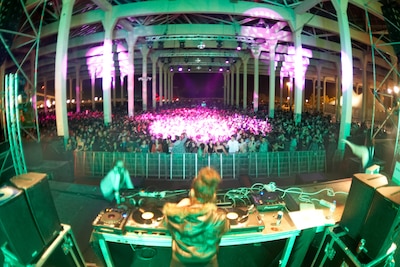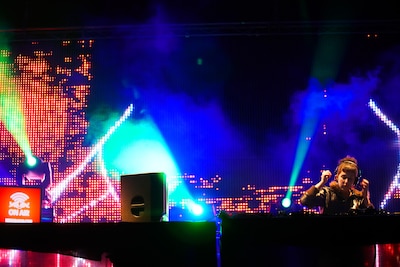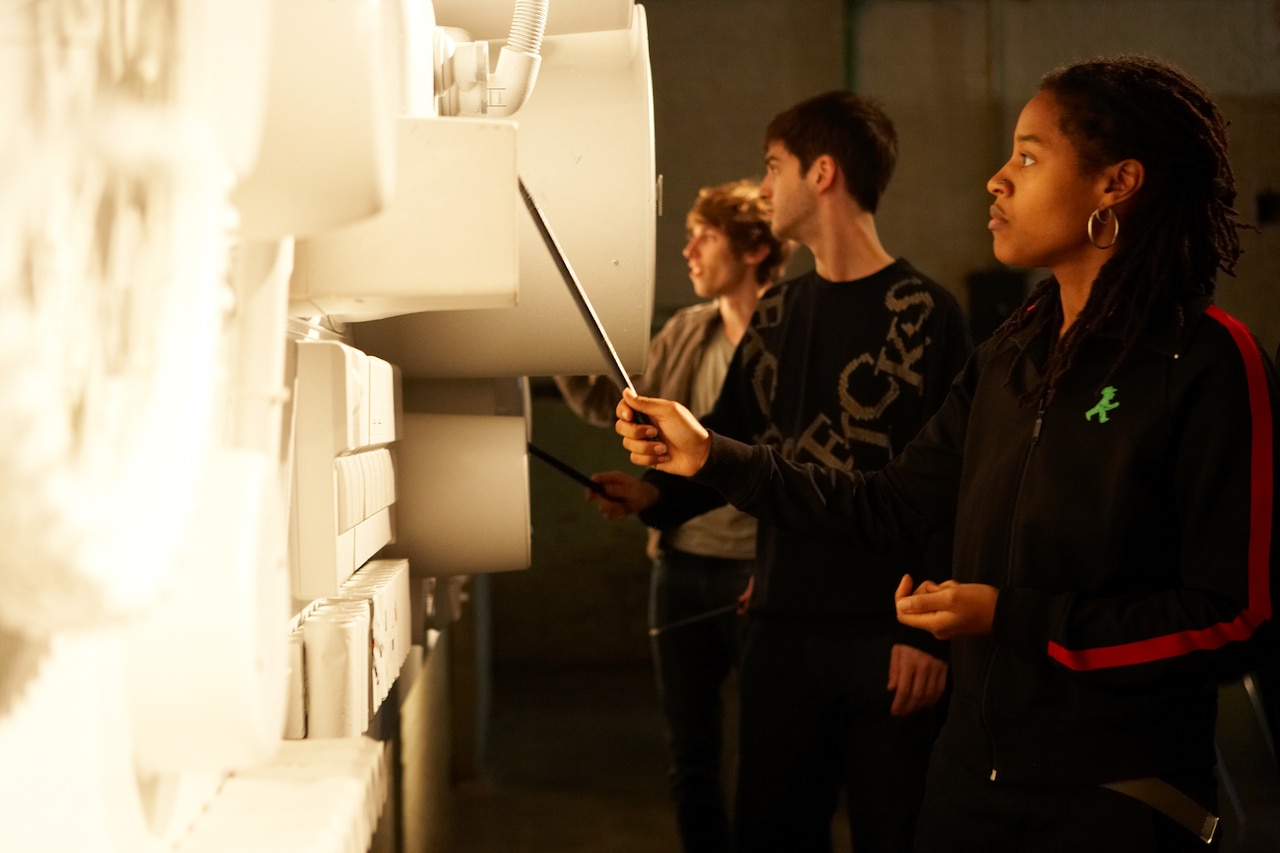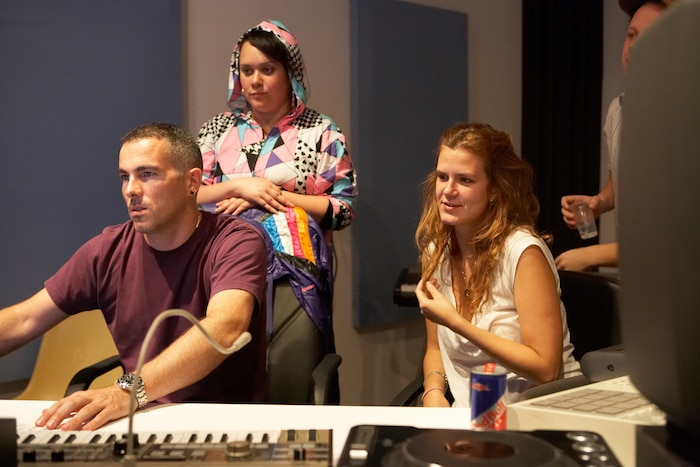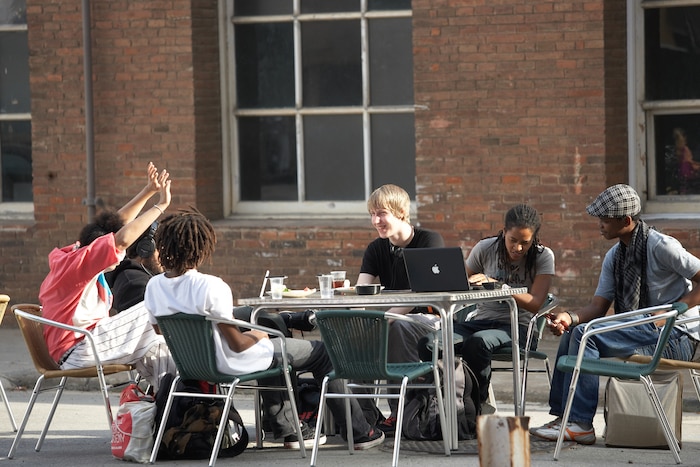 Some of the many tunes our participants worked on in the Barcelona studios are compiled on the 2008 edition of our annual audio yearbook, Various Assets – Not For Sale. On the full compilation, you'll hear tracks by artists including Coco Solid, Sonicbrat, Mano Le Tough, Fatima, Dorian Concept, Cohenbeats, Kornél Kovács, Cardopusher, Jamie Woon and Violet.
Studio team members who contributed included Zinc, Robin Hannibal, Mark Pritchard, Om'Mas Keith and Tony Nwachukwu.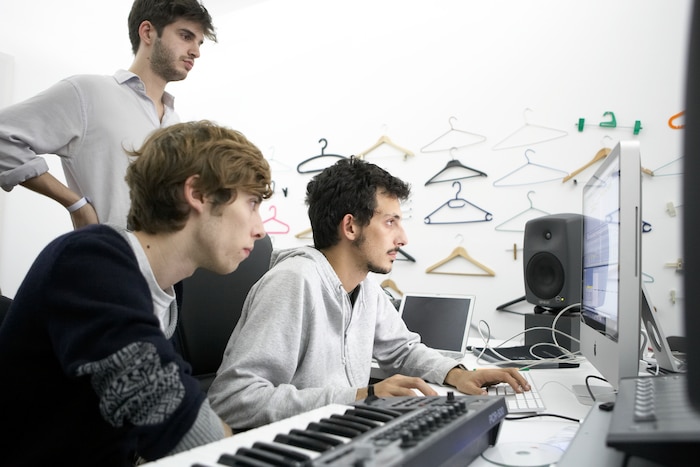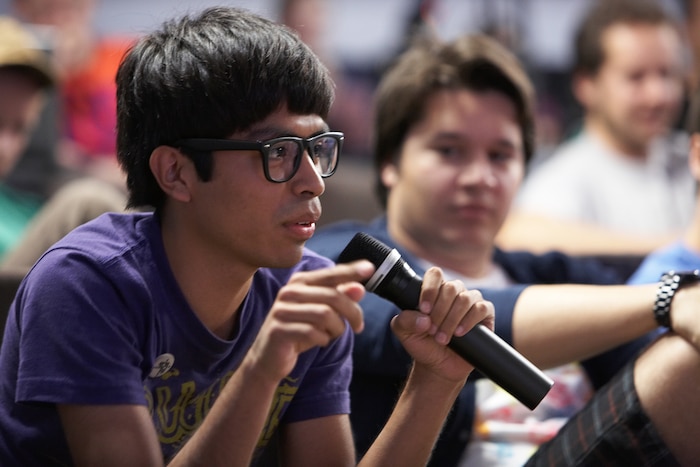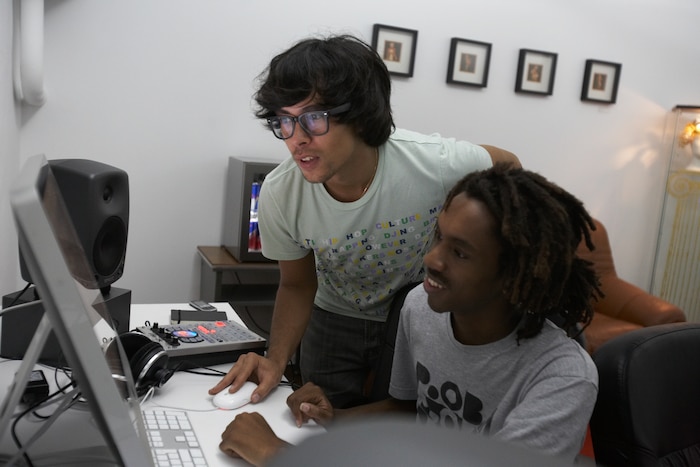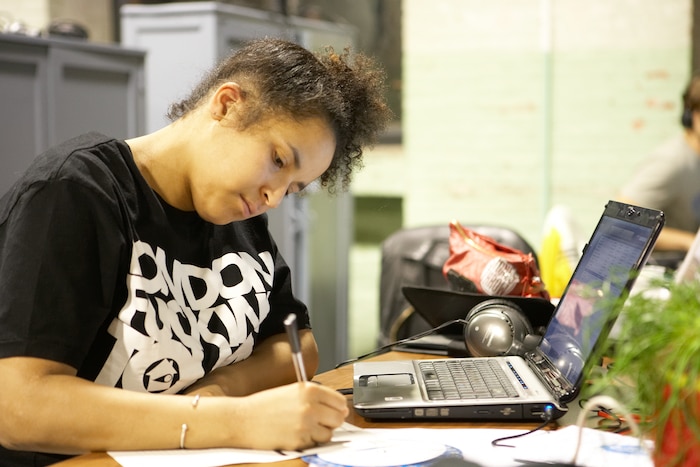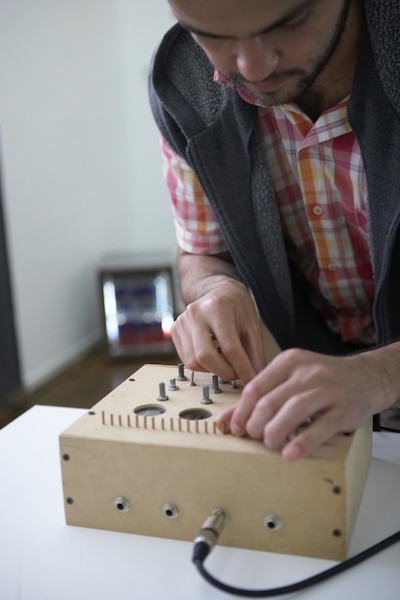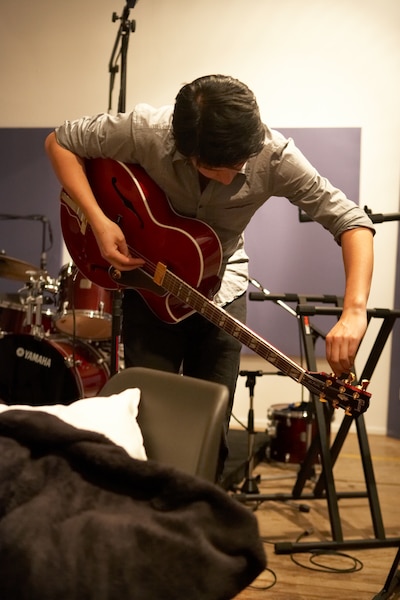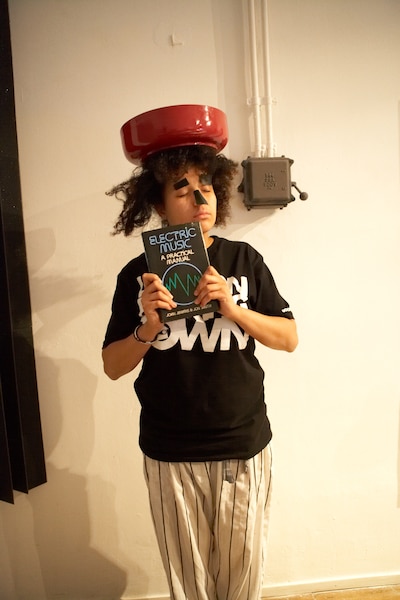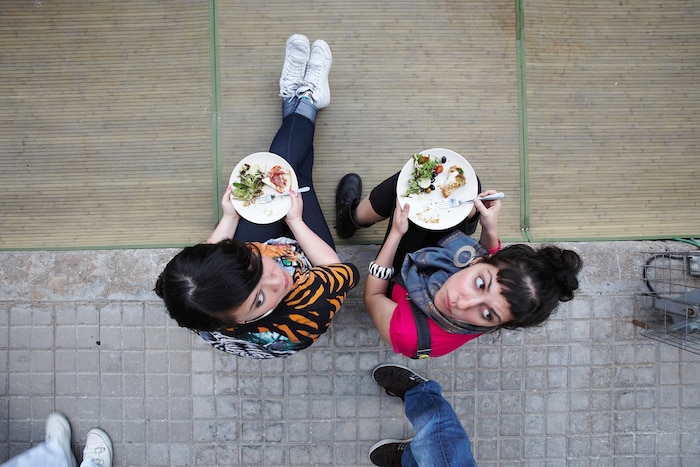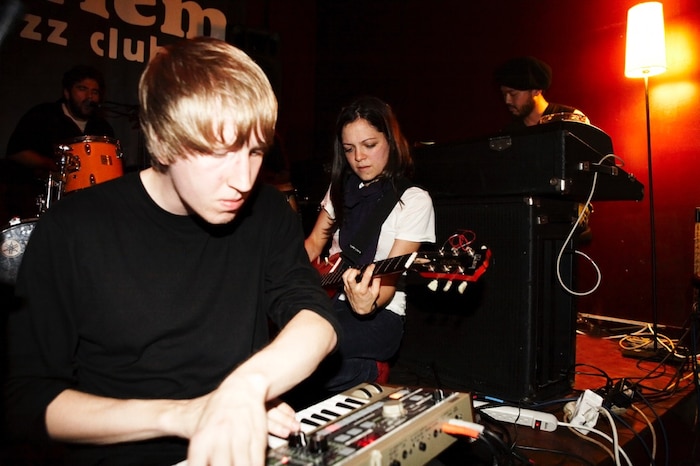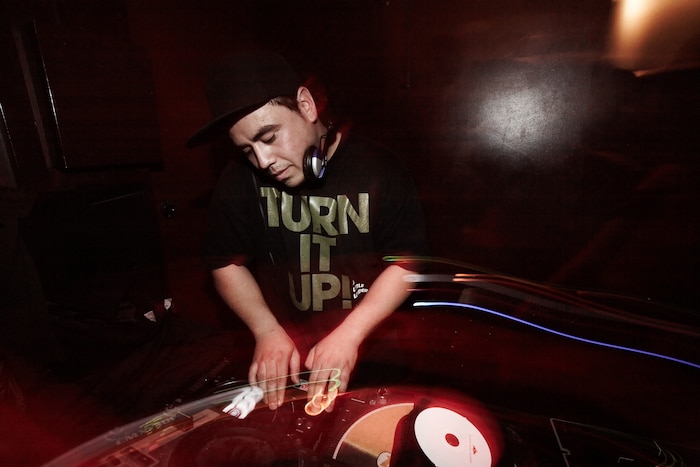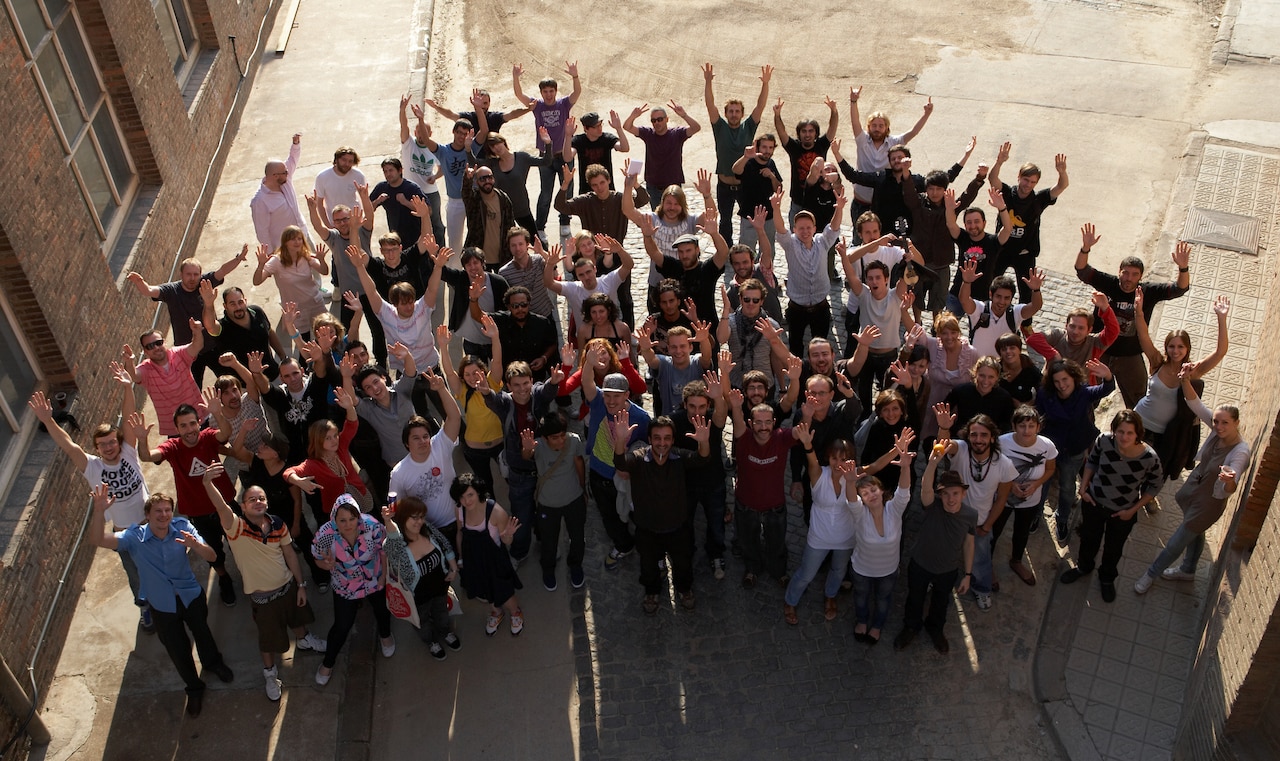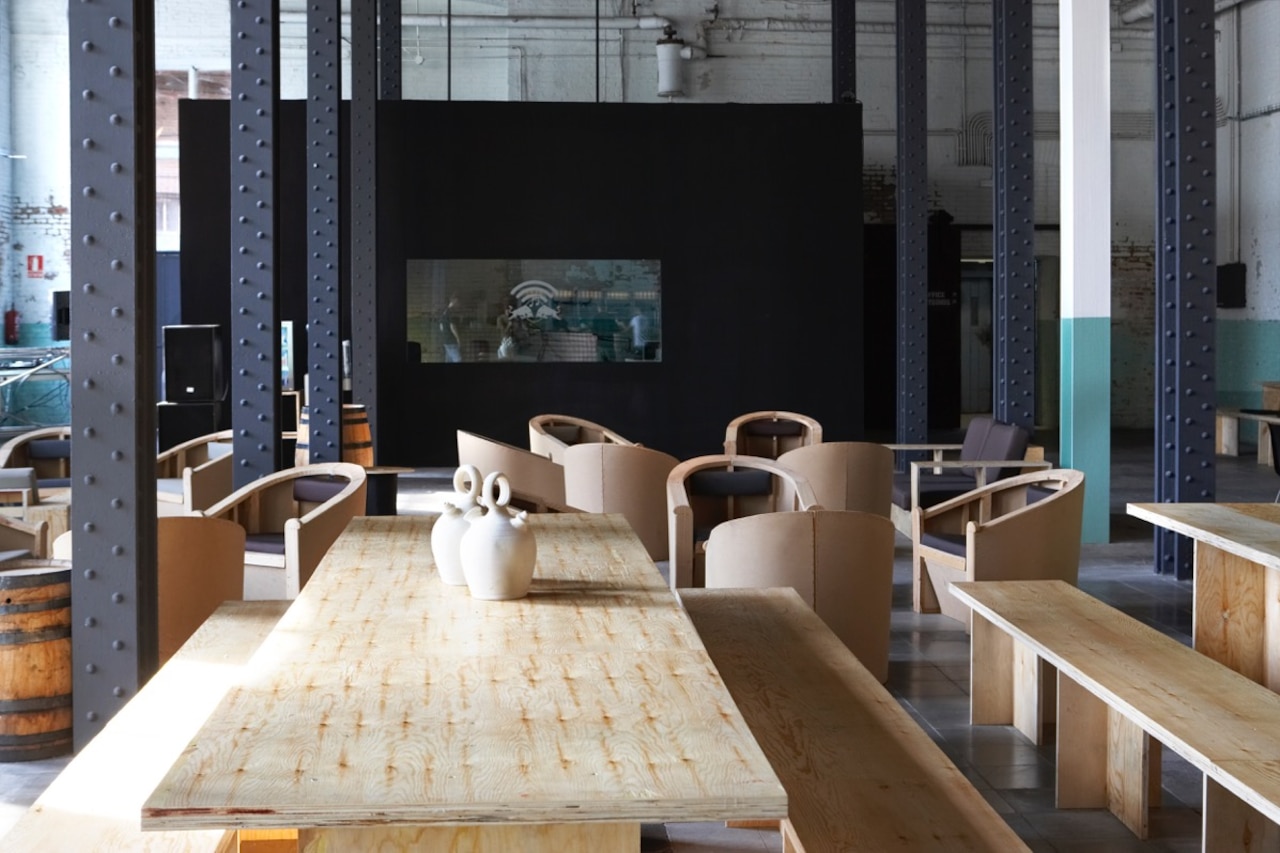 When the city council suggested the Fabra i Coats factory in the working-class neighborhood of St. Andreu as a location for the Academy, it was the beginning of a brand new legacy for this imposing and historic building. The Academy installed a lecture hall, radio studio, canteen, offices, eight studios, a recording room and two control rooms. The interior of the building and custom furniture were designed by a young local architecture firm, Estudi Frank Dominguez, with textiles utilized throughout to reference the original function of the space as a fabric factory.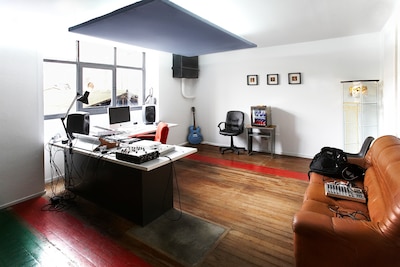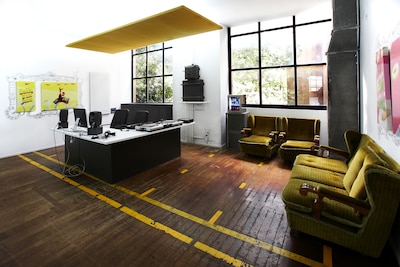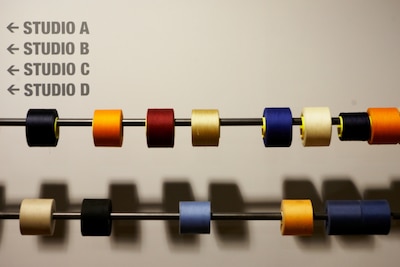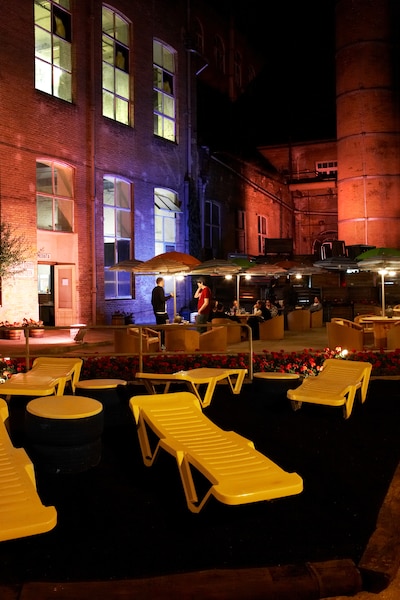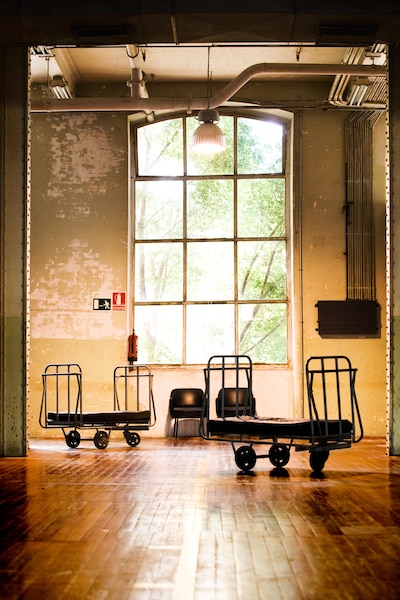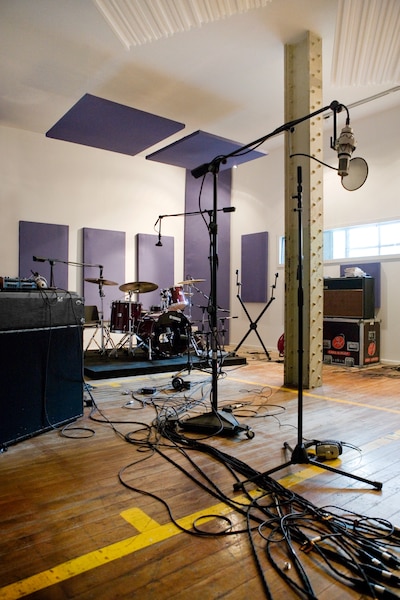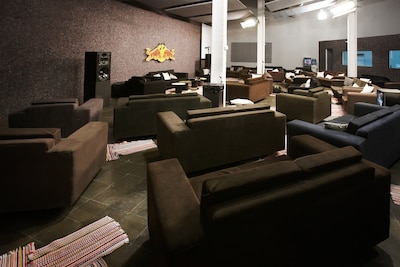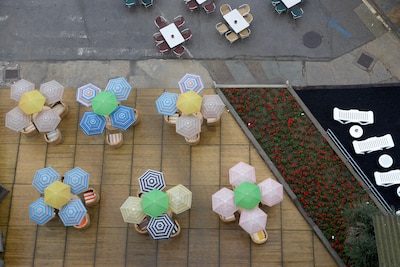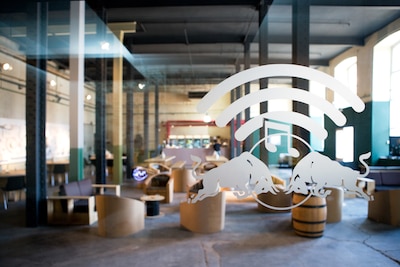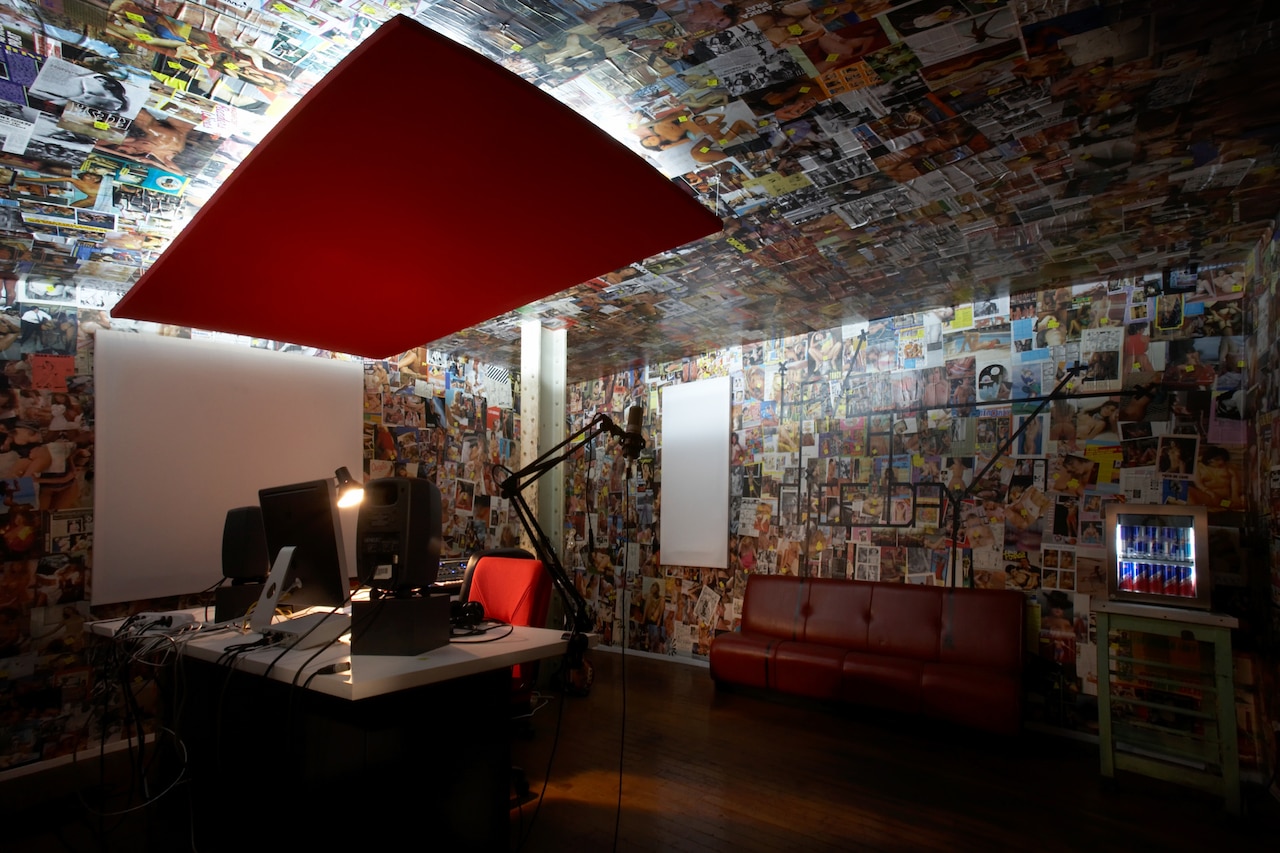 Inside the Academy, art curators Héctor Ayuso and Oriol Rosell of OFFF Festival installed works by 22 artists representing "post-digital creation culture."
Visitors to the building encountered an air-harp of colored threads, and an interactive artwork called "Guten Touch!," which generated geometric images or drew shapes in digital smoke according to the users' hand movements on the screen. The Academy and OFFF Festival took this exhibition into the public realm with an art installation on Palau de la Virreina, in the heart of Barcelona. Also on display and available for participants to use was the glowing electronic music instrument known as Reactable, developed by Barcelona's Music Technology Group. Music Technology Group's Sergi Jordà also joined the Academy as a lecturer, giving further insights into the applications of this tactile interface.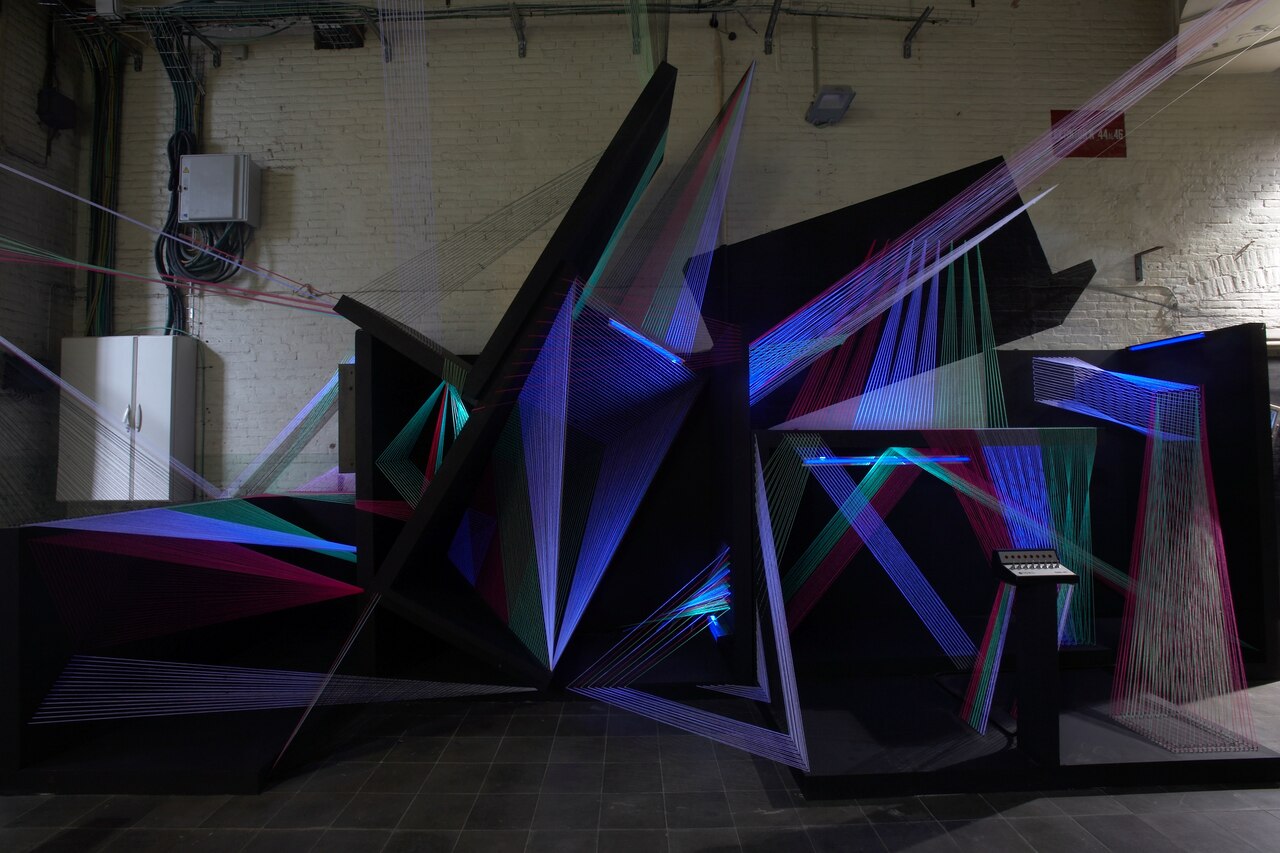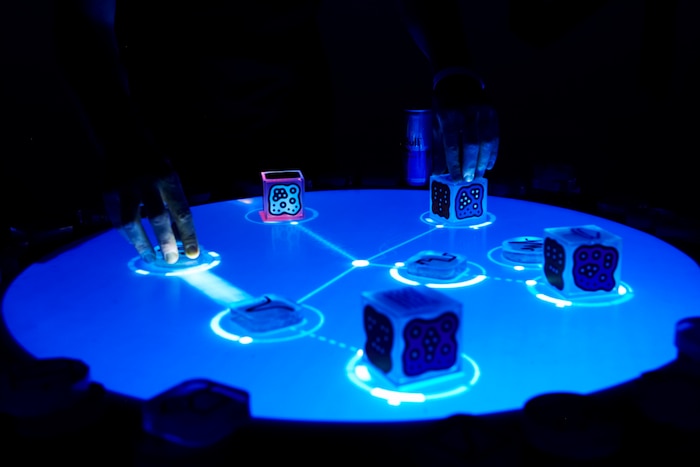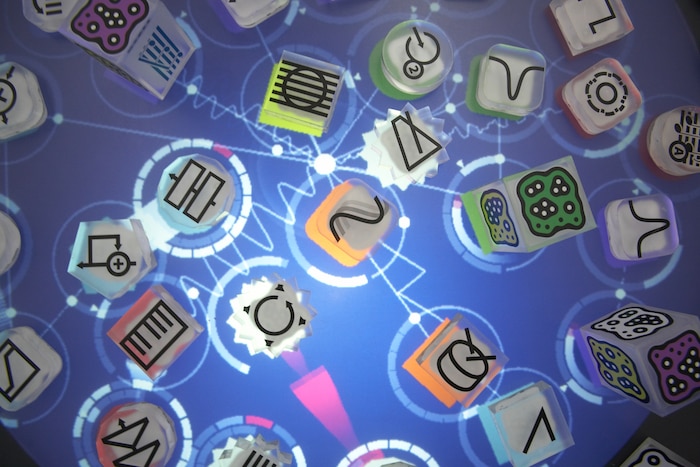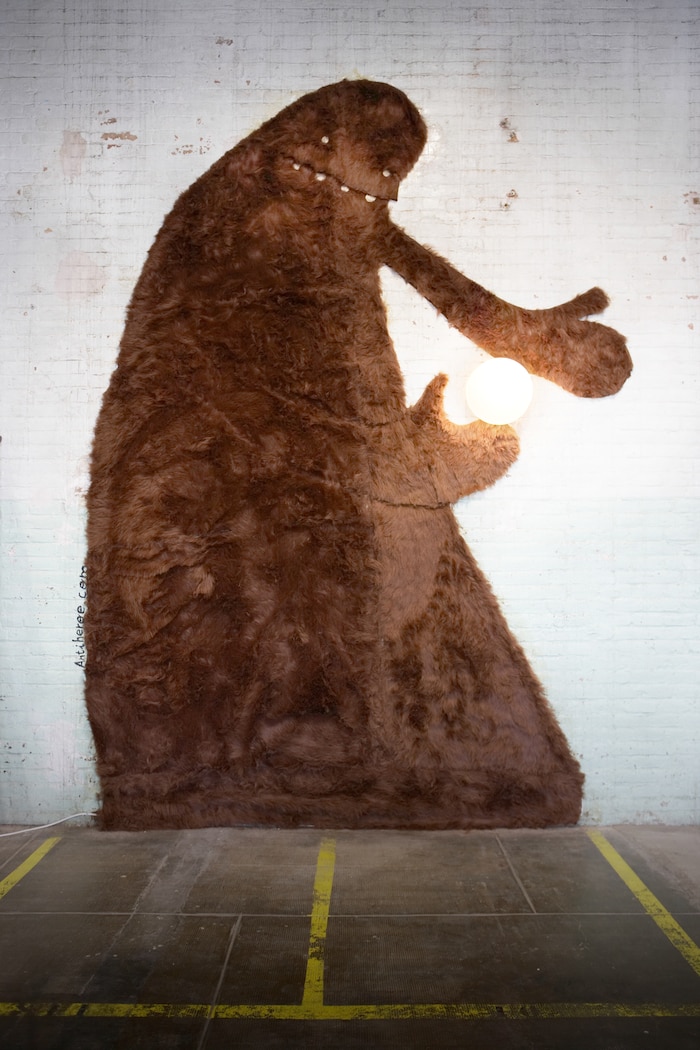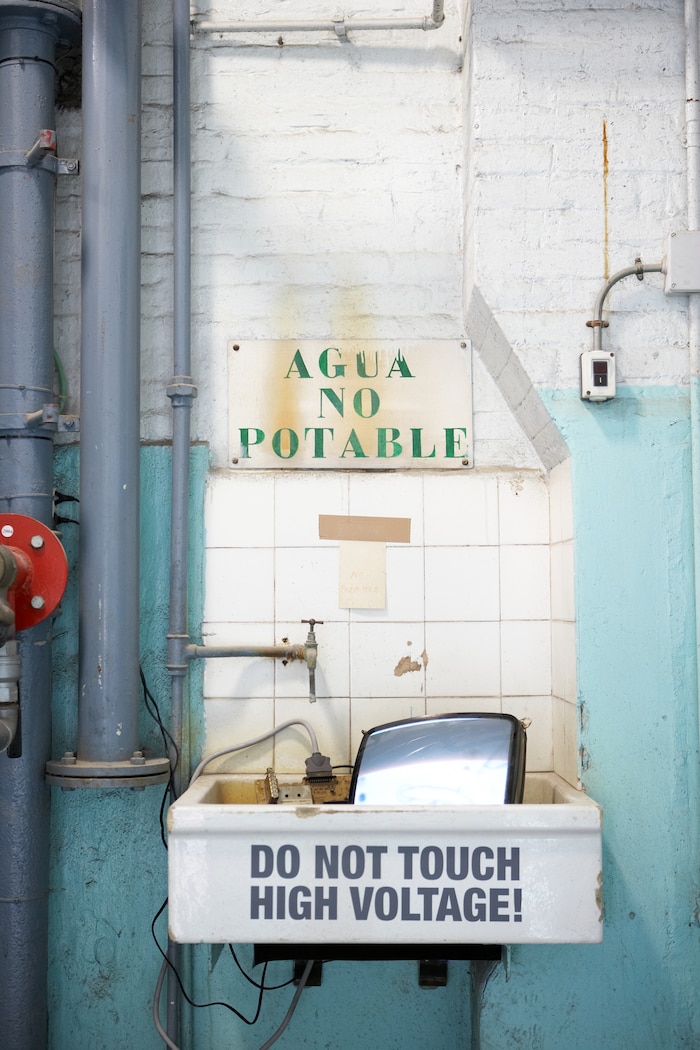 Red Bull Radio, at that time known as RBMA Radio, broadcasted a daily live show from the Academy on weekdays from 5 PM - 10 PM on 96.6 FM, with hosts from the Academy team and Barcelona's Scanner FM, presented in Spanish, English and the lingua franca of music.
Additional Photo Highlights