Red Bull Music Academy World Tour 2011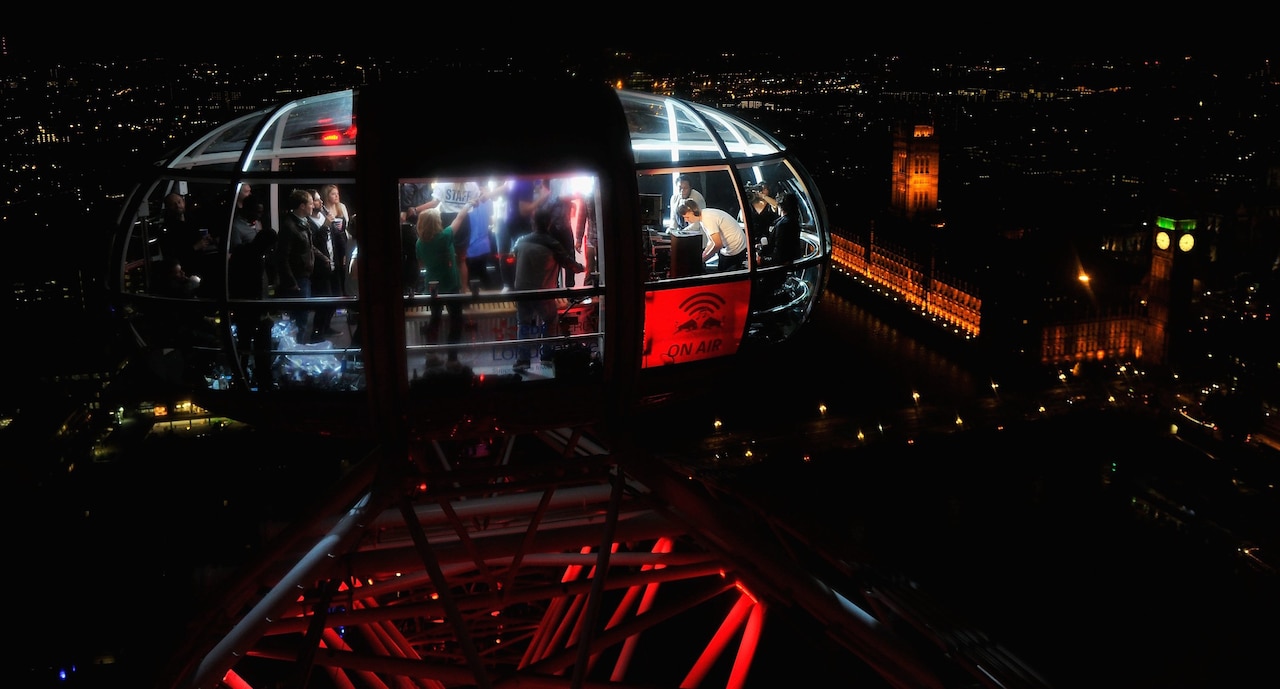 Cape Town: Maximum Signal Control
August 29 – September 3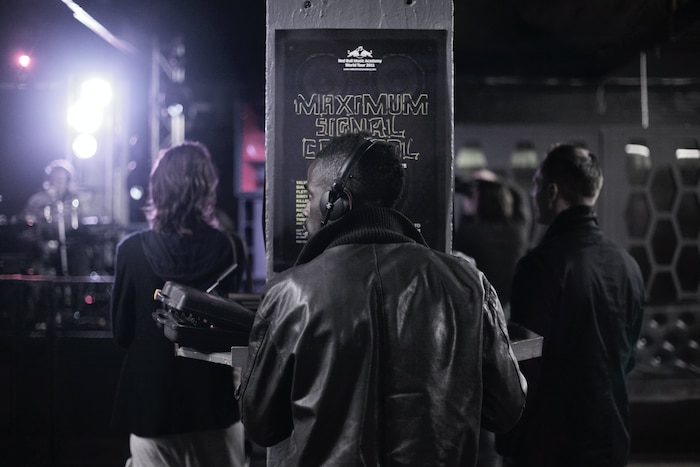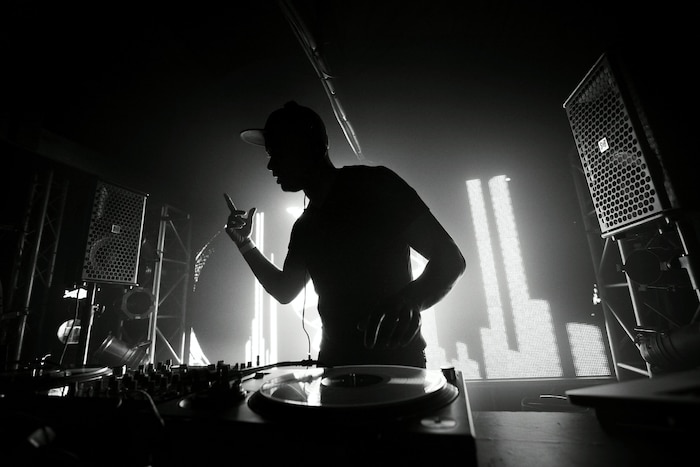 In both public and invite-only workshops between August 29 and September 1, South African musicians including Markus Wormstorm and alum Jullian Gomes learned how to build a soundsystem under the guidance of the UK's drum & bass powerhouses Lemon D and Dillinja of Valve Sound System, and Christian Buchmueller and Clint Senger of S&B Audio. Subsequently, three nights of parties put that system's subs to the test, with a range of local talent like African Dope's Fletcher joining Lemon D and Dillinja behind the decks.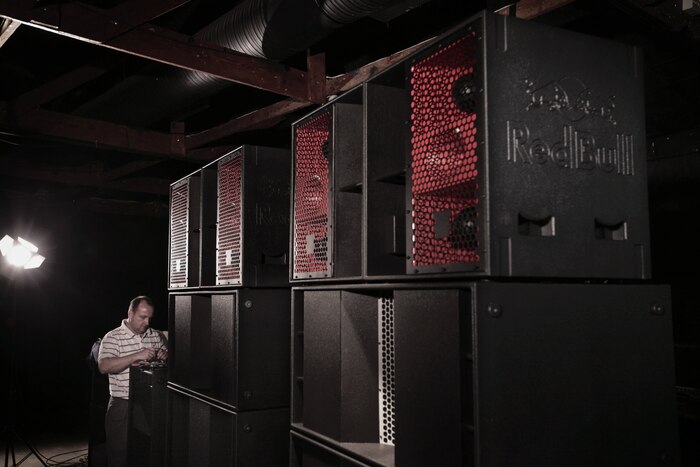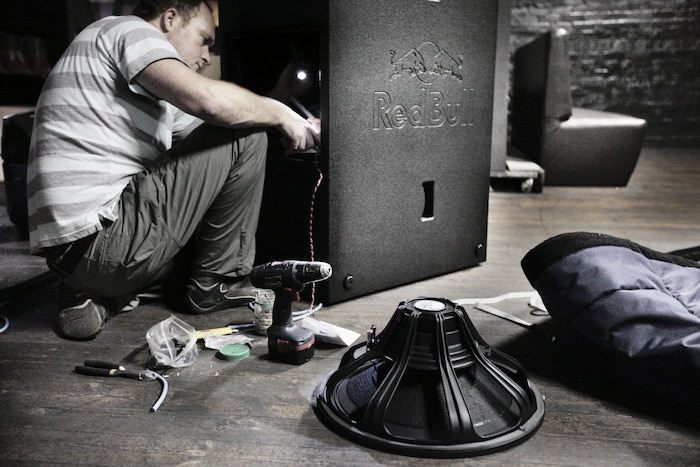 Berlin: Hansa – Das Studio der Mauerstadt
September 7 – 9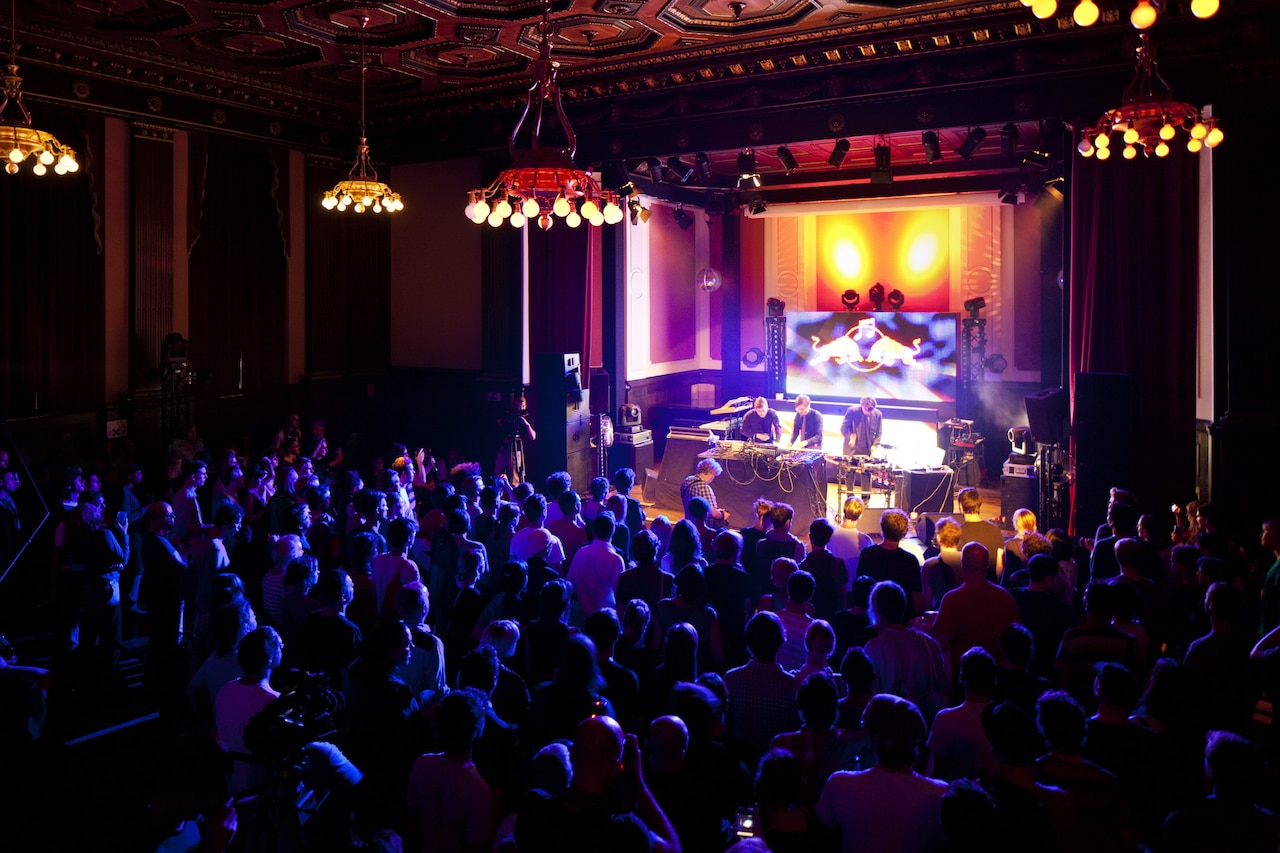 Between September 7 – 9, RBMA touched down at Berlin's fabled recording studio Hansa to celebrate the studio's lasting impact on the music world.
Though originally built as a concert hall in 1910, Hansa Studio's Meistersaal started its illustrious career as a recording studio in 1961. With a handful of influential engineers at the helm, the studio birthed dozens of groundbreaking albums and continues to be revered amongst musicians worldwide. Read more on Hansa here.
Taking place in the studio's Meistersaal, the opening night featured Berlin-based artists such as Brandt Brauer Frick and Mano Le Tough plus fellow RBMA alum and London chanteuse Andreya Triana performing renditions of tunes from Hansa's immense back-catalog, as well as Berlin techno icons like Moritz von Oswald and Radio Slave showcasing the current crop of forward-thinking sounds coming out of Germany.
The performance was followed by recording workshops with legendary studio wizards like Gareth Jones, a producer who lent his touch to recordings from Depeche Mode and >Einstürzende Neubauten among others, alongside former Hansa sound engineer Thomas Müller and Manfred Praeker from the Nina Hagen Band and Spliff. Chart topping German rapper Casper plus RBMA alumnus and Berlin producer Robot Koch also contributed workshops.
By night, free after-parties continued well into the wee hours at Kater Holzig, the nightlife upstart from the folks behind Berlin's infamous Bar 25, featuring Academy family like Tiger & Woods, Morgan Geist and Gerd Janson plus notable RBMA alumni like Clara Moto, San Soda, Patrice Bäumel and Douglas Greed.
Paris: Questlove's Afropicks
September 11

During Jazz à la Villette festival, Red Bull Music Academy and Questlove of the Roots co-curated a special night in Paris dedicated to the immense impact of African funk and soul on modern music.
Questlove, the Roots' drummer, hip-hop producer and outspoken tastemaker, offered a contemporary tribute to African musical history through a selection of tracks played by the Afro-Picks Big Band, featuring Afrobeat pioneer Tony Allen himself on drums, Macy Gray, Black Thought, Mamani Keita and Detroit multi-instrumentalist Amp Fiddler, as well as members of Antibalas, the David Murray Big Band, the Roots, the Tony Allen Band and Fela!, the Broadway musical. The show was a unique performance straddling tradition and modernity, struggle and liberation, music and politics.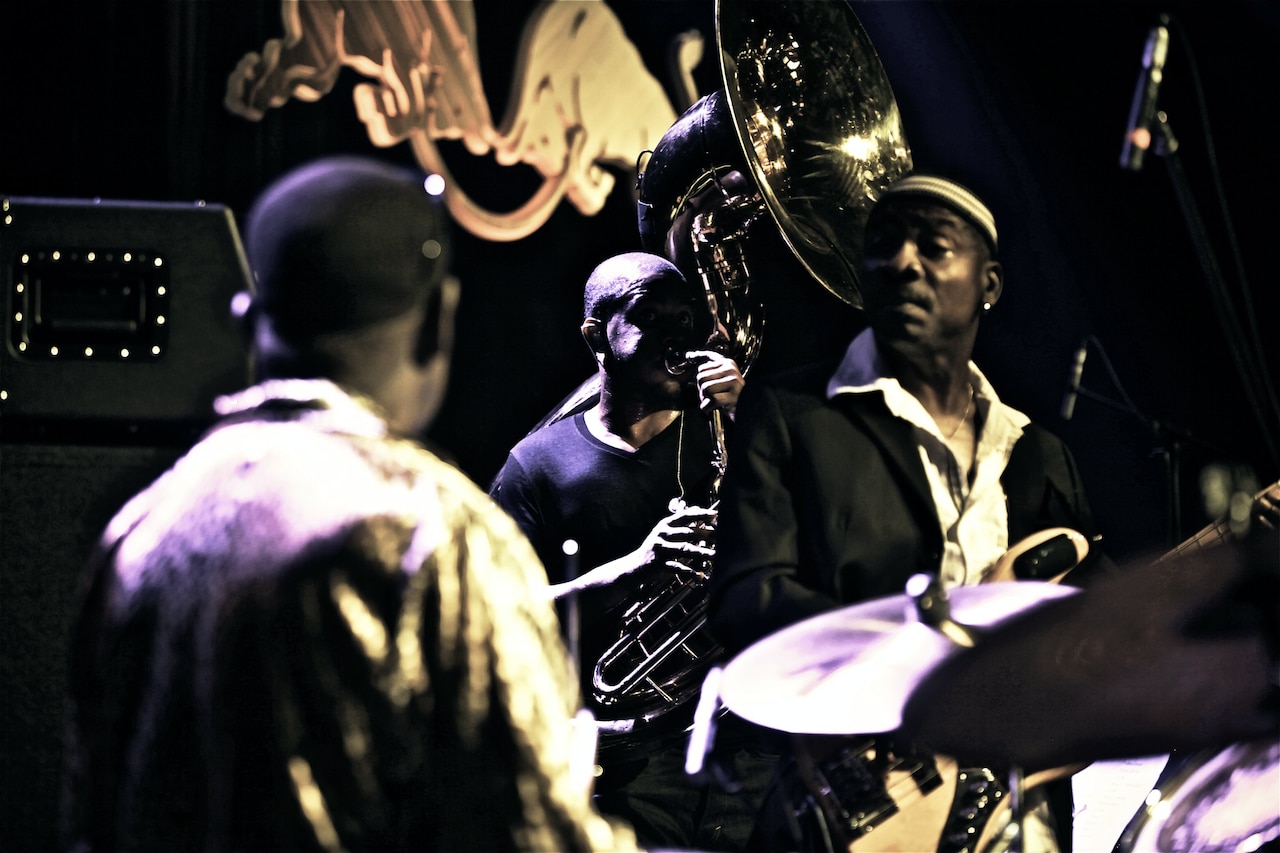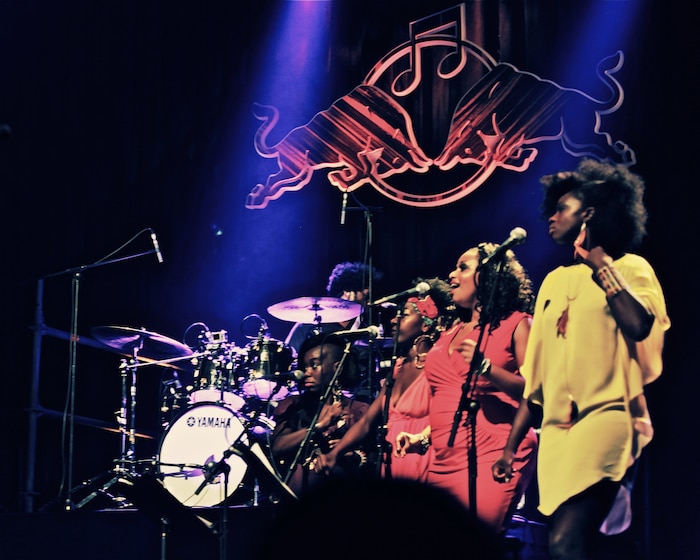 Detroit: Motor City Frequencies
September 12 – 17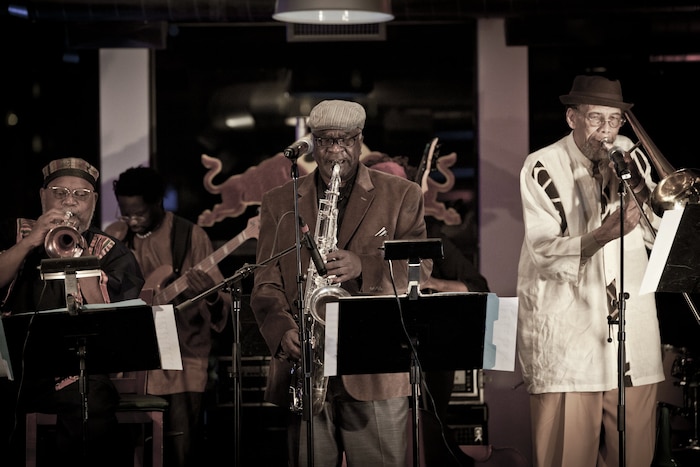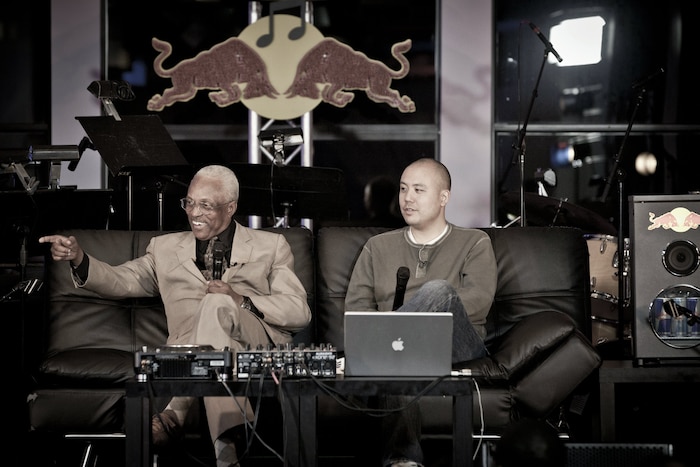 From Motown to garage rock and techno, Detroit is the birthplace of some of the most seminal records of all time; records which stand for whole musical eras.
In tribute to this capital of innovative music, the Red Bull Music Academy created an exhibition of music production and studio equipment. Over five days, guest lecturers included techno and house pioneers like Mike Banks (Underground Resistance), Juan Atkins, Theo Parrish and Carl Craig as well as hip-hop, techno and electronic experimentalist Tadd Mullinix AKA Dabrye, producer/engineer Mike Chavarria and Nick Speed, a producer who has worked with everyone from 50 Cent to Phat Kat and Danny Brown. They spoke about the most respected records to come out of Detroit, with a different music field explored each day. Local music-makers were also able to participate in lectures and workshops with living legends like Motown engineer Ed Wolfrum, keyboardist and funketeer Amp Fiddler, Wayne Kramer of seminal rock band MC5, Motown arranger Paul Riser and Ghetto Recorders' Jim Diamond, the garage rock producer, engineer and bass player with the Dirtbombs. Other speakers included jazz pioneers and Afrofuturists Marcus Belgrave, Phil Ranelin and Tribe Records' Wendell Harrison.
Two night-time events put the theory into action, with heavy dancefloor excursions courtesy of 3 Chairs and a special Tribe Records showcase.
Toronto: Culture Clash
September 22

The fifth World Tour stop saw RBMA's signature Culture Clash event come to Toronto, a city with one of the largest West Indian populations outside the Caribbean, hosted by local hip-hop legend Kardinal Offishall. Legendary crews playing on massive soundsystems faced off in the city's first ever cross-genre soundclash, as part of the Manifesto Festival Of Community and Culture.
The formidable crews battling for the crowd's favor at Echo Beach were hip-hop and electro pioneer Afrika Bambaataa's Zulu Nation, Mad Decent (South Rakkas Crew, Dillon Francis, Paul Devro and DJ Sega), LuckyMe (Rustie, Lunice, Just Blaze and Hudson Mohawke and Toronto All Stars (Lissa Monet, DJ Mensa, Lindo P, Starting From Scratch). The Toronto All Stars took top honors after winning the crowd's favor.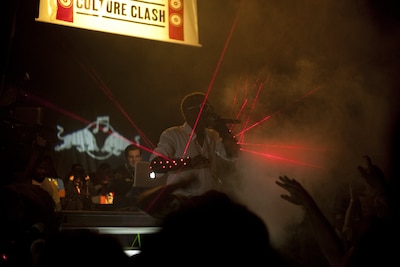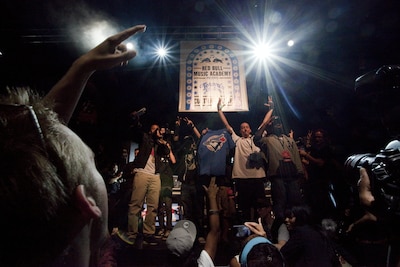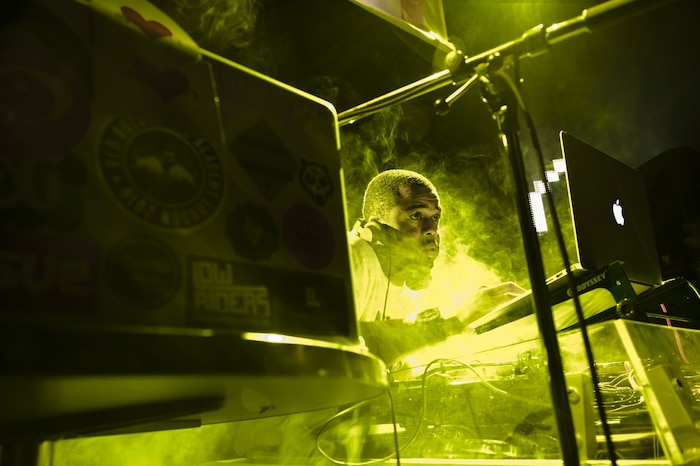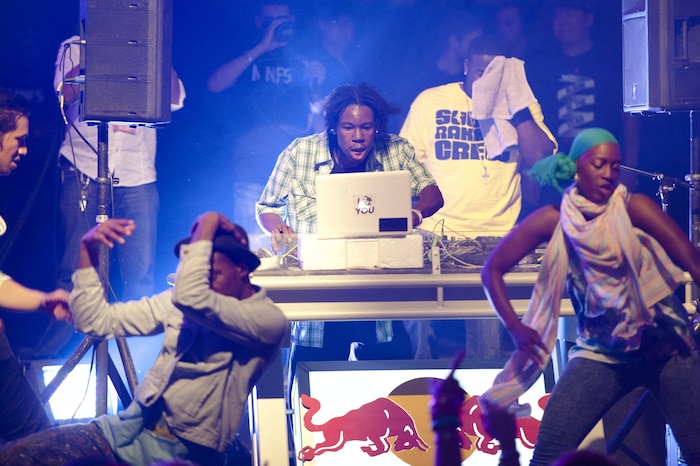 Melbourne: Notions of Sonic Space
September 25

Notions of Sonic Space saw leading figures in electronic music gather in Melbourne to present lectures and workshops, before performing in a special multimedia concert at the Forum Theatre alongside Melbourne's finest musicians and DJs.
The evening was an exploration of the zone where the audible and visual collide, merging the stereo field with the full color spectrum. Iconic Detroit techno-soul act Galaxy 2 Galaxy; Melbourne funk band the Bamboos; UK techno musician, producer and developer Tim Exile; Canadian dub and electronic music innovator Deadbeat and Detroit techno producer and DJ Mike Huckaby provided the sounds alongside Australian artists Research & Development, Andras Fox (András, Wilson Tanner), JPS, Matt Radovich and Rambl. Local collective ENESS mapped visuals onto a set of giant gramophones above the stage, immersing attendees in a unique world of incandescent sonic imagery.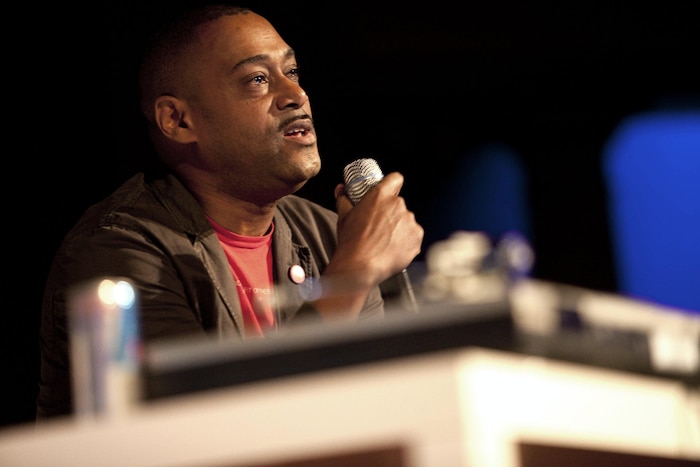 NYC: Five Out of Five
September 25 – 30

The New York City stop of the World Tour, titled Five Out of Five, paid tribute to hip-hop, arguably the most influential youth culture of our time, right where it all began. Over the course of five days, five classic albums from Queens, Brooklyn, the Bronx, Staten Island and Manhattan were revisited via workshops and public talks in each respective borough. At night, the artists re-created their seminal work for a special concert, bridging the gap from old to new school. The five albums were: The Great Adventures Of Slick Rick (1988), Black Moon's Enta Da Stage (1993), Enter The Wu-Tang (36 Chambers) (1993), The Infamous by Mobb Deep (1995) and Dipset's Diplomatic Immunity (2003).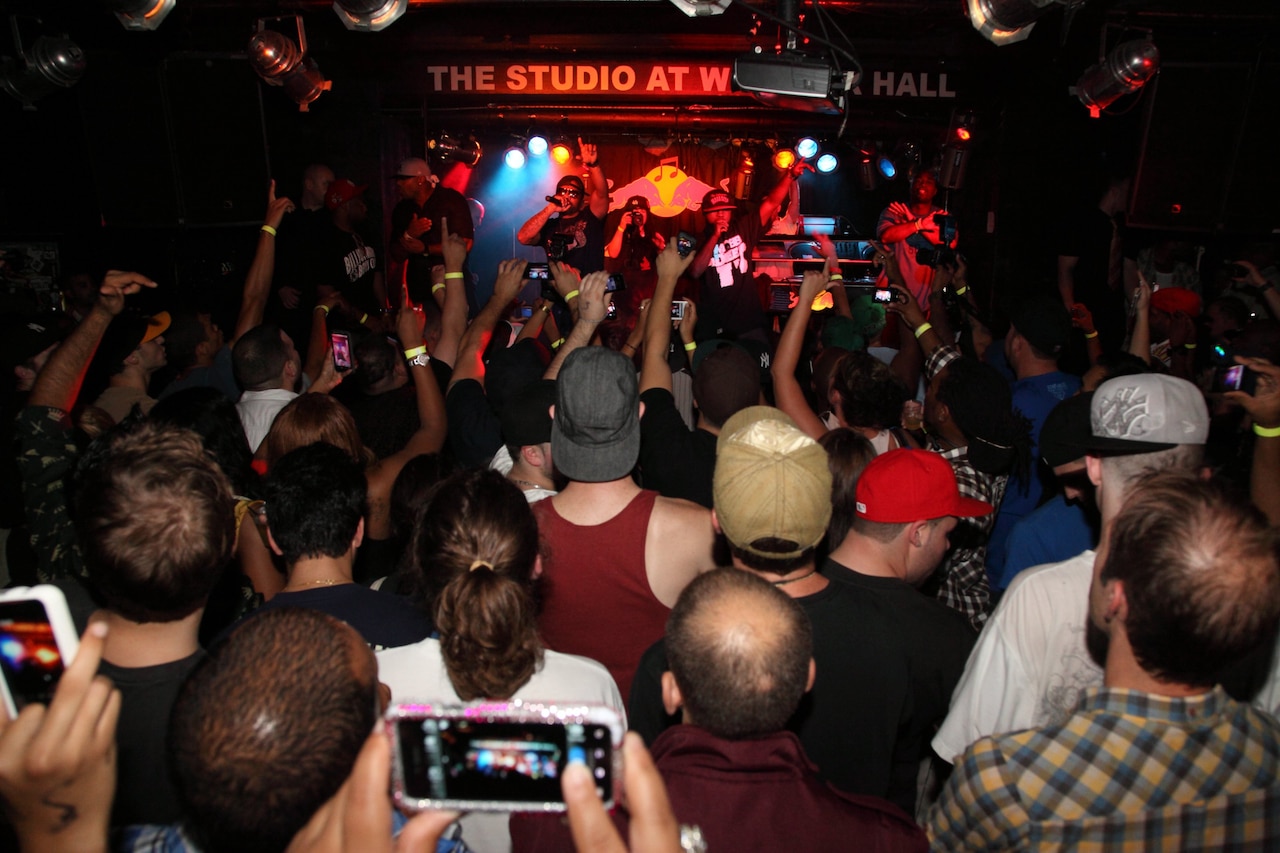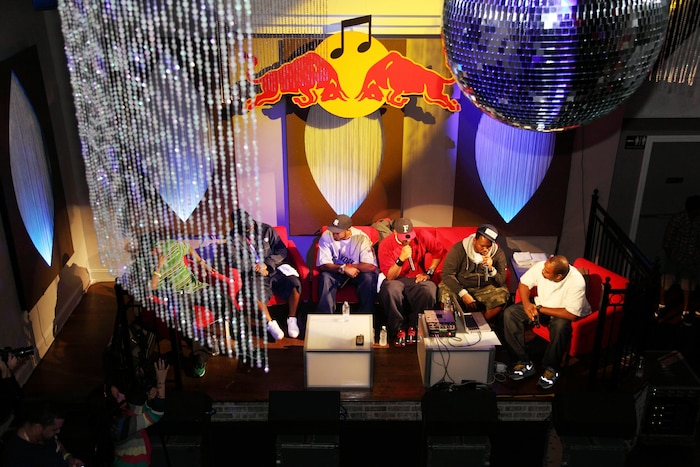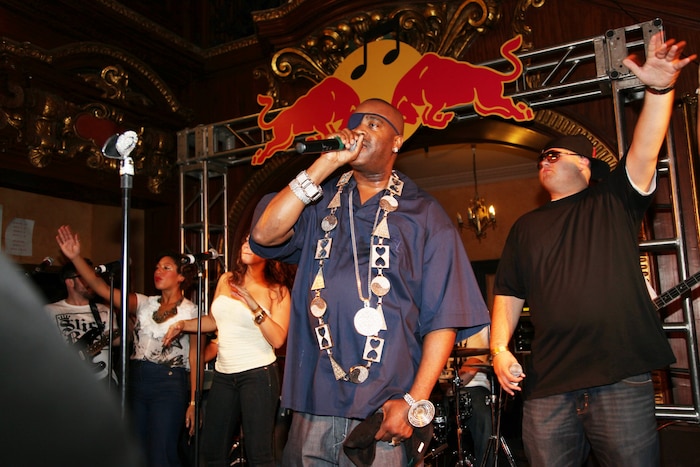 Rome: C'era una Volta a Roma
October 4

Italy can claim credits to some of the greatest and most influential movie soundtracks ever, from spaghetti westerns to psychedelic animations, giallo horror flicks to '70s cop films. To celebrate this heritage, composer Massimo Nunzi transcribed and adapted the movie soundtracks from the original recordings, including pieces by seminal composers such as Ennio Morricone, Piero Umiliani and Goblin. These were performed by an outstanding group of Italian musicians and a 52-person orchestra at the stunning Renzo Piano-designed Auditorium Parco della Musica concert hall in Rome. Performers included veterans like jazz guitarist Silvano Chimenti and trombonist Dino Piana, who played on Piero Umiliani's dapper "Gassman Blues" from the soundtrack to the film I Soliti Ignoti; as well as respected younger musicians such as Fabrizio Bosso, Daniele Tittarelli and vocalist Gunnlaug Thorvaldsdottir, who performed the innocently sinister vocal line of Goblin's "School At Night (Lullaby Music Box Version)."
The night featured breathtaking live visuals by Luca Barcellona and Sean Martin that put a brand-new spin on the original cinematic masterpieces.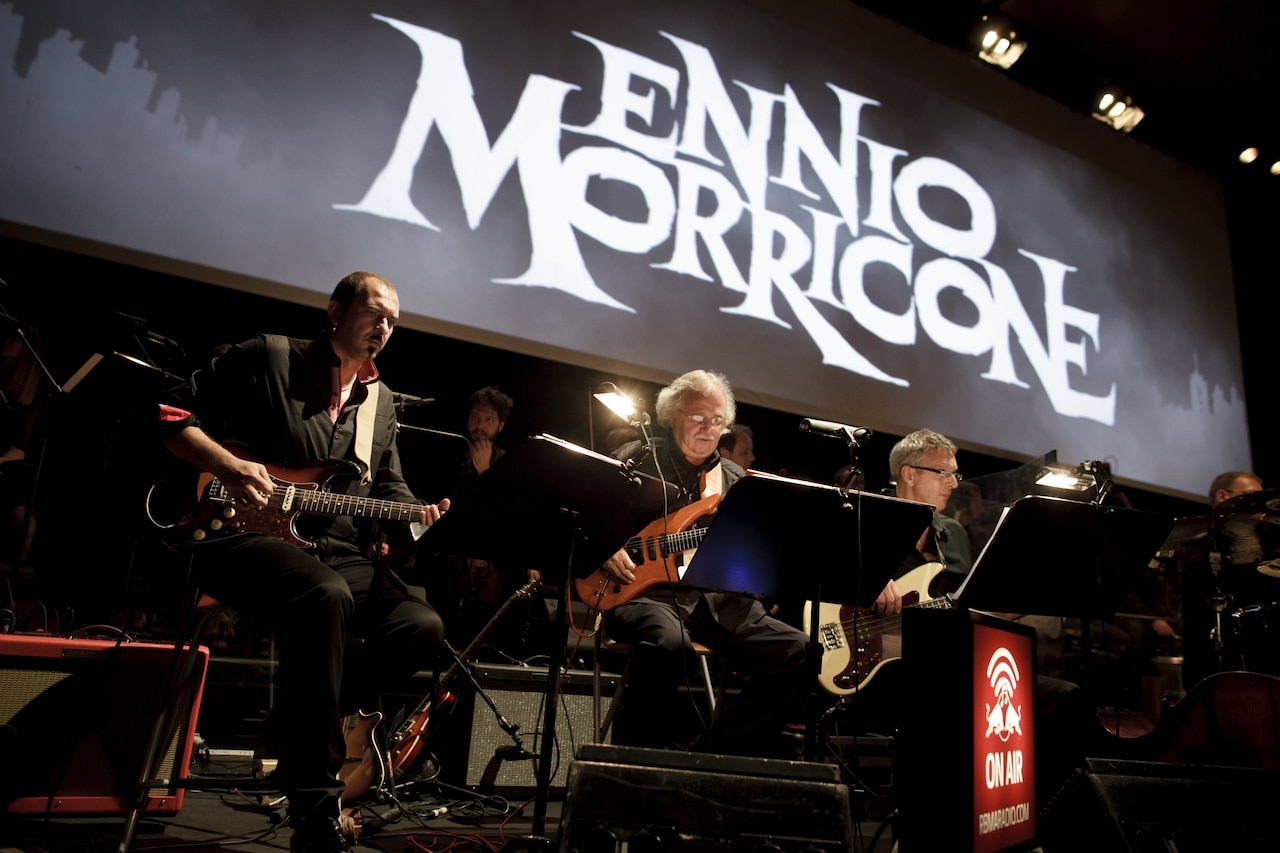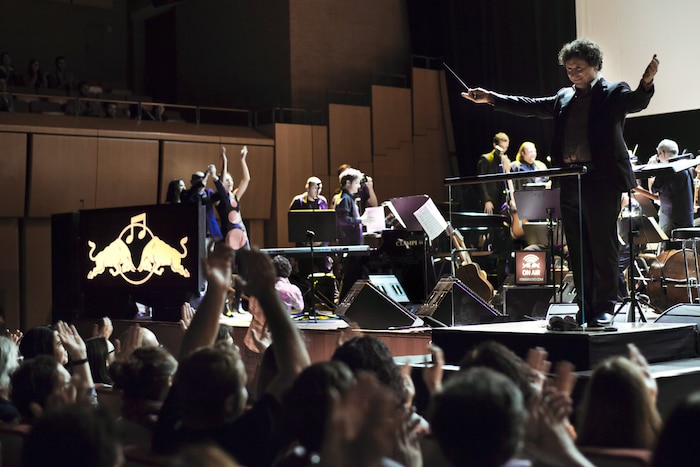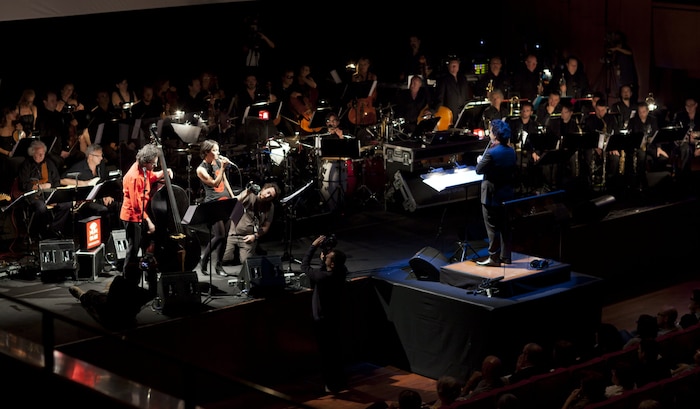 São Paulo: ¿Qué tal PanameriKa?
October 8 – 9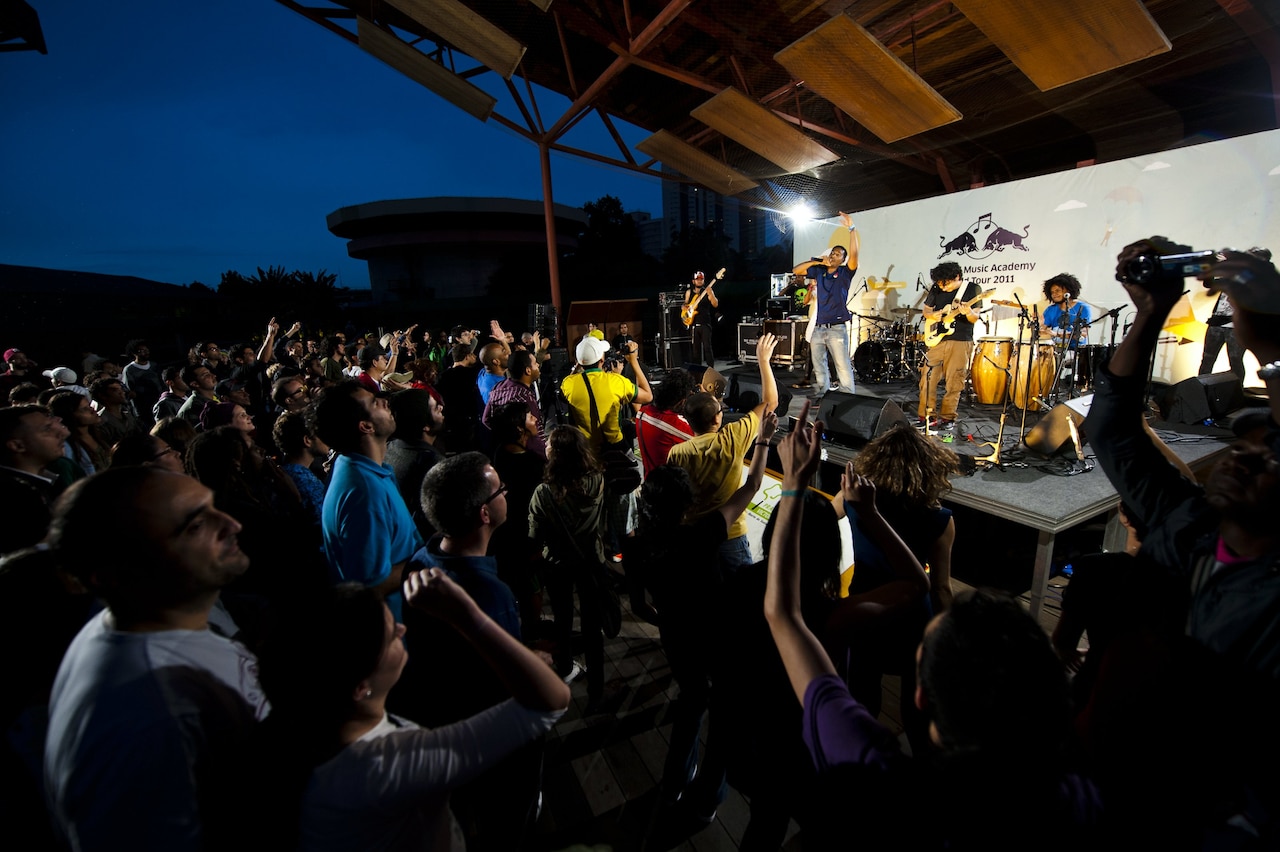 ¿Qué tal PanameriKa? provided a unique glimpse into Latin America's new music scene. A workshop at Escola São Paulo saw musicians from across South America exchanging inspiration; while a huge outdoor concert at Victor Civita Square showcased a rich mix of rhythms and flavors, from the freshest Afro-Colombian hip-hop to next-level Brazilian Afrobeat-Latin fusion and Mexican techno-acoustic hybrids. Performers included Grammy-nominated hip-hop trio Choc Quib Town, São Paulo's genre-blending funk combo Bixiga 70 and two artists with ties to Matias Aguayo's Cómeme label, Rebolledo and Daniel Maloso.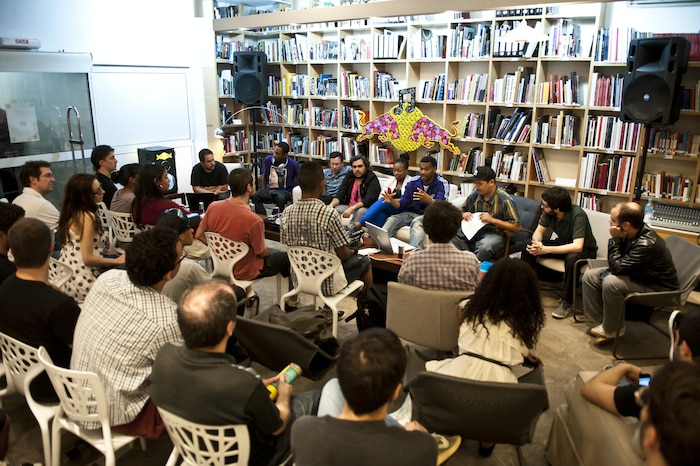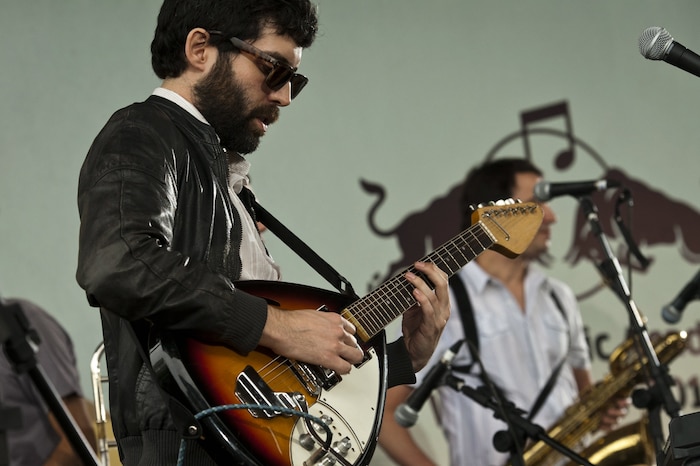 London: Revolutions in Sound
October 13
In London, for the first time ever, the massive EDF Energy London Eye observation wheel was the setting for an evening of performances in each of the 30 capsules, featuring crucially influential producers, DJs and bands, including some Red Bull Music Academy alumni, alongside the latest upfront London sounds making waves around the globe. The action in the capsules was video streamed via a dedicated microsite, and Red Bull Radio live-streamed the event: Letting listeners musically travel around the world, just as the Academy has done, from seismic bass to lovers rock — in the blink of a London Eye.
Performers included electronic club music visionary Andrew Weatherall, roots and culture institution Channel One Sound System, futuristic beats producer Lunice, London's disco warriors Horse Meat Disco, broadcaster and tastemaking DJ Benji B and visionary drum & bass crew Metalheadz feat. Goldie and MC Justyce. For those who did not ride up on the wheel, we threw a Silent Disco at Southbank Centre with performers including legendary hip-hop broadcaster and DJ Tim Westwood and UKG pioneer MJ Cole, and an after-party at Fabric featuring influential reggae DJ David Rodigan, breakbeat maestro Zinc and Benji B.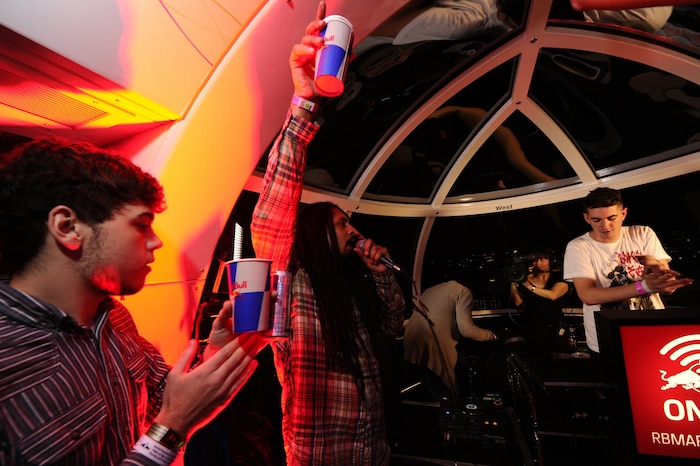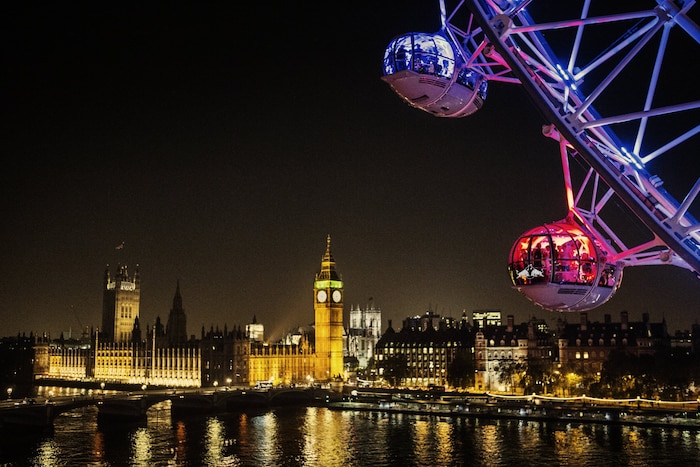 An animated music clip was produced for each tour stop by Passion Pictures. Backed by an original score from Red Bull Music Academy graduate Sammy Bananas, the films use a combination of 2D, 3D, stop-motion, photography, illustration and CG.