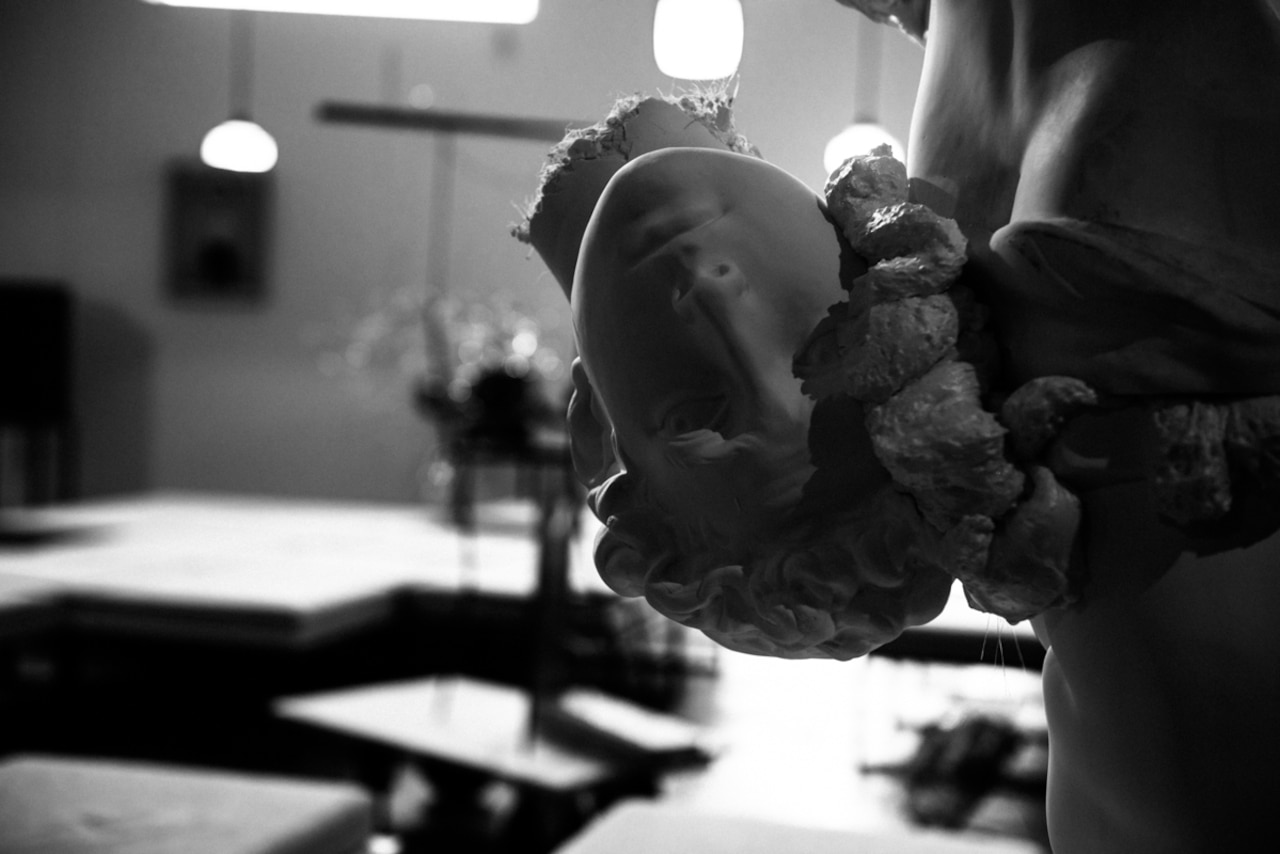 In 2014, Red Bull Music Academy came to Tokyo, Japan. To hold an Academy in this country – the birthplace of so much influential music-making technology, and so many inspiring evocations of what the future should sound like – felt like joining the dots in more ways than one. But then, things do tend to come full circle, no matter what DAW you're using. And the links tend to get made no matter whether you're lost in the loop on an SP1200, or joining Mathew Jonson – one of the RBMA's Studio Team members – in the amphitheatre-shaped arrangement of analogue machines that we dubbed "The Circle of Trust."
At each edition of the Academy, a jaw-dropping array of musical legends join us to share their stories and sounds in the lecture hall. In Japan's capital, those lecturers took us back to the source. Ryoji Ikeda took us through his ethereal arrangements of primal white noise, reducing pure sinewaves to the tiniest blips. Meanwhile, Korg synth designer Hiroaki Nishijima demonstrated unfiltered passion as he jammed on the MS-20, searching for the beauty in the circuits.
We love connections. The spirals that connect eras and cross genre boundaries. Many of the influences and techniques of the Academy's lecturers tend to reverberate in the art of the 60 up and coming music makers who join us each year as participants. These young artists are invited, after a lengthy selection process, from more than 30 countries. Gathered together, they hone skills, meet and share ideas with their peers from the opposite end of the globe, and populate the Academy studios with all kinds of instruments and rhythm boxes.
Our four-floor HQ in 2014 was refitted by star architect Kengo Kuma, using traditional Japanese materials, linking the heterogeneous, high-tech nature of the city with the simplicity and calm of the Japanese home. Indeed, the circular walk around the studio floor, ringed by engawa, was the best chance to actually miss who you had actually have been looking for, while stumbling into new excursions, deviations and sonic adventures. To all of those who contributed their stories, questions, waveforms and refracted light patterns, we simply say: arigatou gozaimasu.

Below, we've put together just a few of the highlights from our time spent in one of the world's most inspiring cities.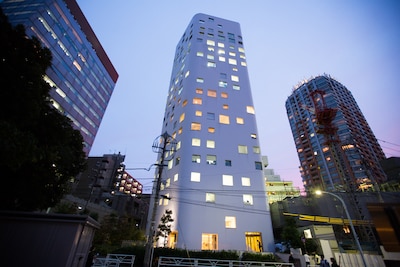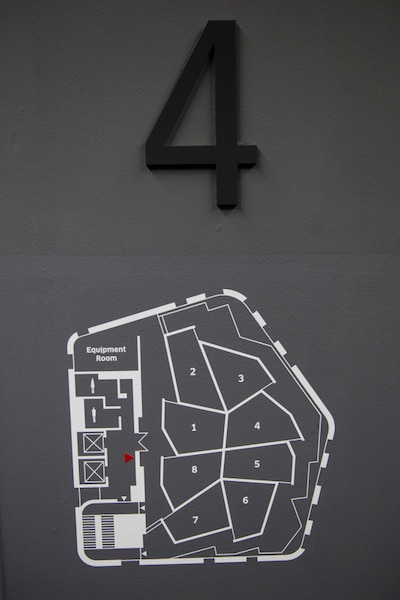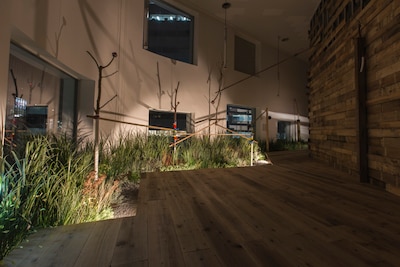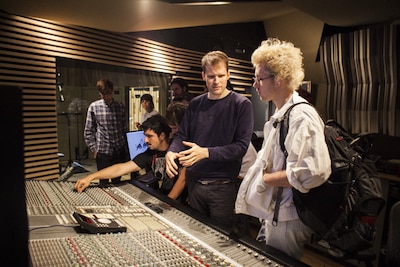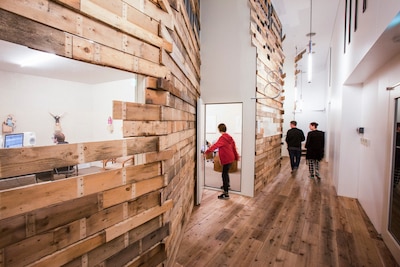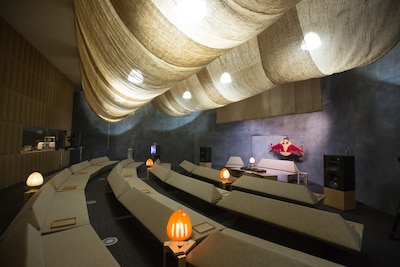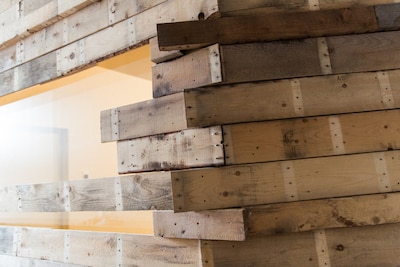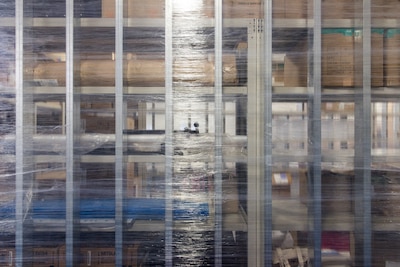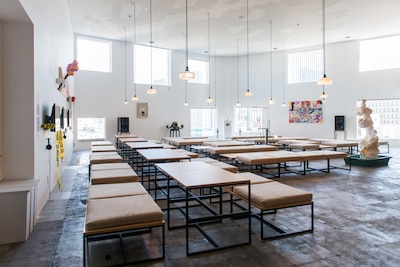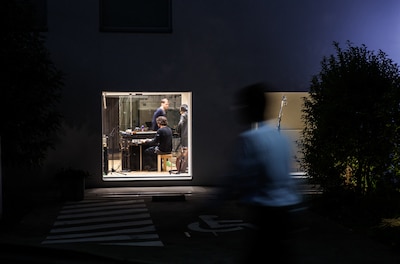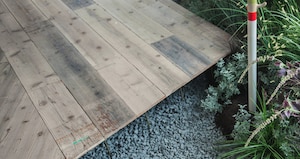 We partnered with renowned, award-winning architect Kengo Kuma and his team, to create the Academy space in Tokyo. The result was eight bedroom-sized studios and a main recording studio, a lecture hall, a lounge and dining area, offices, and the RBMA Radio studio. The spaces were arrayed over four floors of the striking white SIA building, which was designed by another well-known Japanese architect, Jun Aoki. Built in 2008, it is a quirky landmark in Aoyama, standing out among the surrounding residential and office blocks with its irregular square windows, which are intended to look hand-drawn.
In designing the Red Bull Music Academy, Kuma and his team created a calm atmosphere conducive to creativity and conversation, using traditional, locally available materials to evoke the Japanese home. Relaxed burlap fabric with its raw fibres, textured washi rice paper, thin wooden components of the sudare screens, and reclaimed wood were all part of the palette. Kuma explained that "almost all of the materials have some direct link to materials used traditionally, but detailed in a new way. We were trying to combine tradition and the contemporary way of living, set within the context of Tokyo."
Kuma is known for a fluid and flexible approach to connecting spaces, and he says that on each floor his team aimed to link the essences of inside and outside: "On the fourth floor, the eight small bedroom studios are surrounded by a connecting engawa, which is a Japanese veranda. Here, we placed zabuton cushions on the floor for the musicians to sit, talk, exchange ideas, as yet another informal place for making music. It is like sitting on the porch, looking at the garden, but in this case we have the views of Tokyo framed by large windows."
After the Academy left town, the high-end recording studio on the building's ground floor, designed in collaboration with Imar Sanmarti of Acousthink and Academy studio engineer Erik Breuer, lives on as a creative space for Japan's most visionary musical artists.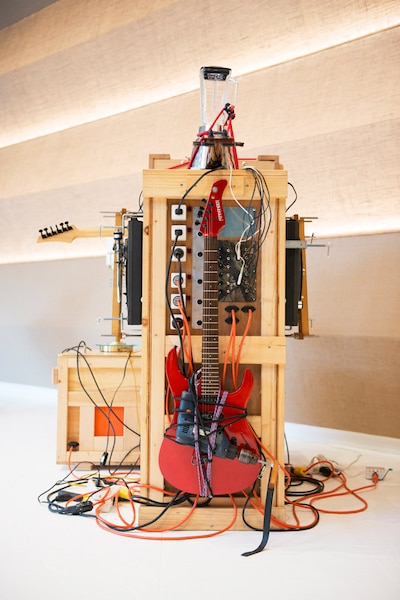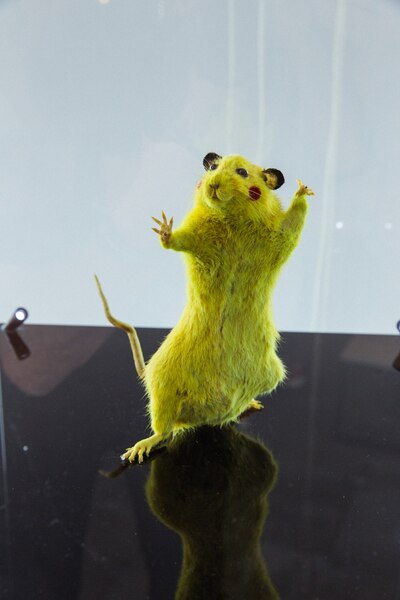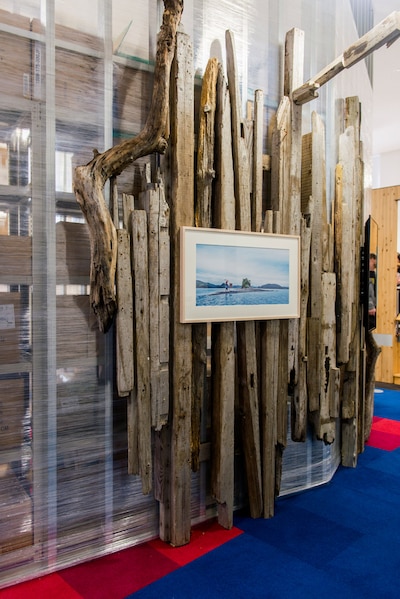 At every edition of the Red Bull Music Academy, a leading local curator is invited to present works by contemporary artists based in the host city. In 2014 we worked with leading Tokyo curator Kenji Kubota, who put together an exhibition of established and emerging Japanese artists.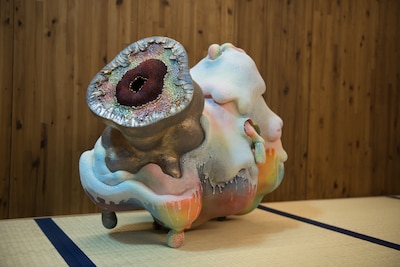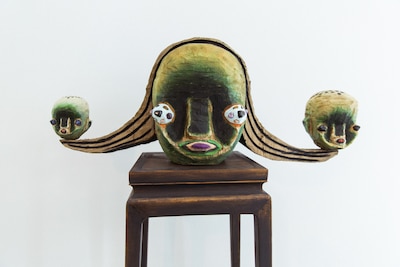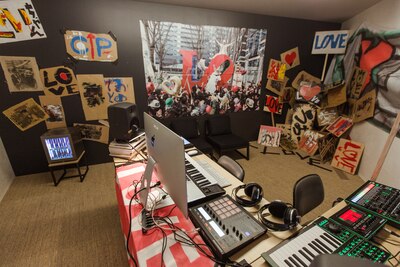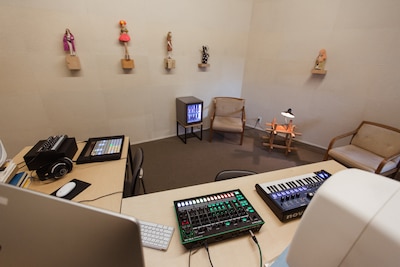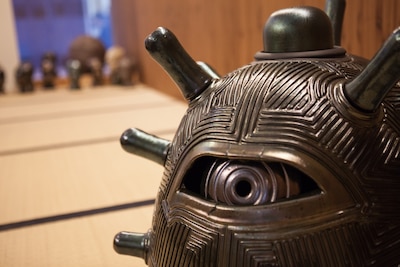 The work of these artists explored the social significance of art by asking questions, making interventions, exploring connections, and offering unique insights into the city. The exhibition served as a survey of contemporary art in Tokyo, representing a wide range of standpoints, disciplines and modalities.
In 2014, we weclomed 59 participants to the Academy. The task of narrowing down the candidates was harder than ever, as we received almost 60% more applications than we did for the previous edition. The participants represented 34 countries, including, for the first time, Kenya and Egypt.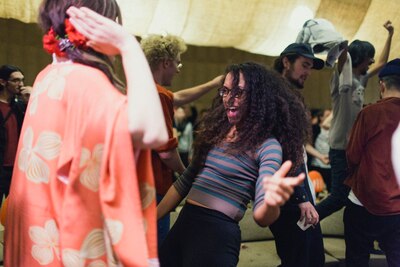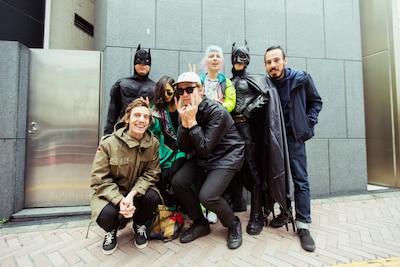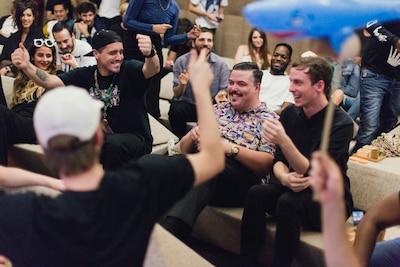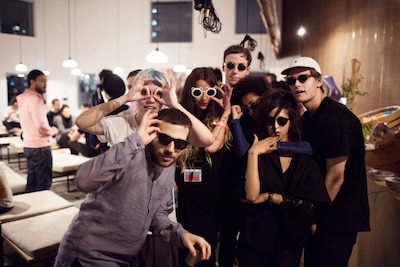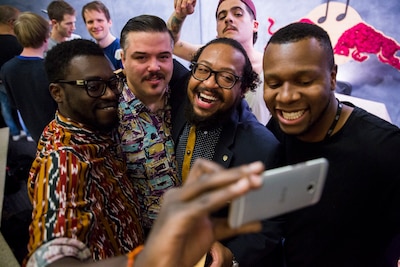 Some names you may know, some names you may not. The final group was selected to represent a diverse array of styles, skill levels, methodologies and cultural backgrounds. Below you can find the full list of what we now proudly call Red Bull Music Academy alumni.

Sonnenberg / Never Sol / Ossie / Palms Trax / Parachute Pulse / Silva / NV / Olefonken / Daniel Limaverde / Nightfeelings / Plasma Rüby / Courtesy / rj / Larry Gus / Ah! Kosmos / Albino Sound / Arenov / Bienoise / Blinky Bill / Boody / Brigitte Laverne / Cat500 / Christian Kroupa / Douchka / Ekali / Felix / Haioka / Ipek Gorgun / Kadhja Bonet / King Bruce / La Mverte / Lafawndah / Lewis Cancut / Mickey de Grand IV / Mimu Merz / Mumdance / Deltatron / Joe Wills / LAO / Alejandro Paz / Deradoorian / MMMOOONNNOOO / Fred / Summer / Uio Loi / Valesuchi / Chelsea Jade / WIFE / Xosar / Zebra Katz / Zopelar / Tollcrane / Bosaina / Laura J Martin / Torus / Krizzli / Estii / SUMORAI
Coming to Asia for the first time in our 16-year history, the Academy set out to explore the rich musical and artistic legacy of Tokyo through our events programming while we were in the city.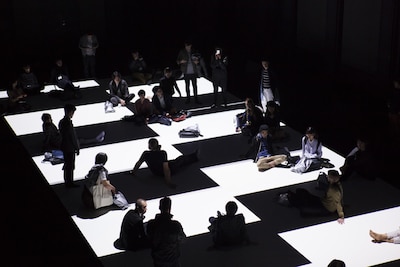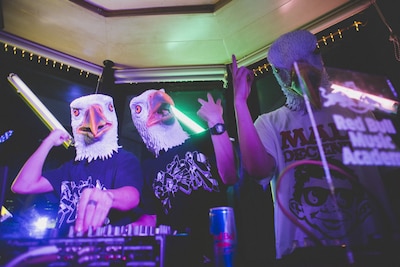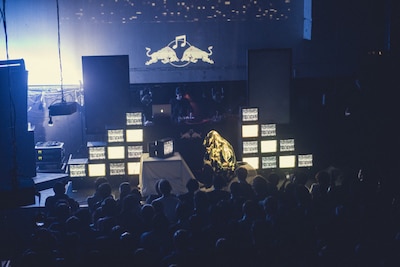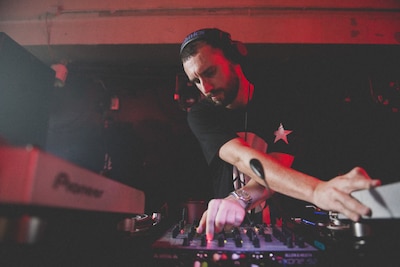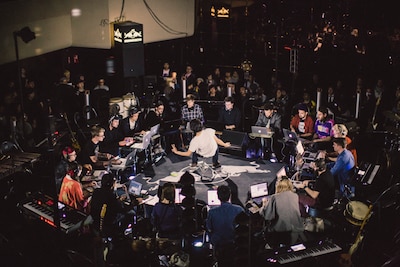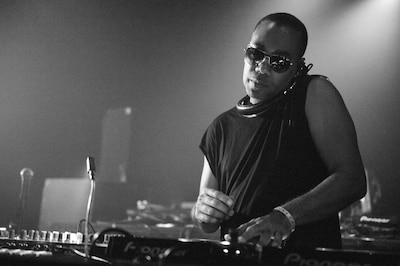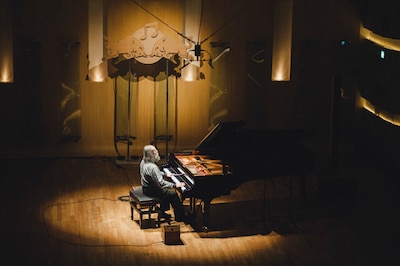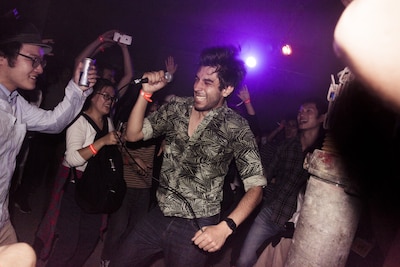 The program reflected a deep reverence for the trailblazers of Japanese culture past, present, and future – including a public, large-scale sculptural light installation by renowned sound artist Ryoji Ikeda; a night with Oneohtrix Point Never, Fatima Al Qadiri and more saluting Japan's leading composers of video game soundtracks with special one-off tribute sets; an improv-themed show led by EYヨ of seminal noise rock group Boredoms and pioneering avant-gardist Otomo Yoshihide; a multi-booth live stream from famed karaoke hotspot Karaokekan Shinjuku; a homage to the almighty "Amen" break led by Special Request AKA Paul Woolford, Randall, dBridge and Mark Pritchard; a prodigious closing night featuring Carl Craig, Pépé Bradock and Gerd Janson; public lectures, collaborations with local festivals and club nights, and much more.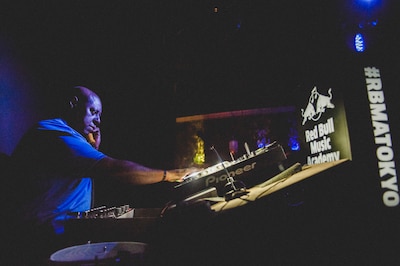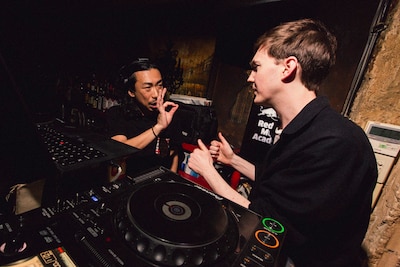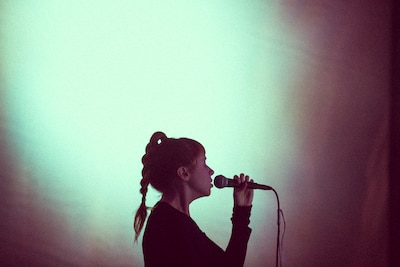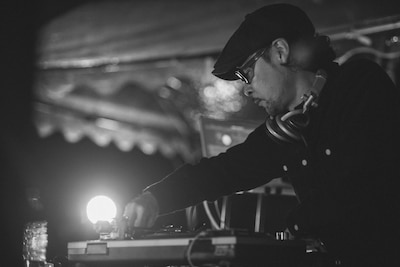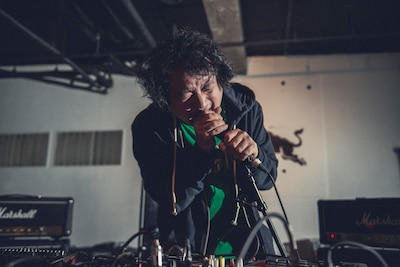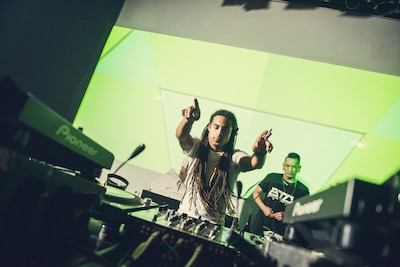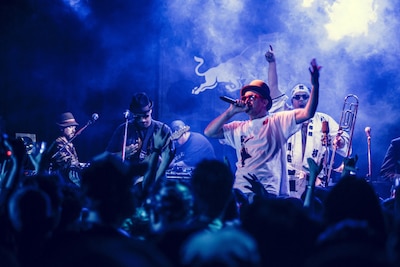 Fuelling the exchange between local and international creatives, Red Bull Music Academy we also invited a hand-picked selection of musical luminaries and Academy friends to perform across the Tokyo metropolis. Alongside Academy participants like Mumdance, Xosar, Zebra Katz and WIFE, the five-week event program featured New Jersey club music pioneer Tony Humphries, Hessle Audio co-founder Ben UFO, DMZ duo Mala & Coki, South East London sound system boss Jah Shaka, Eglo's sound scientist Floating Points, digital experimentalist Holly Herndon, New Zealand's prime soulful dub export Fat Freddy's Drop, and Border Community honcho James Holden, among many others.
From giant election-style billboards, to majestically large text and photos, and portraits by animators, illustrators and a video artist. In their approach to the 2014 Red Bull Music Academy, creative studio Boctok showcased the efforts of creatives by drawing on graphic formats that are at once subtle – inspired by the visual forms and mechanisms of Japanese daily life – and resoundingly bold in impact.
As part of our advertising campaign in the city, we asked some of Japan's most inspiring musicians to talk about their creative process. We then took those quotes and included them alongside their portraits.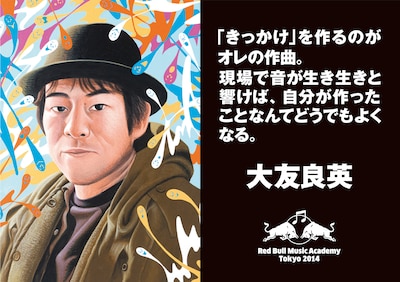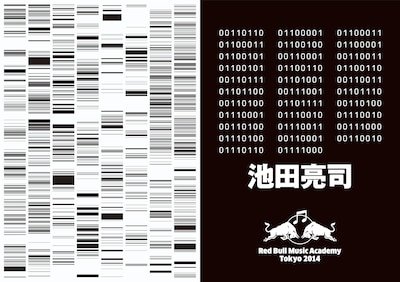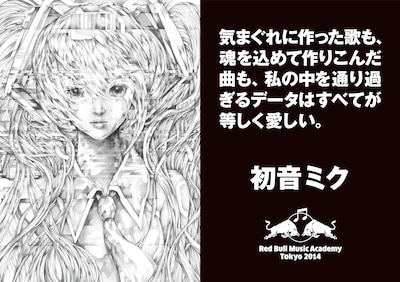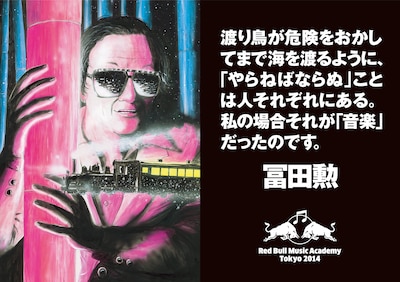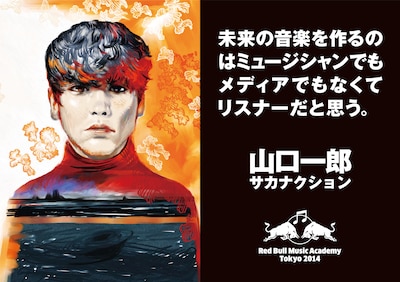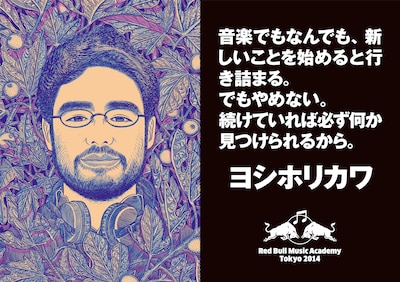 We then took those quotes to animators and asked them to create 20 second vignettes based on the artist's words. Below you can find a few frames from all six animations.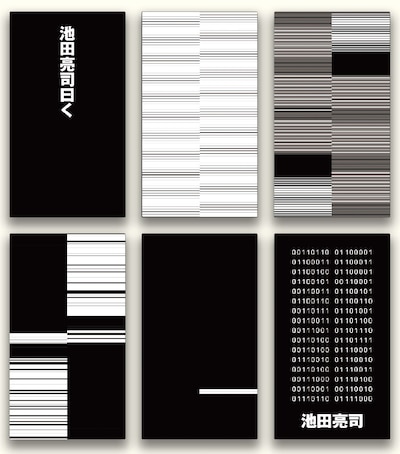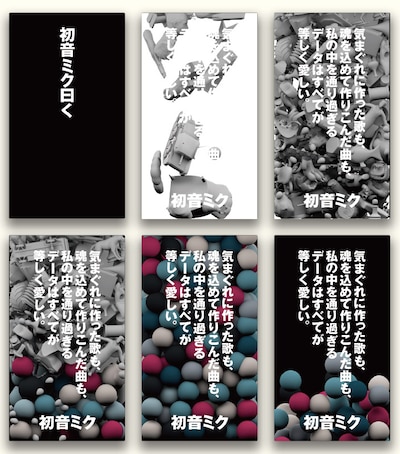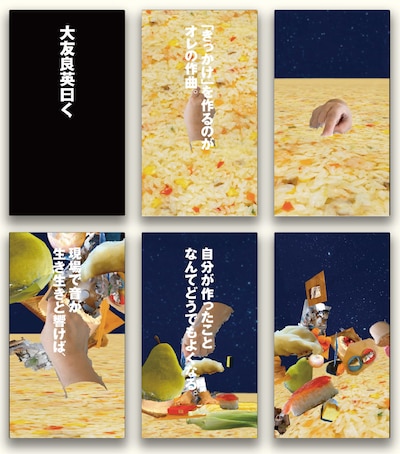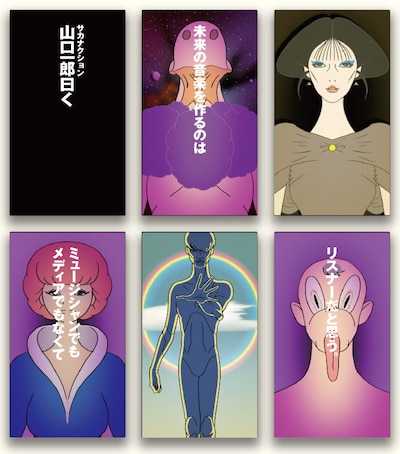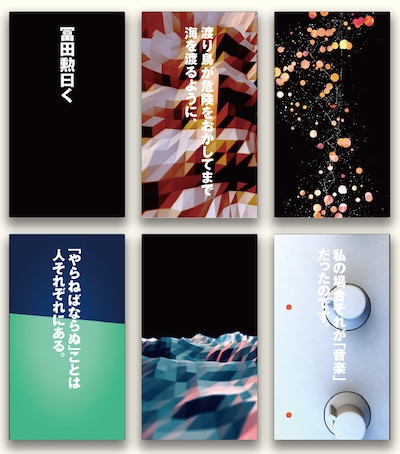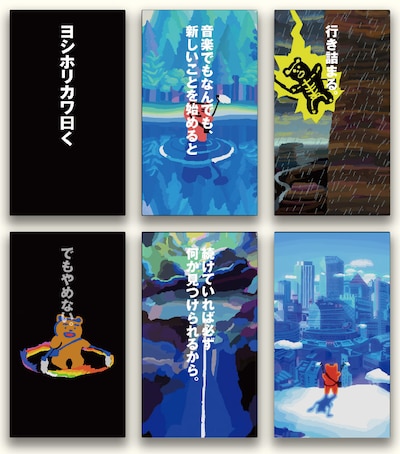 We also commissioned art for every event during the Academy.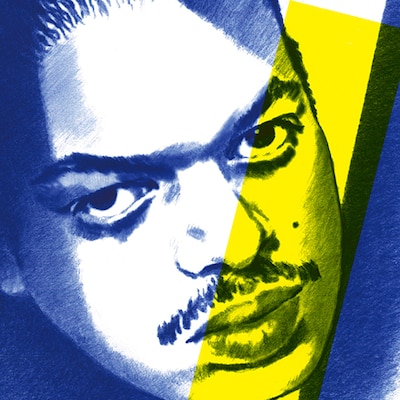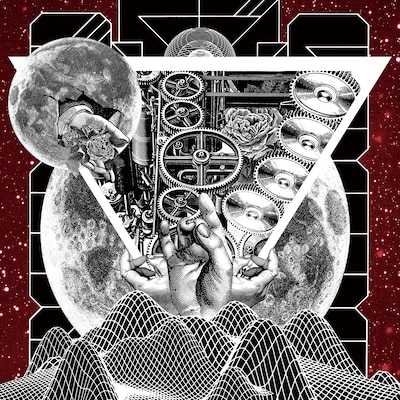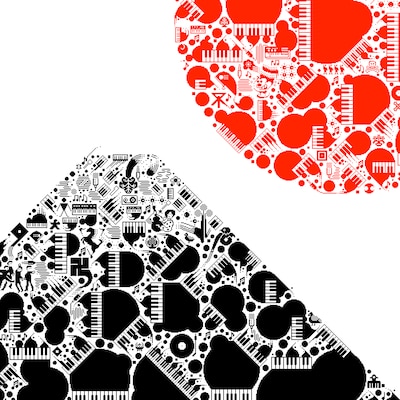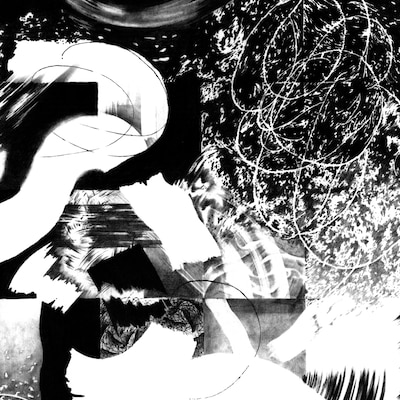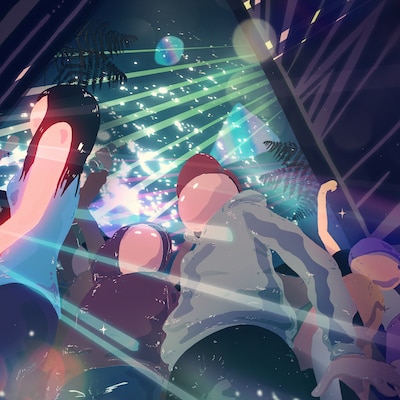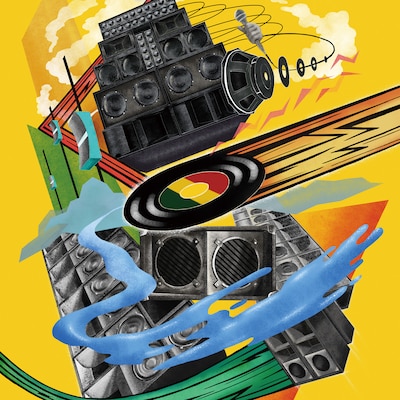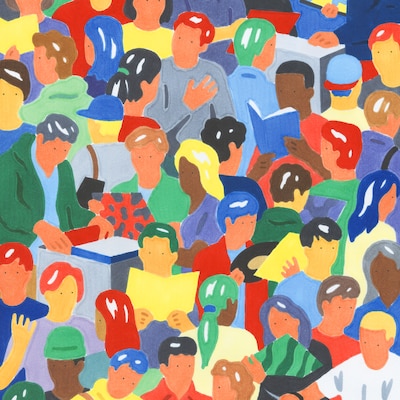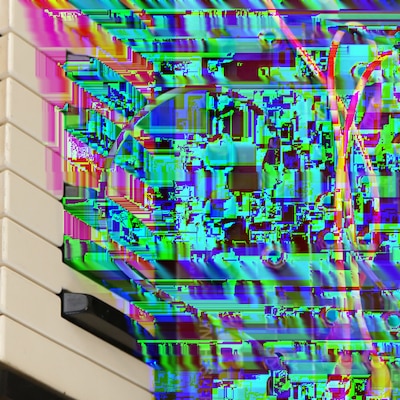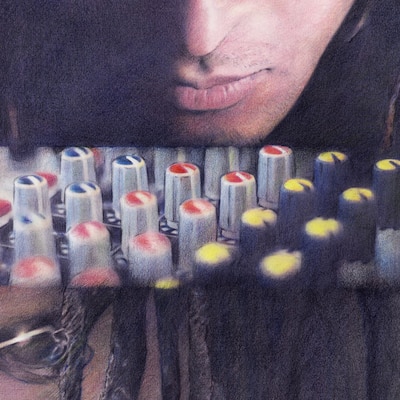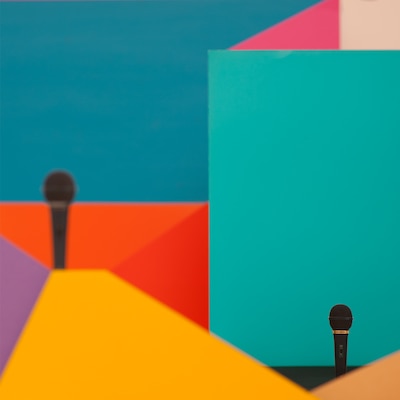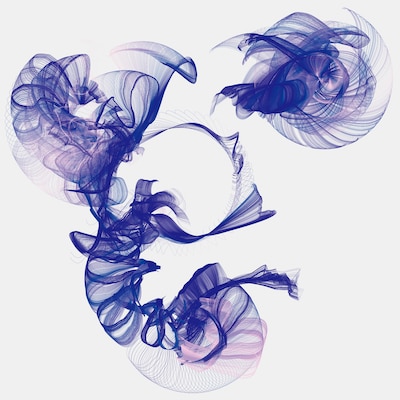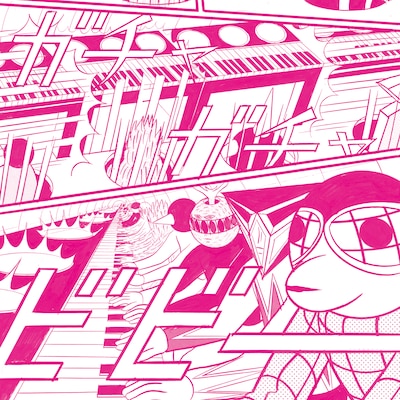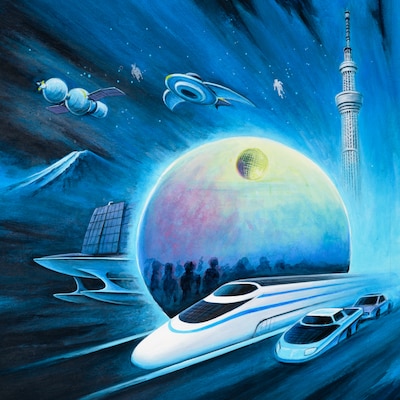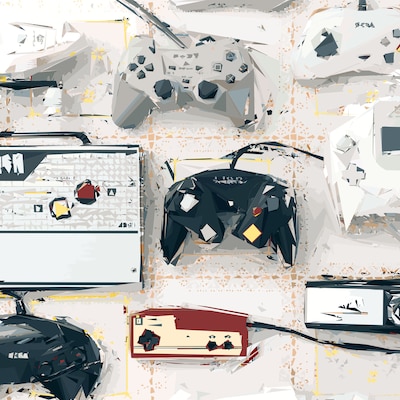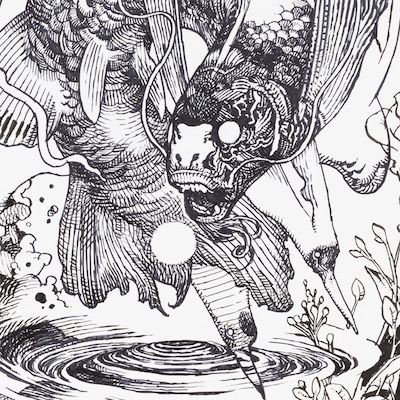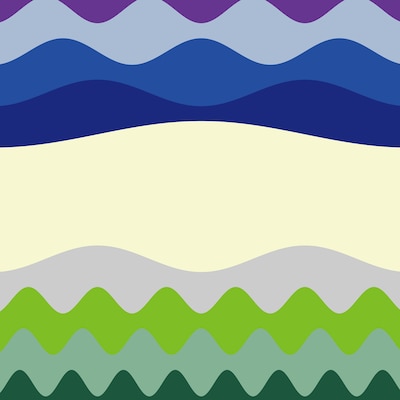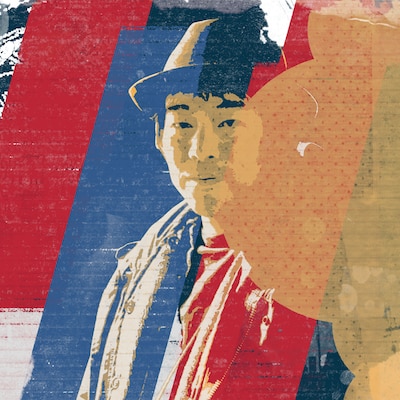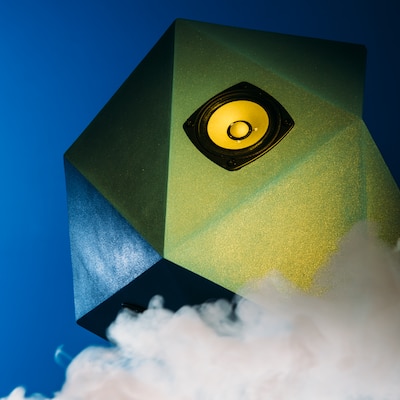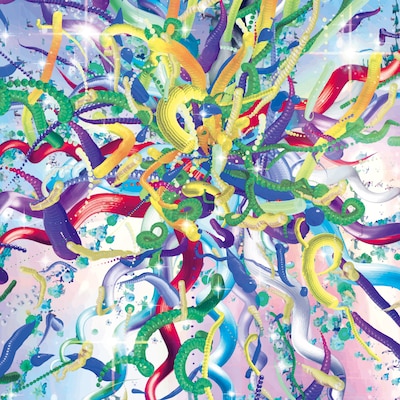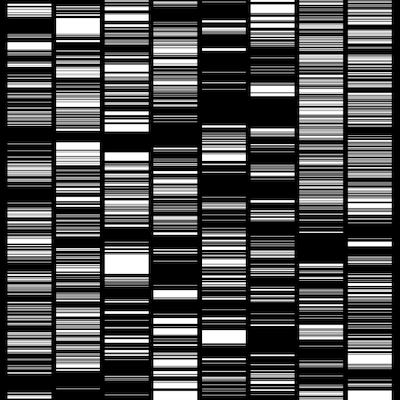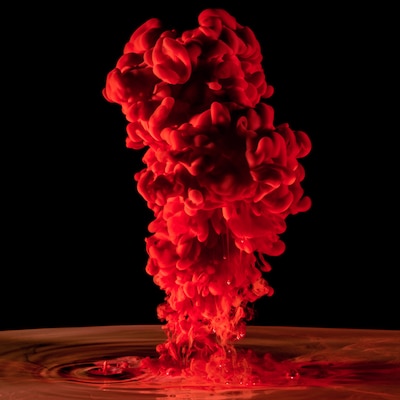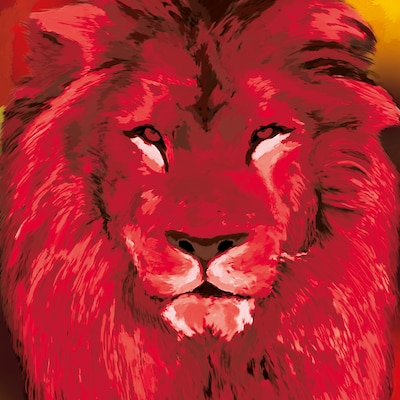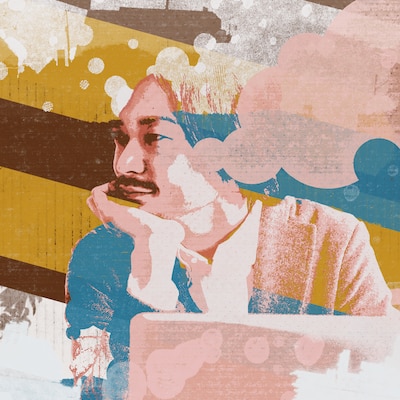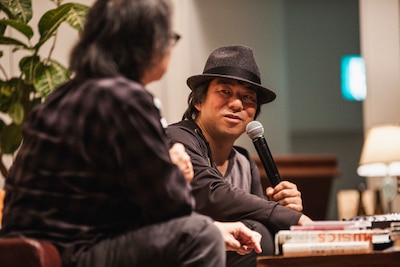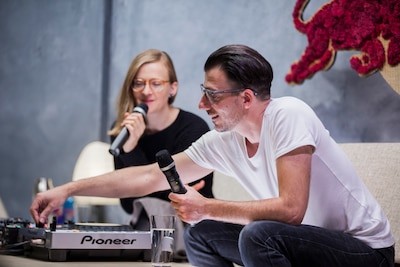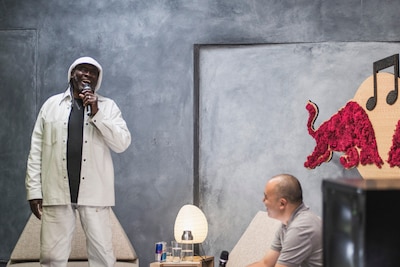 In Tokyo, we invited our trusted mix of exciting, new DJs and producers to talk about the latest and greatest as well as legendary figures that have shaped the way we hear music. We also dug deep into Japanese music culture, highlighting some of the most interesting figures that the country has produced. You can view all the lectures that took place in Tokyo here.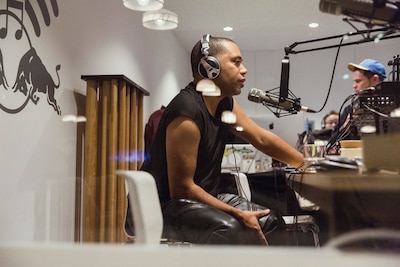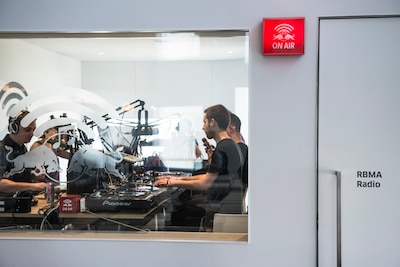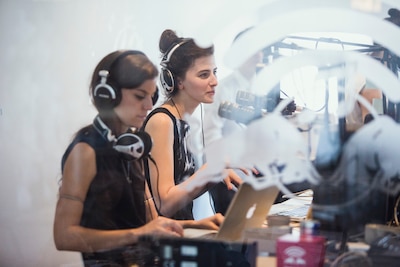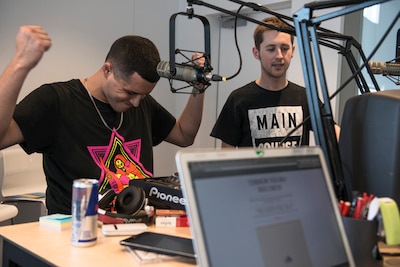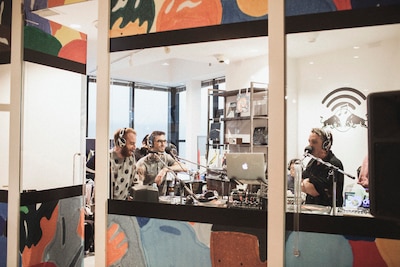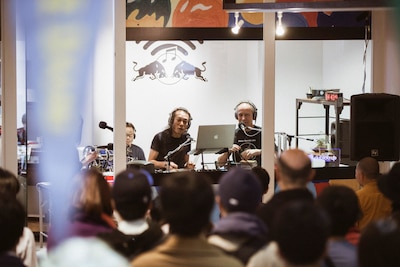 Just as every year, our in-house radio shack was buzzing with talent from around the globe. Besides putting on a daily live show that shone a light on our Academy participants, we invited Academy lecturers and selected international guests to enjoy the view over Shibuya through our studio windows. During the day we partnered up with our friends from J-Wave, Inter FM, BBC6, NTS, Rinse FM, Hot 97, Dublab and further international stations from Brazil to South Africa.
Yet Red Bull Radio stayed active in- and outside the studio. We captured all of the Academy events for rbmaradio.com, and streamed live from the Terabyte Transfer rave and Tokyo's Culture Fair. The latter saw us teaming up with Dublab Japan for a weekend-long pop-up radio with musical guests such as Kowton and Peverelist, Fat Freddy's Drop, Dre Skull and more, neatly surrounded by some of Tokyo's iconic vinyl sellers and sake connoisseurs.
Throughout the Academy, the participants were joined by a handpicked Studio Team that included a variety of artists working in different genres. The 2014 crew included Carl Craig, Dre Skull, Just Blaze, Marco Passarani, Academy alumni Branko, and many more, all led by Academy Studio stalwart Erik Breuer.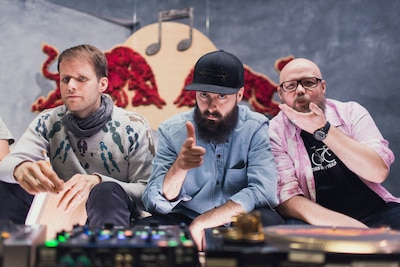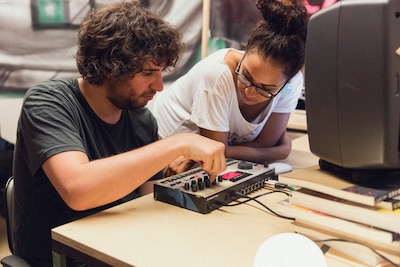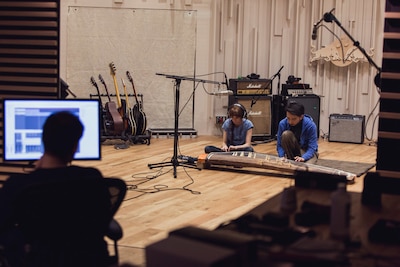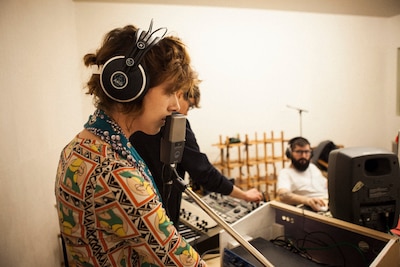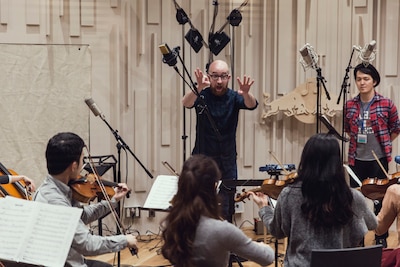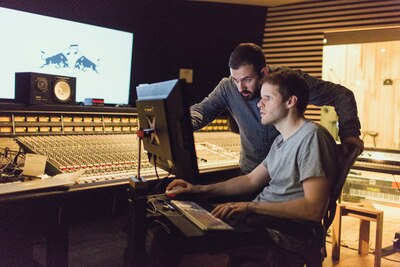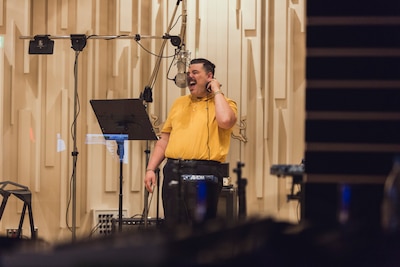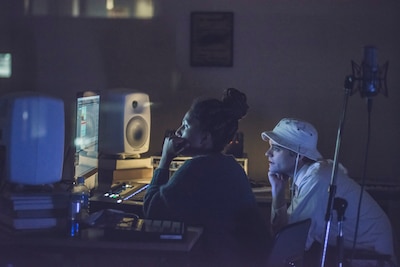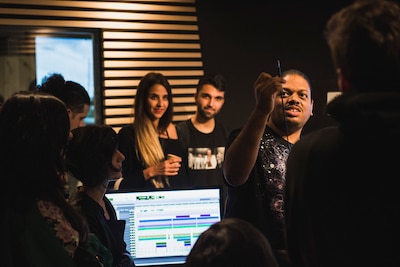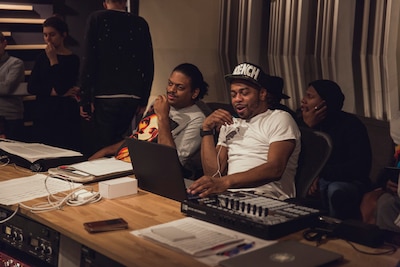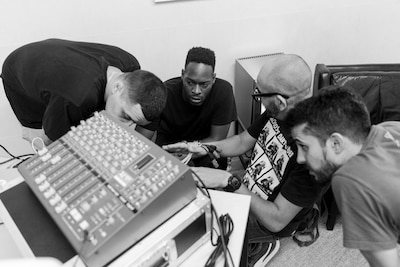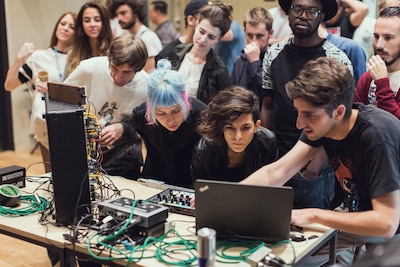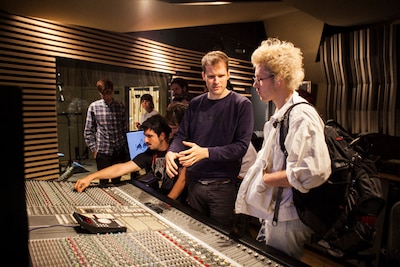 To get a taste of some of the music that the participants created at the Academy in 2014, check out our annual compilation Various Assets, streaming below. (To get the full experience, though, we highly recommend that you check out our custom VA microsite.)
In the lead up to the Academy in Tokyo, we produced a six part documentary that told the story of what is probably the most influential music to come out of Japan: Video game music.
From the personal studios of these legendary composers, to the concert halls of Japan where symphony orchestras perform their compositions to sold-out crowds – the series documents how the music of video games was created, what inspired it, and how it evolved into its own cultural phenomenon. Visit the microsite we created for the series, which includes all six episodes, bonus scenes, and exclusive mixes made by contemporary DJs inspired by video game music.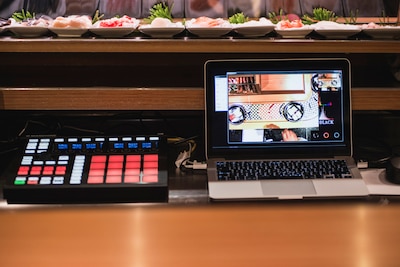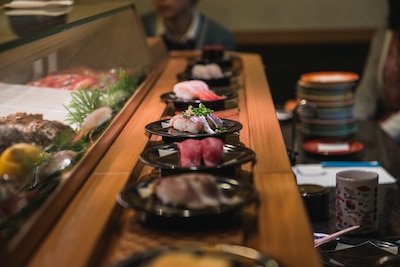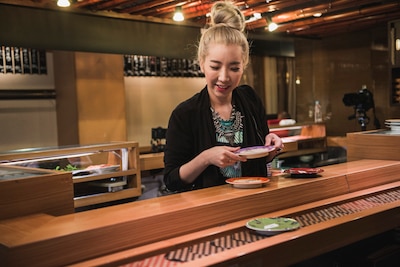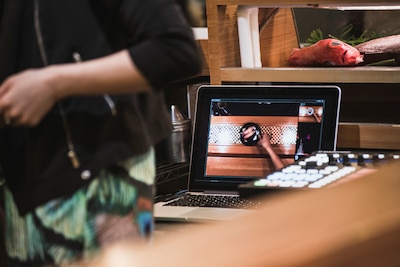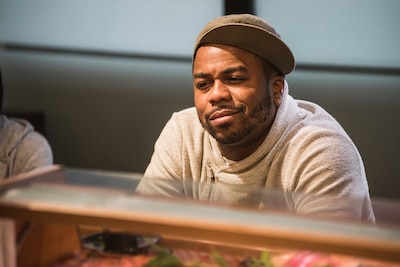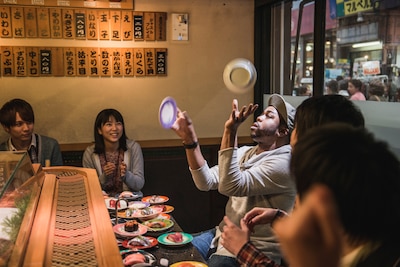 As part of the Academy in Tokyo, we wanted to celebrate Japan's many artistic practices. The Sushi Sequencer brings together two of them: Sushi and music technology. The idea was to make a sushi conveyor belt a playable sequencer. While the results in the video are tongue-in-cheek, the technology behind it is anything but: Helped along by a team from Native Instruments, both Just Blaze and TOKiMONSTA synced music to colored plates on the conveyor belt, making for one of the world's most delicious music-making machines ever created. Visit the custom-made microsite here and watch the videos below.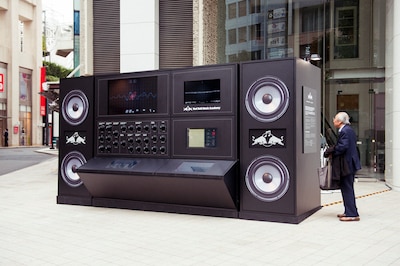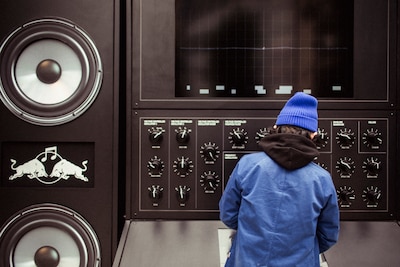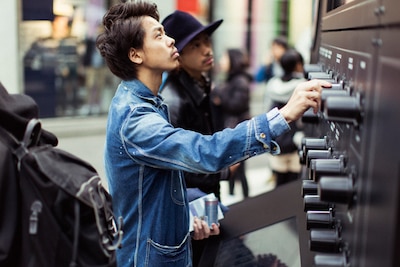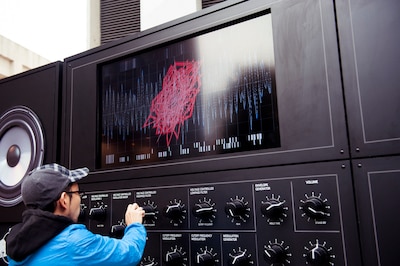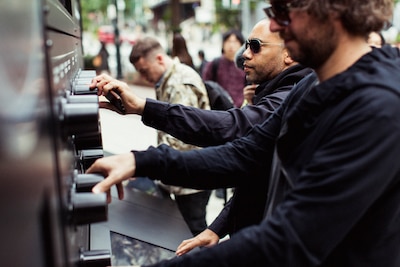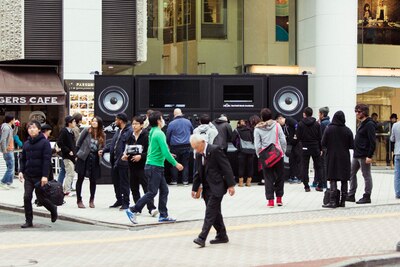 As part of the Academy, we worked with Daito Manabe and his Rhizomatiks crew as well as KORG to create The Human Sized Synthesizer. It was a social experiment, embodying the Academy ethos of encouraging creative collaboration. A large-scale working synthesizer, its controls were based on KORG's MS10/20 classic synthesizers, with MPC-style touch-sensitive trigger pads. Visit our special microsite about the project to find out more.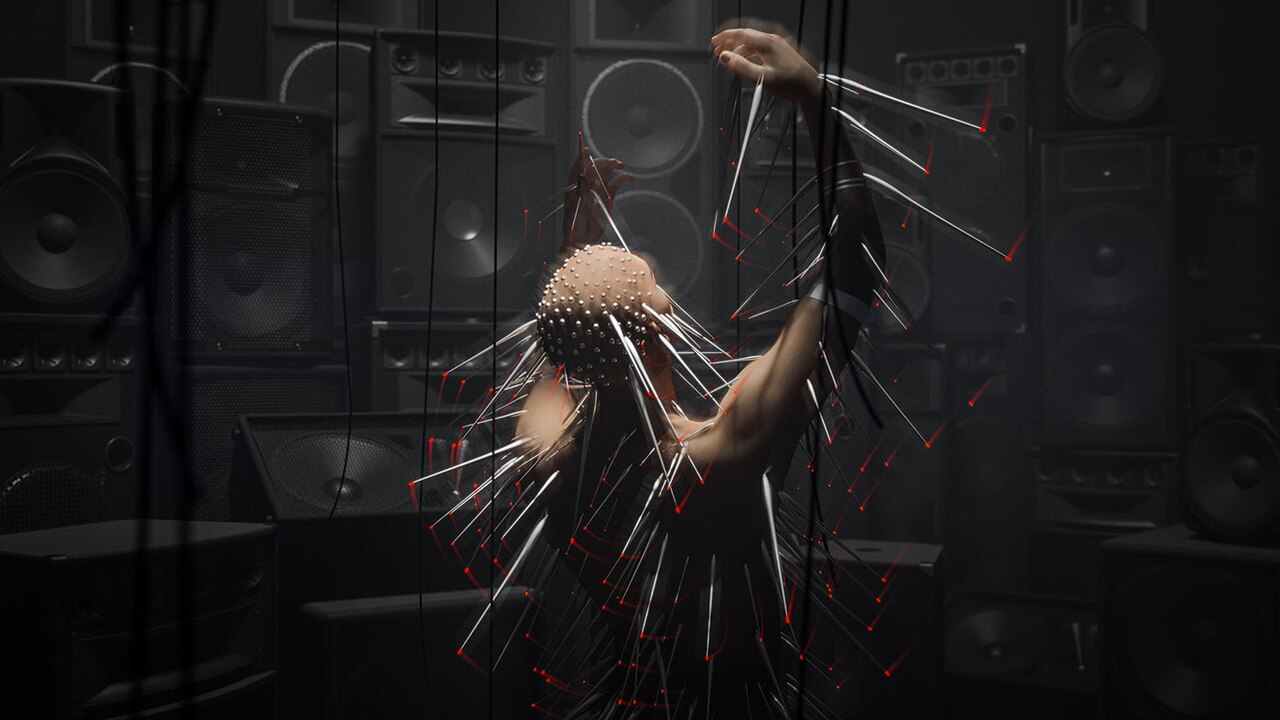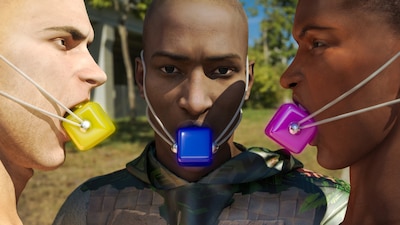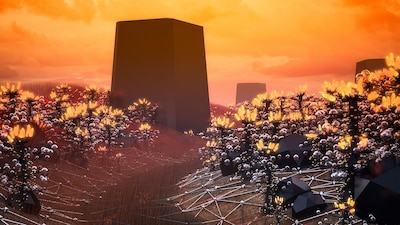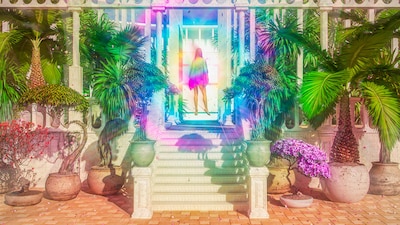 The Academy has always brought together forward-thinking minds from across the globe to challenge pre-existing notions of what music can or should be. Music technology and its ongoing conversation with human intelligence has been an integral part of the process.
As the Academy touched down in Tokyo, we asked some of the brightest and most futuristically-inclined artists of the present to share their vision of what a musical instrument might look like in the year 2214. Between Odd Future's Tyler The Creator, Detroit techno pioneer Jeff Mills, award-winning industrial designer Konstantin Grcic and a diverse range of other creatives, their conceptions cover the full spectrum between utopia and dystopia.
Acclaimed graphic designer Kim Laughton gave visual form to their ideas, providing us with a glimpse at music's future through the eyes of those shaping the music and art of today. We have presented just a few above, but you can visit the the Future Instruments microsite to see all the designs and blurbs.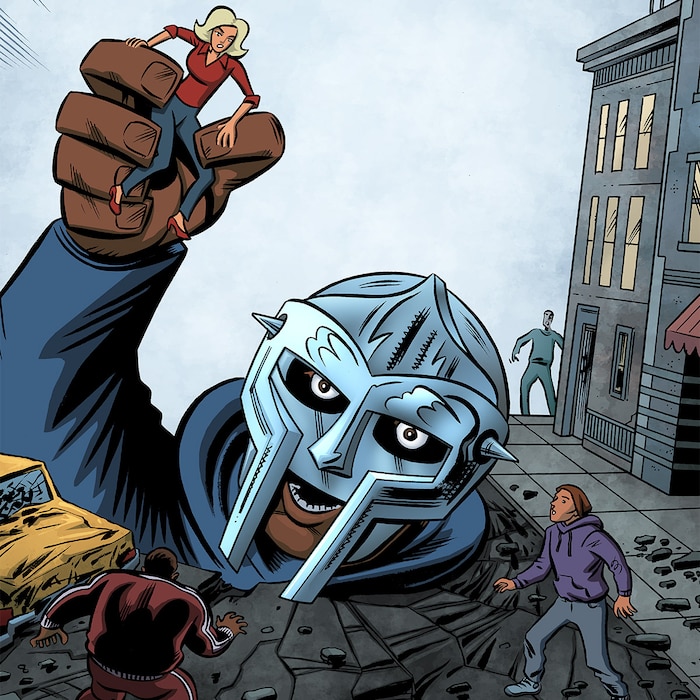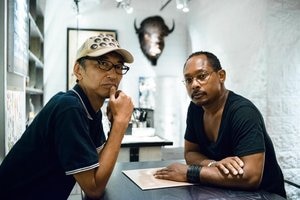 As part of the Academy in Tokyo, we gave our magazine over to all things Japanese, spending the month detailing some of the most interesting music to come out of the island country.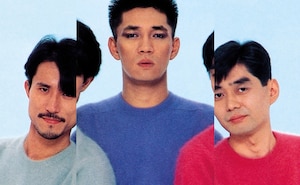 Whether it was Derrick May interviewing Japan's tireless techno magazine editor Tsutomu Noda or a special website dedicated to the solo discographies of each member of Yellow Magic Orchestra, we attempted to give context to the events we were putting on, as well as give a voice to artists that often don't get heard very often in English.
Led by Yuko Asanuma during the Academy, we worked with some of the country's finest writers to explore jazz, techno, noise, hip hop and beyond. To read some of those articles – as well as ones we have continued to create in the wake of the Academy in Tokyo – click here.